After an ugly first quarter, Sidney and Troy settled down for a Miami Valley League clash that came down to the final seconds. The Yellow Jackets held on for the 60-54 victory to sweep the season series on Tuesday.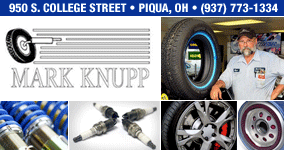 Troy, OH – The Sidney Yellow Jackets play with energy. They play with enthusiasm. And sometimes they play with attitude.
It can be a love/hate relationship for boys basketball coach John Willoughby. He loves to see his team's confidence soar. But late in the fourth quarter Tuesday at Troy, Sidney's confidence reached a height Willoughby would prefer not to see … at least not in that game situation.
Sidney led Troy by four with 30 seconds left. Darren Taborn had a fast-break, sprinting to the basket with several steps on Troy's closest trailing defender. Taborn soared to the rim … and missed the dunk that clanked off the rim. A less flashy layup would've put the Yellow Jackets up six.
Troy, though, turned the ball over six seconds later to all but eliminate its chances at the comeback.
Sidney held on for the 60-54 victory to cement its status atop the Miami Valley League's Valley Division at 17-2 overall and 14-1 MVL. Sidney travels to West Carrollton (13-5 overall; 12-3 MVL) for a Valley Division clash Friday. The Yellow Jackets hold a two-game lead with three games remaining.
"We were worried about this game," Willoughby said. "We know how good Troy is and how capable they are of playing. The way the league is going this was the game for us."
Troy (10-8 overall) needed a win to keep pace with Tippecanoe (12-7) in the MVL Miami Division. After Tipp's victory over Fairborn on Tuesday, the Trojans (8-7 MVL) fell three games behind the Red Devils (11-4 MVL) with three to play. Troy travels to Tipp on Friday. It'll take help, but the Trojans aren't out of it yet.
"One thing these kids got is fight," Troy coach Mark Hess said. "I just told them (in the locker room) we make it harder than it has to be."

Both teams battled that Tuesday, especially in the first quarter. Troy missed all 12 field goal attempts and had six turnovers in the first eight minutes. Sidney – which was having success going inside – failed to capitalize by settling for perimeter shots that didn't fall and led 9-2 after the first quarter.
"We did start slow and I don't know what it was," Hess said. "We were forcing a lot of things that weren't there. … Sometimes you get in a big environment, a big game, and you just want to make the action happen."
The Yellow Jackets never trailed, but the Trojans did tie the game three times despite falling behind by nine points (11-2) to start the second quarter.
Troy whittled the deficit to 31-30 with 4:44 left in the third on Landyn Henry's banked three-pointer. He also banked on in to end the first half. Shaeden Olden tied the game with four minutes left on a free throw.
That was as close as Troy got the rest of the way, though the Trojans did make it a one-possession game seven more times.
Willoughby can be pleased the Yellow Jackets left Miami County with a win that tested their fortitude. He'd just like for it to happen less often.
"Instead of letting the game flow the way we have it, we get in our own way by talking and getting the other team fired up," Willoughby said of his team's enthusiasm. "We don't want (the other team) fired up. We want them to sleep. Give credit to Troy for the way they fought through it."
Sidney's Jaden Swiger scored and hit the ensuing free throw with 4:48 left in the fourth to give the Yellow Jackets a 48-40 lead, their largest of the quarter. But Troy scored the next two baskets on a Jaden Owens 2-on-2, fast-break layup off a great pass from teammate Elijah Reynolds that went between two Sidney defenders. Owens was fouled and hit the free throw. Then Tre Archie's drive off another turnover pulled Troy to 48-45 with 3:42 to play.
The lead reached six points four more times over the final 3:25 and Sidney's defense did just enough to hold on for the win.
Avante Martin led Sidney with 17 points, including eight in the third quarter. Darren Taborn added 13 and Devin Taborn nine. Darren Tabor was 5-of-6 from the free-throw line, including a clutch 3-for-4 effort in the final 1:20.
"He's been putting time in after practices," Willoughby said. "During our warm-up time he's at the free-throw line because he knows how critical free throws are to winning basketball games."
Olden's 18 points led Troy. Henry added nine.
Troy finished with 25 turnovers overall and struggled from the free-throw line with a 10-for-20 performance.
"Somehow they find a way to compete and get back in the game. They play with emotion," Hess said. "They play hard. But sometimes they make it so dang hard with little things. We're working as a coaching staff to get better, but we have to start paying maybe a little more attention to detail."