They led in the second half by as much as 16 points, only to see Carroll shoot that lead away, tie it at the end of regulation, and then outlast the Minster Wildcats to win in double overtime.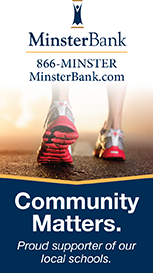 Minster – Minster coach Mike Wiss was not particularly happy after Monday's double-overtime 67-65 loss to the Carroll Patriots (15-5), because…he had just witnessed his team lose in a manner unfamiliar to the two-time state champions.
Wiss takes great pride in preparation for situational basketball;  and that's exactly how his 15-5 Wildcats (5-2 in MAC) lost Monday to a resilient, hot-shooting Carroll bunch with a 6'1″ post player named Julia Keller…who blocked five shots outright, and altered that many more.
He prides himself in taking advantage of the contributions of his players in the face of a challenge;  and Ivy Wolf's 23 points Monday (17 in the second half) could not have been more challenged.  In a word, she gave her 'best' when her team needed it most.
But Minster ran into an opponent in Division II Carroll that got out and pushed pace, contested both shots and passes, and had three guards…Sarah Ochs, Allie Stefanek, and Ava Lickliter…who were quick, gutsy, and willing to play to win on offense.  Between the three they accounted for 49 points and 6 made three-pointers in the second half to erase a 16-point Minster lead, send the game into overtime, and ultimately win it at the foul line.
And on the other end…Keller guarded the rim like Fort Knox.
And yet, for three quarters Minster played as if they had every intention of winning, despite constant pressure from the Carroll backcourt on guards Ivy Wolf and Janae Hoying.  The pair played well, according to script…Wolf had six first half points, Hoying matched her with a pair of three pointers, and the 'Cats led at the halftime break, 25-22.
They quickly built upon that margin to start the third, on a 20-8 run, went up by as much as 16, and led at the end of the quarter, 48-34.  And it could have been more.
"We got comfortable,"  said Wiss later.  "In the third quarter we had about five possessions where we made one pass, maybe two, and shot the ball.  We weren't patient and we came up empty on some of those possessions."
They didn't play well enough with the lead.  Situational!
Carroll seized upon the situation, coming out in the fourth quarter with intense pressure on the Minster ball-handlers, sped up the game, and started whittling away at that lead.
Ochs scored 10 in the fourth quarter on a pair of made threes and four made free throws.

Lickliter chipped in a pair of buckets on drives through the heart of the Minster defense to the rim.
And Stefanek, left wide open, hit three long jumpers, relatively uncontested to help Carroll outscore the Wildcats 23-9.  And with Minster clinging to a 57-54 lead and five seconds left in regulation, she (Stefanek) launched from 23 feet and got all net for a game-tying three-pointer.  No one was even close to her.
"Their guards were quick, and they were good,"  said Wiss.  "But it wasn't anything that we hadn't seen before.  And you don't let someone have an uncontested three-pointer at the end of the game."
But they hadn't seen anything yet.  Both teams slugged it out in the overtime period, and Minster had it chance to win it.  Only Ivy Wolf split a pair of free throws that would have given Minster a 63-59 lead as time expired in the period.  And then, on the final possession, Sarah Ochs buried another wide-open three to tie the score again at 62-62, and send it into a second overtime.
In the second overtime Janae Hoying made the only field goal for Minster on a running shot in the lane…and the 'Cats got to the line four times.  Ivy Wolf split another pair of free throws, and Lauren Mox missed both shots of a two-shot foul – collectively, one for four.
On the other end…Ochs and Lickliter took care of business to give Carroll the lead 67-65 with ten seconds left on the clock and Minster in possession of the ball.
"We were going to double Ivy Wolf,"  said Carroll coach Ceceilia Grosselin.  "She's so tough if she gets in the lane and we just asked a second player to help out on her – make it tough for her to move the basketball."
It worked, as the clock expired without Minster getting off a shot.
Wolf was spectacular, scoring 17 of her game-high 23 points in the second half.  Hoying had 15, and Lauren Mox ended up with 10.  Kate Larger had 5 and Emma Mescher finished with 4.
For Carroll, the big four were Ochs, with her season-high 22 points, Stefanek with 15,  Keller had 15, and Lickliter finished with 12.
Under Mike Wiss, Minster teams just haven't lost double digit leads in the second half, or lost in double or triple overtime.  They don't miss 9 of 17 free throws with games on the line.  And typically they're as good a defensive team as you'll ever see.  But Monday Sarah Ochs and Allie Lickliter stood uncontested too often in the second half, hitting 6 of 10 three-point attempts between them.  Collectively, it was the difference in the game.
"They applied ball pressure to us," said Wiss.  "They did a good job of trapping and double-teaming our guards.  And it started to look like it was easy in the third quarter when we had that lead.  But five possessions in a row where we went one or two passes and shot – all empty possessions.  And then they hit the six 3's at the end of the game – fourth quarter and overtime.
"It was disappointing because we didn't guard very well with one-on-one defense.  You're up by three with ten seconds left, and you don't give them a 3.  Missed free throws in regulation.  Missed free throws in overtime.  We had our chances to win and we didn't play good situational basketball."
He has three regular season game remaining, with New Knoxville, Kalida, and St. Henry, and then tournament plays commences on February 22nd.  Calculating, as always, Wiss left the gym Monday with a reminder to go with all their past success – the reigning Division IV champs for the past two years.
"If there's anything we get out of this…I have to do a better job of getting us prepared for situational basketball,"  he said.
"Hopefully tonight was a learning experience for two weeks from now when someone's coming at us…when the winner stays and the loser goes home."