Milton-Union has struggled since a 10-2 start, but the Bulldogs are confident they can rebound to post the program's first winning season since 2012-13.
West Milton, OH – The shots didn't fall in the third quarter. A needed defensive stop or two didn't come in the fourth quarter.
But despite falling shy of guaranteeing the program's first winning season since 2012-13, the Milton-Union Bulldogs didn't retreat to the locker room after a disappointing 52-39 loss to Preble Shawnee on Friday night. The Bulldogs stayed on the court 10 minutes after the game … continuing to leave their mark on one of their best seasons since the likes of Caleb Poland, Dakota Albaugh and Trevor Klosterman led the 'Dogs to a 14-8 record.
Several dozen elementary-aged kids swarmed the players after the game for a chance to meet their hardwood heroes. The players obliged by autographing T-shirts and programs.
"They look at you like no matter if you win or lose you're still the top guys," Milton senior Nathan Brumbaugh said. "It gives us more motivation to work harder and show what we're about here so the little ones know."
Small town. Big Tradition.  That's the town motto. And, after signing dozens of autographs the Bulldogs are in no way writing off this season despite a late slide that's seen them drop four of their last five games following a 10-2 start.
"Right now we're learning still how to win. How to be in this position," Milton-Union coach Rusty Berner said. "We've been fighting that about three or four weeks. Winning eight games last year and surpassing that so quick, it was easy for our guys to go into this mindset of 'we already beat last year's record.' We fight these nights where our effort is not there. Uninspired is a really good word I'd put on this one."
Milton dropped to 11-6 overall and 4-5 in the Southwestern Buckeye League's Buckeye Division. Preble Shawnee improved to 11-7 overall and 7-3 SWBL Buckeye.
Milton-Union played well in spurts, especially in a first half that featured five lead changes and one tie. The Bulldogs tied the game 21-21 with 2:58 left in the first half on a Blake Brumbaugh three-pointer and Nathan Brumbaugh basket off a turnover. Neither team scored again until Preble Shawnee's Xavier Adams did with 20 seconds left for the 23-21 halftime lead.
But just as both teams rained in three-pointers in the first quarter – the teams combined to hit six consecutive 3's in the first – the 'Dogs shots rimmed out in the third quarter. Milton managed six points. Four of them came on free throws.
That enabled Preble Shawnee to build a 35-22 lead with 3:21 left in the third. Milton trimmed it to 36-30 on Blake Brumbaugh's three-pointer to open the fourth quarter. Milton never got any closer as Shawnee went on a 9-2 over the next 3:17.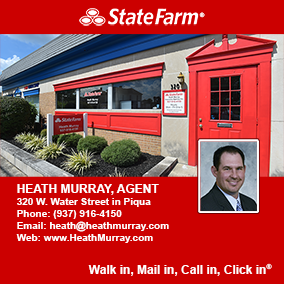 Milton shot 13-of-53 from the field (24 percent) overall – the 'Dogs were 7-of-25 (28 percent) from 3-point range – despite a handful of quality looks. It was just one of those nights with unfriendly rims. Preble Shawnee also did its part by slowing down the game and not running with the up-tempo 'Dogs.
"We have to learn it doesn't matter if our shots don't fall or not, our effort has to be at a high level," Berner said. " We're trying to teach these guys shooters aren't thinkers. They're just shooters.
"Credit Shawnee. They're a good team and they've beat us twice now. They've done a good job at making us play their pace. We're a team that wants to get out and play."
This season they've done it a clip not seen since that 2012-13 season. Milton followed the 14-win campaign with seasons of nine and seven victories. But the program struggled the next three years with three, three and two wins. Last season's 8-15 record gave this year's team a boost of confidence.
"It'd be great (to have a winning season)," senior Brandon Lavy said. "We just have to work our butts off in practice and play our game. … We just have to work harder and we'll come out strong eventually."
The talent is there for the Bulldogs. Nathan Brumbaugh (10.7) and Lavy (10.5) are scoring threats as two of four players averaging double figures. Freshman Blake Brumbaugh, a slasher to the basket, leads the team with 12.1 points. Junior outside threat Sam Case averages 11.4.
Junior Andrew Lambert provides a physical presence. Early in the third quarter he muscled inside to keep a possession alive with a pair of hard-fought offensive rebounds. He finished with a team-high seven rebounds.
Seniors Nick Radcliff and Billy Grieshop and junior Justin Randall are strong off the bench.
"They're great kids. I couldn't ask for a better group of kids. I tell them when we're not playing, I love you death but it doesn't mean I always to like you,'" Berner said tongue-in-cheek. "They're good kids. High character kids. That makes it easier on us."
Blake Brumbaugh led Milton with 16 points, Nathan Brumbaugh added eight and Lavy six. Blake Brumbaugh also had six rebounds and three steals.
Case, coming off a 20-point game in a win over Tri-County North on Tuesday, was held scoreless for the first time this season. He did lead Milton with four assists and had two steals.
"We're just in a slump right now and we have to get out of it," Nathan Brumbaugh said. "We have to get out of it fast. We have to bring our focus in practice and keep our intensity up the rest of the way out."
Milton has five games left in the regular season, starting with Yellow Springs on Saturday. After that are Northridge, Waynesville, Arcanum and Dixie.
"We can (turn it around) if we work as a team," Lavy said. "If we don't work as a team we don't win. That's the big part of it. Whatever we can do to win. We have to keep going and keep working."
Berner said effort wasn't a problem during Tuesday's win where the Bulldogs pushed the ball in transition and scored 48 points in the first half en route to a season-high 74. On Friday they managed 11 points combined in the second and third quarters en route to a season-low 39 points.
"It's all mental," Nathan Brumbaugh said. "We weren't tired, it's just mental focus. … It's part of the growing process as a team. We have to pull ourselves out of that.
"We still can be great. We just have to focus in practice and bring that into the games. … We have to have that winning mindset. At 10-2 we were coming in to win. We got complacent and we need to pull ourselves out of that. We still can give it our best and make a run in the tournament."
The junior varsity team is 13-4 and the freshman team is 10-2. Mix in those younger kids who mingled with the team after the game and this year's senior class – which has never experienced a winning season at the freshman, JV or varsity level — is trying to lay that foundation for continued success.
"You just want to inspire them and play for them," Lavy said of the post-game meet-and-greet. "Do whatever you can to make them smile."