Versailles got another big performance from Michael Stammen, and needed it, to edge past a determined Minster and stay unbeaten.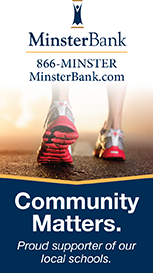 Minster, OH – Mike McClurg and the Minster Wildcats have had a good season – by all accounts, better than anyone suspected, or anticipated.
Winners of seven of their last ten, and 11-4, overall, they had an opportunity Friday to crown that season by handing the #1-ranked Versailles Tigers their first loss of the year.
And for twenty of the game's 32 minutes it looked like they might.
But Versailles used a 15-4 run in the third quarter to forge ahead 40-29, then held on as a determined Minster fought back to eventually cut the lead to 2…before closing it out (and with a bit of luck) to win their 18th game of the year, 46-43.
The luck amounted to Minster having the ball out of bounds under the Versailles basket with 5.9 seconds to go in the game, and trailing by three points.  The inbounds pass came to Jacob Salazar on the sideline, who was fouled by Versailles' Conner Van Skyock with three seconds on the clock.  Referee Ben Kremer whistled the foul a mere moment before Salazar turned and heaved the ball from mid-court.  And of course…it banked in, but was not allowed because of the foul call.  It would have tied the score and sent the game into overtime…but, some nights you have to be good, and some nights you have to be lucky.
Prior to the that, it was a great basketball game…as good as Minster had played all year, or at least for the first half.
"We came out hot,"  said Wildcats coach Mike McClurg.  "I think the kids were pumped up to play the #1-ranked team in the state, and I think they believed they could win."
They played as if they were going to, outscoring Versailles 16-14 by the end of the first quarter.  Salazar and Bryan Falk hit a pair of threes, but the real damage was done by junior post player Justin Nixon, who hit five of seven shots from the floor for the other ten points.  Versailles might have been impressed, but they weren't going away.
Senior play-of-the-year candidate Michael Stammen came out in the second quarter and immediately revved up the energy as the Tigers matched every bucket and every big play by Minster with one of their own.  They led 25-23 as the clock ran down, only to have Minster's Carson Prenger hit a shot at the buzzer to tie it at the break, 25-25.
Versailles has been in a lot of close games through their first seventeen games, and this one would be no different.  Travis Swank's Tigers handled it in the manner they had handled Parkway and Fort Loramie just a week ago.  They buckled down in the third quarter with the best defense they had played all season, forcing Minster into some bad possessions – empty possessions – while back-to-back-to-back three-pointers by Ben Ruhenkamp and Kody Naftzger pushed a Versailles lead out to double figures.
"We had a bunch of empty possessions to start the half, we didn't score, they hit those threes, and it happened so fast that I don't know how it happened without watching the film,"  said McClurg.  "To me it was a bunch of scrambles, they freed themselves up and hit some big shots."
Versailles led 40-29 by quarter's end, but like some of their other close games, they weren't able to put Minster away.  Playing with three fouls, Justin Nixon got involved again, scoring six points in the fourth quarter before picking up his fourth foul with two minutes left.  Eric Schmidt scored a pair on slashes to the rim, through the heart of the Versailles defense.  Bryan Falk added a bucket.  And Brady Hoelscher chipped in with one…and all this while Versailles went dry on their own end.  Conner Van Skyock would score their only field goal of the quarter, while Minster eventually cut the lead to 2 points…45-43…with 50 seconds remaining.
Sitting now on a game-high 20 points, Nixon was playing with those four fouls…and a nagging habit throughout the game of having shots from point-blank range roll off the rim – about a half dozen of them.  With the possession and a chance to tie the score, he drove the baseline one more time with Versailles' Austin Toner on his hip.  Nixon got to the rim, attempting a twisting reverse layup that got to the rim one more time…and rolled off one more time.  The ball fell loose in the lane, Nixon went after it, only to foul Michael Stammen, who got to it first.  It was his fifth and final foul.
"Justin was really disappointed in himself,"  said McClurg afterwards.  "He really wanted this game, and he came that close to tying it, and maybe getting an 'and one'.  When he came to the sideline I hugged him and told him we were going to play again tomorrow night.  He'd given us everything he had."
With a chance to salt the game away Stammen went to the line for a one-and-one…and split it, hitting the first and missing the second.  Seconds later Naftzger was fouled and he went the line with another chance to close Minster out.  But he missed both shots of a double bonus and Minster quickly grabbed the rebound and called time out.
With 5.9 seconds left they had a chance to get the ball upcourt for a three-point shot, and as previously described Jacob Salazar took the inbounds pass only to be fouled before his half-court heave – the shot that would have indeed tied the game at 46.  But it was only Versailles' sixth foul and Minster had to take the ball out of bounds with 1.9 seconds…not enough time to catch and shoot.  Versailles had survived!
Michael Stammen led them with 16 points, while Ben Ruhenkamp had 11, Naftzger had 8, Ryan Martin had 7, Van Skyock and Austin Toner each scored two apiece.  Versailles finished having shot 43%, but came dangerously close to losing it with poor foul shooting – just 13 of 25 for 52%.
Justin Nixon lead all scorers for Minster with his 20 points, while Bryan Falk finished with 9, Salazar had 6, Eric Schmidt had 4, and Brady Hoelscher and Carson Prenger had 2 each.  Minster shot 41% from the floor, but only got to the foul line six time, hit 4 of 6.
"Lot of credit to our seniors,"  said Versailles coach Travis Swank.  "We're getting used to close games, I guess, but it speaks to our leadership and our guys refusing to lose right now.  We're eaking out wins, it's not always pretty, but we're doing enough little things right to help us win games right now.
"Our captains are really good.  Ryan Martin and Michael Stammen really set the tone every night.  Ryan might not fill it up point-wise, but he does a lot of little things that we look for in our program.  And Michael does it all well.  He's hard to guard for other teams, but he also trusts his teammates and that's going to help us going forward.
Improving to 18-0 with Friday's win, their #1-ranking has to be the quietest in the state, compared to other #1 teams in Divisions I, II, and IV, but Swank shrugs off the attention, or anonymity, and simply looks forward to Saturday, and their next game with Anna.
"I credit our tradition,"  said Swank.  "We've had good teams in the past, we've been to the Final Four before, and we're just a good hard-nosed team that people like to watch.  But we have a lot of work left to do.  We might be #1, but we're not a finished product. We've still got to become something better, and hopefully it comes pretty soon."
Minster falls to 11-5, and 3-3 in the MAC, effectively taking them out of contention mathematically.  But McClurg spoke positively about their fourth quarter comeback, and better things still available in the post-season, given the way they finished.
"I still think this team still has potential to win some big games.  And if you take out some of the lags we had tonight I think we have the potential to be really good,"  he said before going home to look at that film.  "The lags are both offense and defense, but then we go in spurts when we can explode."
Speaking of Versailles?
"They're a good team – well coached – and  Michael Stammen…man, he's really quick.  We were trying to keep in front of him because he gets to the rim and either finds an open shooter or leans in and gets the foul and to the line.  You just can't simulate that in practice.  But overall, I'm pleased with how most of our guys responded tonight and how close we came at the end.  We just couldn't get a shot to roll in."
So Versailles, the most unlikely #1 at season's beginning, stays clean for another night, with another big challenge to come Saturday with Anna.  How do they do it?  Well the things that Travis Swank listed, for sure.
But they're also better than anyone else in Division III knows. They just know how to win.