As the season begins to wind down, there are head to head match-ups for first place in four conferences this week, including two between top 5 teams…the Versailles boys and Fort Loramie girls look to continue their unbeaten ways…and the girls tournament draw, believe it or not, is Sunday.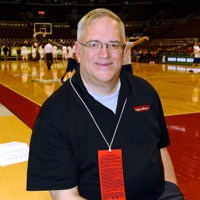 If you are looking for a game to see in person, you have plenty of options this week.  But I have to start with a question.
Tri-Village beat Tri-County North Thursday night 103-4. Really? I wasn't there and don't know the circumstances.  But to me, there simply is no reason to beat a team like that. The OHSAA is always talking about respect the game, and there's no respect in this case, for the game or your opponent. My opinion, and mine alone, but….c'mon man!
Now back to the business at hand. We start in the Western Buckeye League, where Ottawa-Glandorf and Lima Shawnee will put unbeaten records on the line at Shawnee Friday night. I spent the first two years of my broadcasting career calling games for the Celina Bulldogs, and what I like about the league is that it has been as stable as any around. Shawnee replaced Delphos St John's in 1982, and the league has not had a roster change since. The rivalries are deep-rooted, the fans are passionate, and they play a good brand of football, basketball, baseball, whatever the sport may be.
Now back to Friday night…Shawnee is 15-0 and ranked fifth in last week's Division II state poll. Their average margin of victory is 22 points, and they are coming off a solid 15-point win over Lima Senior, the 12th ranked team in Division One. The Indians have had just two games decided by less than ten points all season.
Glandorf, on the other hand, is 14-0 and the number 2 team in Division three, right behind Versailles. The Titans won state titles in 2004, 2008 and 2013, and their average winning margin is a healthy 25 points a game. O-G has had a couple of close calls recently, beating Findlay 61-57 and Lima Senior 63-61.
If you want to check this one out in person, you probably should get a ticket as soon as you get done reading this article.
Showdown number two is Thursday night at Marion Local, where the 16-2 Lady Flyers host the 12-3 Fort Recovery Indians with first place on the line in the MAC. Marion is just 3-2 after a 13-0 start, while Recovery has won 10 of it's last 11, losing only to once beaten Ottawa-Glandorf. The Indians have quite a week ahead, as they host 15-2 Franklin Monroe on Tuesday.
Minster and New Knoxville are a game back of Recovery, so an Indians victory could have four teams within a game of the lead with two games to play.
The top ranked girls team in the state, Fort Loramie, has a busy week ahead. Carla Siegal's Redskins are at 11-6 St Henry Monday night, will host Jackson Center Thursday, then travel to Anna Saturday to decide the Shelby County League title. Anna is having a nice season at 14-5, but is coming off an 11 point loss to Minster Saturday. Loramie won the first meeting by 32 in December.
Fort Loramie beat Versailles comfortably Saturday, but the 21-point margin was still the Redskins' closest decision of the season.
Jackson Center has been on top of the Shelby County League boys standings all season, but that position will get a severe test this week. The 13-2 Tigers are at 10-4 Fort Loramie Tuesday, host 10-3 Anna Friday, then meet 11-4 Minster on Saturday.
The week starts with Jackson at 7-1 in league play, half a game ahead of Anna and a game up on Loramie. Fourth place Botkins is two games back in the loss column with 5 to play, but at 10-4 the Trojans are a threat every time they step on the floor. The top four teams in the league are 43-13. And they have all played each other since Naismith discovered the game (well almost). Gotta love the Shelby County League.
The Versailles Tigers earned their number One ranking in Division III last week, didn't they? Travis Swank's club went to Vandalia Butler and beat a good Aviator team in overtime, rallied to beat a pesky and talented Parkway team, then survived Fort Loramie's upset bid on Saturday. If you think that gauntlet would have earned the Tigers a bit of a reprieve this week, you would be wrong. Very wrong. Up next for Versailles, which has a two-game lead in the MAC race over St John's, Minster, Parkway and St Henry, is a Friday night trip to 11-4 Minster. Then on Saturday, just for something to do, the Tigers go to Anna for what could be the game of the year. Better get a ticket for that one early too.
Quietly, very quietly, the Lehman Lady Cavaliers have won 8 straight games and are unbeaten in 2020. The Cavs are unbeaten in the Northwest Central Conference and have their game of the year Tuesday night when they travel to unbeaten Troy Christian. The Eagles level of competition is always a matter of conversation, but 15-0 is 15-0 regardless of who is on the schedule. The Eagles have a monster week ahead as well, as they travel to 15-2 Franklin Monroe Saturday.
With the new Miami Valley League beginning play this season, we haven't talked about the GWOC, but it deserves mentioning this week. The Wayne Lady Warriors are 17-1 and ranked second in Division I, while Fairmont is 15-2 and ranked fifth. They meet for the second time this season Wednesday at Trent Arena. Wayne averages 66 points a game to Fairmont's 61, and both teams allow 39 points a night. Wayne won the first meeting at home in December 51-49. The rematch should be fun.
Finally, congratulations o the Sidney Lady Yellow Jackets, the first area team to clinch a division title. We have talked about the lack of quality teams in the MVL's Valley division, but the Jackets are 14-4 after going 2-44 the past two seasons. Throw in the fact that the Jackets top two scorers, Allie Stockton and Lexee Brewer, are FRESHMEN, it's easy to see that Sidney is going to be around for a while.
That's a lot of stuff. It should be a great week, so get out and see a game or three. The Moeller Beer Barn scoreboard will have all the scores every night, and you can read about the biggest games right here on Press Pros!