The Red Devils were red hot from three-point range on Friday night, knocking down 11 overall — and giving them 31 three's in their last three games — to knock off the host Indians.
Piqua, OH – You can't blame the Piqua Indians for feeling like they've been put through the wringer in their last five games. The boys basketball team has taken on Troy, Butler, Sidney, Miamisburg and Tippecanoe … a group of teams that entered Friday a combined 50-23 for a winning percentage of 68 percent.
To their credit the high-energy Indians battled for loose balls and contested shots until the end. But a more experienced roster coupled with some precision passing helped the Red Devils turn the Indians inside out.
Tipp dropped in a season-high 11 three-pointers – looking inside first then zipping the ball outside to the perimeter – for a 71-45 victory over Piqua at Garbry Gym.
"We're just sharing the ball and we're getting inside-outside threes," said Tipp senior Nolan Mader. "We're looking inside and to pass it out. That's a high-percentage shot."
Tipp connected on six of its eight 3-point attempts in the first quarter, quickly establishing a double-digit lead the Red Devils never relinquished. Junior Zach Frederick hit three of his game-high five 3-pointers in the quarter. Sophomore Gavin Garlitz knocked down two and junior Ben Knostman one. Tipp led 21-7 after the first eight minutes, capping the quarter with a Garlitz three with seven seconds left.
Four different Red Devils hit at least one three-pointer in the game. Fredericks led with five, Garlitz had three, Knostman two and junior Nick Robbins hit a three from the corner with 2:48 left in the game – Tipp's 11th – for a 65-40 lead.
"Man, we shot it well in the first half," Tipp coach Adam Toohey said. "We knew they were going to play some zone. We wanted some inside-out looks and we got them.
"We've had some games where we shot 2-of-16. You have to remember those nights when you have nights like this."
Tipp's previous season high was 10 three pointers. The Red Devils hit that in each of their last two wins against Xenia and Troy. That gives them 31 three-pointers in their last three games.
Tipp (10-6 overall, 9-3 Miami Valley League Miami Division) entered Friday leading the Miami Valley League with 91 three-pointers on 265 attempts (34.3 percent). West Carrollton was second with 81.
"We shoot a ton in practice," Toohey said. " Sometimes I think it's more about confidence. … You can't just say have confidence. You have to tell them, 'hey Nolan Mader you actually injured yourself because you worked so hard. Zach Frederick, how many times are you in the gym at 6 a.m. shooting threes? Gavin Garlitz, how many threes have you put up today?' When you think about how much you work, that's what gives you the confidence. And seeing it go in that's contagious."
The Red Devils' height certainly helps, too. Tipp has four regulars that stand 6-foot-4 or taller – Mader at 6-5 and Frederick, Knostman and sophomore Cole Coppock at 6-4. Piqua countered with a trio of regulars at 6-3 with senior Iverson Ventura, senior Riley Hill and junior Garrett Schrubb.
"It's really nice to have a bunch of 6-3, 6-4, 6-5 guys to be able to pass," Toohey said. "I thought our ball movement in the first half hurt them. With how we could move it and be unselfish on pass fakes, that's about as good of basketball as we can play."
Frederick led Tipp with 21 points, Garlitz added 14 and Knostman 11. Coppock scored 10 off the bench as the Red Devils' outscored the Indians' non-starters 20-9.
"Our bench has been awesome," Toohey said. "It's the energy they bring. I love having a spark off the bench. Those guys could probably start for us, it's just nice to have some juice on the bench."
Piqua (6-10 overall, 4-8 MVL Miami Division) started with a 2-3 zone against Tipp. The Indians switched to man in the second half after the Red Devils worked the ball around the perimeter and found an open shot with the extra pass, then used their height for the clean shot.
"Their length is something the last couple of teams we played didn't have," Piqua coach Steve Grasso said.
"They're a tough match-up for us. They're tough for many teams. We tried to switch it up in the second half and play some man-to-man. We're really a zone team so we got exposed a little bit."
Piqua fell behind by as many as 28 points, trailing 61-33 with 4:46 left in the game on – what else? – a three-pointer from Garlitz. Still, the Indians kept going to the floor challenging for loose balls and battling inside for possessions.
Two of Piqua's four seniors – Ventura and Hill – are regulars on the floor. The Indians aren't without additional support, though. Freshman Dre'Sean Roberts is a quick guard who can slash down the lane. Juniors Devon Sever and Kameron Darner bring energy and defense. Junior Jerrell Lewis and Hill challenge inside with imposing physical size and strength. And Ventura does a little of everything for the Indians.
Roberts led Piqua with 14 points. Ventura and Sever both added eight.
"It's just getting the experience playing in big games and tough environments," Grasso said.
Tipp felt a bit of that too on Friday. Late in the game the Indians Nation student section was directing some playful barbs at Mader.
"They were just saying things like, 'Your shoe is untied' and 'You're ugly.' Stuff like that," said Mader, who laughed and acknowledged the student section's effort to throw him off his game. "It was fun. I love these environments."
Piqua's recent schedule should help their big-game experience, too. After a 60-47 loss to Troy, Piqua beat Butler 60-57, played one-loss Sidney tough before falling 73-65 and threw a scare into Miamisburg – one of the top teams in the Greater Western Ohio Conference – in a 57-51 defeat.
"We've played some good teams the last couple games and hung tough with them," Grasso said. "… We knew going into these last four games it was going to be a tough grind. I was very proud of the guys that we went to Vandalia and got a win there. After the game we talked about, like in the old days, you bury the tape and you move onto the next game. That's all we can really do. There's no point in dwelling on it."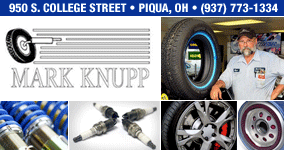 Tipp, meanwhile, has won three straight following a two-game skid. The Red Devils started 6-1 and feel they're finding that groove again after dropping five of their last eight games prior to Friday.
"I think the Troy game started it," Mader said. "We're just getting back to it, spreading the ball around and now we're finally all playing as a team."
It's not their motto, though the Red Devils are certainly playing ''all for one and one for all." And why not? It's a phrase made famous by who else … but the 'Three' Musketeers.