Now that he's left the game, the regret for all football should be when, and if, there'll be another Eli Manning…the guy who played and acted like someone you'd like to know better.
If you read these pages you know…I'm not a devotee' of the National Football League. I simply see too many things that are hard to like.
Things that people seem to cheer – even bet on – on Sundays, then have the hypocrisy to condemn among those in their communities come Monday.
But Eli Manning has never crossed any of those lines of character and conduct during his sixteen years as quarterback of the New York Giants, and when he retired last week I admit…I did take a moment to reflect positively on what Manning represented to the kids to whom we preach conduct and character with each new football season.
He played for sixteen years. He passed for 57,000 yards and 366 touchdowns. He won two Super Bowls (both against Tom Brady and the Patriots) and was selected to the Pro Bowl four times.
In his final two seasons, without a good complement of talent around him, he was benched twice by management for a lack of production. He didn't like it, and he said it wasn't much fun.  But he never made headlines by complaining.
For those sixteen seasons he often played in the shadow of his more prominent, and profiled, brother (Peyton). And yet, Eli Manning chose his own path, out of the spotlight, and never sought to be considered with, or compared, to his more famous sibling.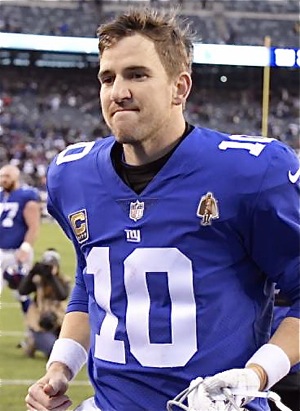 He called no attention to himself in any way, outside of his play on Sundays – hard to do in a market like New York.  He left, as one described him following his retirement ceremony on Friday, as cleanly as he arrived – no screams for attention, no tats, and no piercings. He never threw a rock at a transport driver. He's never posted bond.
I might be in the minority here, but it's not hard for me to respect, even admire, a professional like Eli Manning. What is hard, though, is to understand why there aren't more like him.
It's hard to understand why there wasn't more attention given to his stepping away, as compared to Michael Vick coming back as an honorary captain in the Pro Bowl. Perhaps that's why it's always been so hard for me to warm to the inconsistencies of the NFL – so much headline given to those who do the opposite of what we all profess to embrace, while people like Eli Manning come and go in virtual anonymity.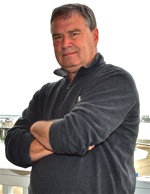 My only regret in the case of Manning, and others like him, is that they too often are deprived of the greater success achieved by those who aren't so committed, or so appreciative of their gifts of talent and opportunity.
On the other hand, it's why you value the example of people like him, who live and play by the adage of Ghandi, who said, "I cried because I had no shoes. Then I met a man who had no feet."
The regret for all of football should be…who knows when, if ever, there'll be another Eli Manning?
The guy next door – the guy who played and acted like someone you'd actually like to know.