Lost in the shadows of a good, and more publicized boys basketball team, Sidney's Jaxon Rickey and teammates seek to bring light upon the 'Jackets unbeaten bowling team with some remarkable scores.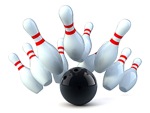 Sidney, OH – The tip came from the stands at a recent Shelby County League basketball game.
"I enjoy the bowling coverage on Press Pros," said this one individual. "And I saw your story this week on Sidney basketball.  But you need to go see the Sidney bowling team. They're undefeated and you should do a story on Jaxon Rickey."
Jaxon Rickey rang familiar to us as we first saw him last winter in a match against Troy, a match the Trojans won that day win an impressive performance. But true to the tipper, this year's Sidney Yellow Jackets team has had the upper hand on everyone in Miami Valley League bowling, averaging an impressive 990.5 pins in team individual competition…led by Rickey's 220 individual average, and some eye-popping scores at the 'Jackets home bowling center at Bel-Mar Lanes.
They're 11-0, overall, standing 66 pins ahead of second place Butler in the Miami Valley League standing as of this weekend, and when we showed up Friday to see for ourselves in a match against visiting Mechanicsburg, Jaxon Rickey didn't take long to show what us what all the fuss is about.
He came out hot, stringing together ten straight strikes in game one of individual bowling, finishing with a 286, and denied a shot at a perfect 300 game (he's never had one) with a 4-10 split on the second ball in the tenth frame, his only mishit of the game.

In his second game he added a 234, rolling another impressive string of strikes, to finish the match with a 520, increasing his average for the year to 223.5 pins per game.
"Jaxon's really had an impressive season," says Sidney coach Trent Knoop, himself an accomplished bowler. "He's put in a lot of hard work. He actually plays three sports – soccer, baseball, and bowling, but he's the most committed to bowling."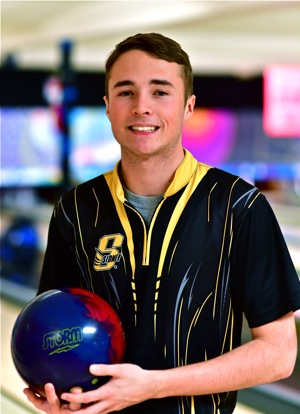 Rickey is 5'10, slender, and has remarkable flexibility for throwing the ball with two-hands, the growing trend amongst young bowlers. PBA professional Jason Belmonte (among others) has shot to the top of the world rankings throwing it that way, and followers, like Rickey, have been quick to notice and imitate.
"He's incredible, the best in the world," says Rickey. "I can't do anything like that."
But yet, Belmonte's average of 225.6 on last year's tour is just two pins ahead of what Rickey is currently averaging as a high school bowler.
"I went to the two-hand style after my freshman year," says Rickey. "I bowled one-handed through my freshman year. I've worked a lot with Coach on my form – that was a big thing when I started. My form was terrible when I started out and he's helped me a lot to get to where I am now."
"He was very herky-jerky," admits Knoop. "We really worked on it. When we started I asked him to imagine that there was a stack of china on his head, and you can't let that china fall and break. Keep your head as still as possible. We worked on it for weeks and he became very fluid and consistent, and now you see the results.
"And his mental attitude is much better than before, too. He used to get upset if he missed a shot, throw his hands up in the air and get mad, and now he's come a long way, and it shows in his game. He's a much, much better bowler now."
Like Belmonte, Kyle Troup, and others on the PBA tour, Rickey gets remarkable torque and power from the two-hand style, and like those who've switched to it, claims there's more pin action with solid hits. That's why so many have gone to the two-hand approach.
Outside of bowling he claims to be just a regular high school kid, hanging out with friends and practicing – a lot of practicing ("I want to be the best I can be,"  he says). Participating in three different sports, he's always busy.
After graduating in the spring (he carries a GPA slightly over 3.0) he plans to attend the University of Northern Ohio on a bowling scholarship, where he looks forward to competing at the next level while working on a degree in sports marketing.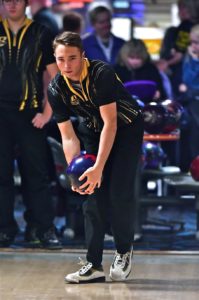 Would he like to bowl professionally?
"If there was an opportunity, yeah," Rickey says without hesitation. "I would definite do it."
But for the time being, he's surrounded by an impressive group of teammates who combined Friday to show just why Sidney is such a big deal this year in bowling. Logan Finke rolls at a 203.5 (287 high game) average. Drake Cromes has a 203 (288 high game). Kaden Abbott is right there with a 194 (257 high game). Harrison Fisher rolls at 183 (224 high game). And of course, Rickey with his 223.5 average, and a high career game of 290 – his best for this season was Friday's 286.
It does leave some margin for improvement, but not much. That's how impressive Sidney, and Jaxon Rickey, have been so far.