Someone had to win.  Minster snapped a three-game losing streak at Marion Local's expense…Flyers drop their fourth in a row…Cold first half and "C" game haunts Marion.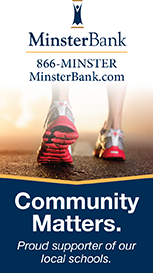 Minster, OH –  Minster boys basketball coach Mike McClurg was glad to win a basketball game;  because, wins don't come easy this year and no one knows it better than McClurg.
A week ago his Wildcats  (9-4, 2-2 in MAC play) lost on consecutive nights to Coldwater (44-42) and Fort Loramie (50-45) to extend a losing streak to three.  And of their eight wins entering Friday night's contest with an equally struggling Marion Local (2-8)…four of those wins were by four points or less.
McClurg was also aware of Marion Local's own three-game losing streak since last winning against St. Henry on January 3, and two of those three losses were by – you guessed it – four points or less.
So Friday night's 52-47 Minster win over the now 2-9 Flyers (1-3 in MAC play) gave McClurg cause to exhale and wax eloquent on the fine line that exists between winning and losing – how tough the former, and how easy the latter.
"Tonight wasn't easy,"  McClurg admitted.  "I don't know what it is, but right now it's extremely difficult to win, at home and on the road.  There's a lot of parity among teams.  There's a lot of fighters and grinders.  And there's some good basketball teams out there.  But in the teams that we play in the MAC and the Shelby County League, there's a lot of 'even' – a lot of parity.  A lot of teams that are very similar."
Call it shrinking rims, or just good defense, but a lot of teams are finding it difficult to score, which of course makes it harder to win.  And consider the plight of Kurt Goettemoeller's Marion team that came out cold again on Friday, shot a miserable percentage for the first fourteen minutes, and frankly…took a lot of bad shots.  As a result, Minster got out to an early lead, led 12-8 at the end of the first quarter, 23-20 at halftime, built the lead to 32-26 at the end of the third quarter…before things got interesting.
But until that time…crickets, offensively, for Marion in the first half, shooting just 6 of 20 from the field (30%)…but bailed out by a trio of three-pointers by Brady Ronnebaum, Bryce Moeller, and an NBA-range shot at the buzzer by Alex Eyink to give them an manageable 23-20 deficit going into the locker room.
"We didn't come out with very good focus,"  said Goettemoeller afterwards, who ironically teaches at Minster High School and coach at Marion Local.  "I called a timeout to remind them of that.  We just made too many mistakes and took too many bad shots.  Thankfully, Alex's three-pointer before the half gave us a boost at halftime."
If Eyink gave Marion a lift, senior point guard Jacob Salazar literally carried Minster with his three-point shooting, 4 of 8 for the game, and a game-high 14 points by game's end.  Every time that Marion seemed to draw close, including 17-17 with 1:34 remaining before halftime, Salazar would make a big shot to keep the Flyers grounded.  And convenient for Salazar and Minster, teammate Justin Nixon took up the mantel in the second half, scoring 8 of his 12 points, along with Ben Wuebker, Trent Roetgerman and Alex Albers, all of whom would finish with 7 points for the night…and 13 of those 21 points came in critical stretches of the second half.
Because…trailing 32-26 at the end of three, Marion suddenly stopped getting in its own way.  Shots began to fall…for Ronnebaum (who had three of his four 3-pointers in the second half), Matt Everman, and for Peyton Otte, whose 3-pointer with a minute remaining cut the lead to three.  And after Minster answer with a pair of free throws on the other end, Ronnebaum canned one of his 3's to cut the lead to two points, 49-47, with sixteen seconds left to play.
Trent Roetgerman split a one-and-bonus at the foul line on the other end to push the lead back to three, which gave Marion a shot a tying three with the ensuing possession.  But the shot by Ronnebaum didn't fall that time…and Minster iced the game at foul line to extend the winning margin to 52-47.
Brady Ronnebaum led Marion with his 14 points, while Bryce Moeller and Matt Everman had 8 each, Alex Eyink had 6, Charlie Huelsman had 5, and Peyton Otte had 4 points.
"We had the lead at 11 at one point in the fourth, but I knew they would keep at it,"  added McClurg.  "And the Ronnebaum kid had a really good night.  They hit some tough shots…it wasn't like we left them open.  We did some things right defensively, they just hit tough shots.  But, I thought we did a lot better job of executing, compared to the two tough losses last weekend.  We worked on that all week, the kids invested, and tonight is what happens when you practice the right way."
Kurt Goettemoeller closed his eyes and leaned against the locker room door, the stress of a losing streak and a losing season clearly evident in his body language and in his words.  Like McClurg, he was more than willing to admit…there's some years when it's really hard to win a basketball game.

"I told our guys that we can beat anybody on our schedule…but we're not good enough to play with our "C" game, mentally and physically, and beat people.  Last year we could do that because we were physically more talented.  But this year we just can't go out there that way and win against good teams.  I didn't think we were mentally focused from the start, I called another timeout at the beginning of the third quarter because we still weren't there. Give Minster credit, they're really good and Salazar really made us pay tonight.  Defensively, we blew a lot of assignments, but they really guarded us well.
"But we didn't take good shots at the beginning of the game, and getting behind has been a problem for us.  We finally got into some rhythm there in the second quarter and got back into the game.  But we can't bring our "C" game and win.  That's the way it is."
Goettemoeller walked to the bus grasping for answers, while McClurg took the Friday win over a tough-minded opponent as a hoped-for boost for the second half of the season and momentum going into the tournament.
"Tonight was an example of just how tough our league is,"  he concluded. "It's tough to score and they're just not going to make it easy on you.  Everyone prides themselves on defense.  So now and the next couple of weeks is a time when teams start to prepare themselves for the tournament.  And when you look at our district I think it's wide open.  Lima Perry is coming in next week, they'll be one of the likely top seeds, with some other teams, and you use the second half of your schedule to prepare yourself for those top teams in the tournament."
Shedding his three-game loss streak, McClurg breathed a sigh of relief, hoping Friday's win is the start of something better…good.  After all, 9-4 is not just a whole lot better than 2-9…it's a whole world better right now.
Just ask Kurt Goettemoeller.