Marion Local more than atoned for its only loss earlier in the week with a conference win over rival Minster that resembled a 15-round decision in boxing…with a knockout at the end.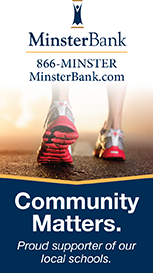 Maria Stein, OH – In the wake of Marion Local's stunning 33-32 win over the Minster Wildcats Thursday night, Minster coach Mike Wiss sat on the first row of the bleachers for five minutes, staring off in space, then occasionally back at the scoreboard…as if to make sure that what he had just witnessed was, in fact, what he had just witnessed.
In a titanic slugfest between two old MAC rivals – the kind that Marion coach Beth Streib would later call, "The way Marion and Minster used to play" – Marion had overcome a five-point halftime deficit, held its own in a physical challenge that looked like the upcoming Conor McGregor-Cowboy Cerrone UFC fight, and never led until 6.2 seconds were left in the game.  Then, senior Brooke Homan dropped in a jump shot from just inside the foul line that was pure – all net – to give the Flyers the lead, and the win.
Neither team shot well, nor could either team muster any kind of offense flow or momentum.  There were more turnovers than made shots.  Every possession, every pass, every shot, and every rebound was contested like the last biscuit at a boarding house dinner.
Minster led at the end of the first quarter, 6-4.  That's it, and that's all – 6 to 4.  And stretched that lead every so little by halftime, 17-12.  And ironically, or symbolic of their struggle to score for the entire game, junior guard Ivy Wolf scored 15 of the 17 points.  Ella Mescher was the only other Wildcat to score in the first sixteen minutes, with 2 points.
Marion had its own issues – struggles – to score twelve points…Brooke Homan, Sammy Hoelscher, Molly Winner and Alana Pohlman the only Flyers to dent the rim.  And justice for Pohlman to score a pair of points, who left the game in the third period with a severely sprained ankle.
Both teams came out 'red hot' in the third, Minster scoring just 2 points for the quarter on Mescher's second (and last) bucket of the game.  Meanwhile, Marion blistered the nets for 7 points over the span of eight minutes, and with 2:32 remaining Molly Winner hit a shot at the rim, drew a foul, and completed the three-point play to actually tie the score at 19-19.
It was physical – rough.  God knows it was rough, and neither side of the packed gym was particularly happy with the officiating crew of Joe Turner, Dan Holland, and Mike McGough, who did their best to allow both teams to establish at least some rhythm, or flow, to the game.  But when shots don't fall in basketball officiating can be like herding cats.  Such was the case, and officiating had nothing to do with the eventual outcome.  Ivy Wolf took it upon herself to do that.
Tied at 19-19 at the end of three, Wolf hit three of six from the field in the fourth quarter, and five of six from the foul line to finish the night with a remarkable game-high total of 26 points, a pair of steals, and no fewer than a half dozen forced turnovers, defensively.
But it wasn't enough to pull away from Marion, who got 4 from Heidi Rethman, 2 from Holscher, 4 from Homan, and 4 from Winner in the same span to keep nipping at the Wildcats' heels.  Minster would retake the lead at 32-29 with 2:37 left in the game, but defensive determination by Marion, and some untimely misses, turnovers, and clutch foul shooting by Hoelscher, Winner, Homan and Rethman brought the game to a climactic finishing act in the final thirty seconds.
Marion swung the ball from one side of the court to the other – twice – looking for an opening to the rim for a high percentage shot.  Finally, with less than ten seconds remaining, they found Homan at the foul line, who gathered in a pass from Hoelscher, turned to the rim and launched a shot from just inside the paint.  Swish…and Marion had a 33-32 lead, its first of the game with 6.2 seconds remaining.
Minster used a timeout to set up one final scoring play, but they had to go 90 feet to do it and Marion's full-court pressure on ball-handler Janae Hoying forced her to travel at midcourt with two seconds remaining.  Minster fouled, Molly Rethman missed both shots of the double bonus, but it hardly mattered.  There wasn't enough time for a rebound and Hail Mary shot by Minster…and that's how it ended.
Brooke Homan had reprised the finish of the Versailles game a month earlier, where her jump shot in overtime proved to be the winning margin in that game.  She finished with 8 points, but those final two, and the win, were as big as Mount Rushmore.  Her shot had given her team braggin' rights and the sole possession of first place in the conference.
"She's pretty quiet about things like that,"  said Beth Streib.  "But I told her that what she did was what seniors are supposed to do, and we only have three on the whole team.  It was a great moment for her."
Besides her 8, Molly Winner finished with 8, Heidi Rethman had 4, Alana Pohlman had 2, Molly Rethman had 1…and Sammy Hoelscher cashed in with a team-high 10 points.
In truth, Ivy Wolf, one of the best players in Ohio in any division, deserved to be up there on that rock with Homan, finishing with her 26 points;  but she had precious little support.  Only two other players scored for Minster – 4 points by Ella Mescher and 2 points by Averi Wolf.
Treva Fortkamp, who won a state title at Marion as head coach in 2003, now assists Streib and has seen her share of Marion-Minster thrillers that rivaled bare-knuckle combat.
"Marion-Minster, baby,"  smiled Fortkamp in the hallway outside the Flyers locker room.  "We probably had 25 turnovers, but we still won."
"This was how it used to be, when I played for her (Fortkamp),"  Streib admitted.  "When we played Minster you knew it was going to be physical, it was going to be a defensive game, and you knew you had to take care of the ball and make every possession count.  I give our girls credit.  They played tough."
At the other end of the hall Mike Wiss was disappointed, but not bloodied.
"Yeah, it was tough and you can point to parts of the game, and a call here or there.  But you have to play tough to win tough games, and we need to play that way in games that aren't so tough to be prepared for the ones that are.  Ivy Wolf had 26 points tonight and was tremendous.  Unfortunately someone else has to score, too.  We need to figure that out."
Marion improves its record to 14-1 and 5-0 in the MAC.
Minster drops to 11-3, and 3-2 in the MAC.
"I'm glad we have a few days off now before we play St. John's next week,"  said Beth Streib of her Flyers team, shaking her head as she sighed.
They're going to need it.  Mount Rushmore is really big!