It's hard to believe that we are past the halfway point of the high school basketball season…it's week 8 for the boys and week 9 for the girls…and five area teams are still unbeaten.
Welcome back to this Week in Basketball, and a preview of the week ahead throughout the Miami Valley.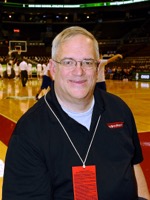 Before we get started, just a quick look back at one of the most entertaining days of basketball in recent memory. Saturday, there were nine, NINE games that went into overtime, and three required two extra sessions to decide.
In those three, the Vandalia Butler Lady Aviators outlasted Piqua, Fort Loramie won the annual grudge match with Minster, and Lima Bath ended weeks of frustration by grabbing its first win of the year over Spencerville.
Meanwhile, the Lima Shawnee Indians made their claim as the best team around with a dominant, 70-51 win over previously unbeaten Delphos St John's. The Indians have been seldom been challenged in winning their first 12 games and will host 9-2 St Marys in a huge Western Buckeye League encounter Friday night.
And a quick word of congratulations to the Houston Lady Wildcats. The Cats snapped a season opening 10-game losing streak with a win over Newton Monday, then won again Saturday at Jackson Center. The Wildcats will try to make it three in a row Tuesday night at home against Riverside.
Game of the week…No doubt that takes place with girls basketball Thursday night in Maria Stein, where the 13-0 Marion Local Flyers host the 11-2 Minster Wildcats. Minster was second and Marion Local fourth in last week's state poll, and both teams easily won their only game last week. Marion has a one game lead over the two-time state champion Wildcats, and Fort Recovery and New Knoxville are also just one game back in the MAC standings.  Marion Local will also host Anna Tuesday night, while New Knoxville travels to Recovery on Thursday night as well.
The unbeaten Fort Loramie Redskins and Tri-Village Patriots will be in the same gym Saturday but won't be facing each other. Both will play in the Classic in the Country Challenge in Berlin, with Fort Loramie tipping off the event against Loudenville at 9am, followed by the Patriots meeting Margaretta at 10:30. There are 22 games over the three-day Martin Luther King Jr. holiday weekend in that annual Classic.
The Redskins lead Anna by a game in the Shelby County League. Fort Loramie plays Houston and the Rockets meet Russia in league action on Thursday.
The Sidney Lady Yellowjackets continue to be one of the most amazing stories of the season. The Jackets entered the season having lost 44 of their last 46 games and dropped the season opener to Russia in double overtime. Since then, the Jackets are 11-2 and have a 5 and a half game lead in the Valley division of the Miami Valley League.

Sidney is led by 5-9 freshman Allie Stockton, who is fifth in the league in scoring at 16.2 points per game. Stockton also grabs 6 rebounds a game. Lexee Brewer, a 5-5 freshman, gets 9 points and 5 rebounds a game, and 6 foot junior Samantha Reynolds is fourth in the MVL with 8 boards a game. The Jackets host Piqua Wednesday night and Stebbins on Saturday.
In the Miami division, Tippecanoe maintains it one game lead over Butler. The 10-4 Red Devils travel to Xenia Wednesday and host Piqua Saturday, while Butler is at Stebbins and home to Greenville.
 On the boys side…Versailles and Delphos St John's are still perfect atop the Midwest Athletic Conference, one game ahead of surprising Parkway and St Henry. Versailles is at Lima Catholic Tuesday and home to St Henry Friday, while Parkway entertains New Bremen in league play Friday.
Delphos, meanwhile, will try to bounce back from that loss to Shawnee by hosting Coldwater Friday night.
The Shelby County League race is shaping up to be a sprint to the finish. Jackson Center and Anna each have one loss, and Fort Loramie has two. No one is hotter than the Rockets, who have won five straight by an average of 24 points a game. Jackson Center is 10-1 and winners of four straight, while Loramie is 7-3 after overtime wins over Fairlawn and Minster last weekend.
This week, Jackson hosts Houston Friday before traveling to Marion Local Saturday…Anna entertains Russia Tuesday and Fairlawn Friday, and Fort Loramie hosts Russia Friday in its only outing of the week.
In the Miami Valley League…Sidney leads Stebbins and West Carrollton by a game in the Valley division, while Tippecanoe has a one game edge over Troy in the Miami. The 10-1 Yellowjackets, who bounced back from their first loss of the season with a win over Greenville, will host Fairborn Tuesday night and Piqua on Friday.
Stebbins is 9-2 overall and has road assignments against Tippecanoe Tuesday and Vandalia Butler Friday.
West Carrollton, another success story at 7-3 after winning 7 games the last two seasons combined, will try to keep pace at Xenia Tuesday and at home against Troy Friday.
Tippecanoe, which got a big boost last week with the return of Nolan Mader, who missed the first half of the season with shin splints, entertains Xenia Friday night in its only test of the week.
National Trail took over sole possession of the Cross County Conference lead with a 54-44 win over Miami East last Tuesday. East and Mississinawa Valley are both a game back of the 11-2 Blazers, while four other teams are another game back. Trail is at Bethel Friday in its only game of the week, East is at Arcanum Tuesday and Covington Friday, and Mississinawa Valley travels to Ansonia Tuesday before hosting Bradford on Friday.
Finally, the Milton-Union Bulldogs remain in the thick of the race in the Buckeye division of the Southwestern Buckeye League. Milton survived Northridge 59-57 Friday to improve to 8-2, one game behind division leading Waynesville. The Bulldogs are at Carlisle Tuesday and at Franklin Monroe in non-league action Friday.
It's going to be a busy week…and don't forget the Moeller Beer Barn scoreboard every night for all the scores from around the area. Get out and support your favorite teams and read all about the biggest games of the week here on Press Pros!