First-year Trojan head coach Mark Hess's first taste of the Battle on the Great Miami will be a fond one, as his team battled to defeat the Piqua Indians 60-47 on Friday night…in Piqua!
By Luke Severt for Press Pros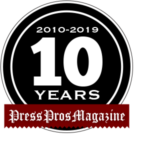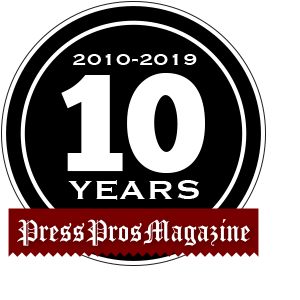 Piqua, OH – If you spend enough time around high school and college basketball, you will likely be drawn to a certain rowdy feature in the stands…the beloved student sections.
Passionate students all flock into a heated gym from the harsh winter outdoors, filled with adrenaline and school spirit. They often dress alike, chant at the game, referees or opposing student section, and come up with whatever other wacky distractions they can think of.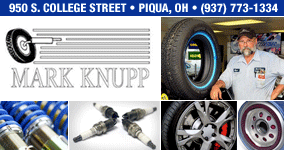 One of the more common and most celebrated of these distractions is the "fat head," a cardboard cutout of a recognizable figure's face, wildly magnified and larger than life. Often featured on these heads are players, famous athletes and celebrities.
Sometimes, such as with Kentucky's John Calipari or Duke's Mike Krzyzewski, a coach will make the cut, and get his own "fat head" in the student section. But it takes a special coach. One that is popular, loved and respected by the fans of his team and his players. One that generates buzz and excitement.
On Friday night at Piqua High School, first year Troy Trojans head coach Mark Hess's head, blown up to wild proportions and glued onto a stick, was waved around proudly by a member of the Troy student section, as the Trojans (7-4, 5-3 in Miami Valley League play) soundly defeated the Indians (5-7, 3-6 MVL), 60-47.
It was Hess' first taste of the historic rivalry between the two schools, deemed the "Battle on the Miami" (in football) and played annually as one of the oldest rivalries in the state of Ohio.
Hess, who spent the last five years as head basketball coach at Beavercreek, was thrilled to coach his first battle against the Indians.
"It's a great rivalry, man, and what I love about it is just the atmosphere," Hess said. "The packed gym and the support we had from our student section and our crowd was unbelievable, I feel like we had more students here than they did. That's a great advantage for us, and that's really what high school sports are all about."
As with every Troy-Piqua matchup, there's a feeling of intensity, tension and excitement leading up to the tip-off. The stands begin to fill up very early as each side of the gymnasium is coated in scarlet and gray, or red and navy.
Sometimes the players begin to chirp at each other before the game even starts, other times they are locked in during warmups, focusing on the 32 minutes that await them, and the impact that a winning or losing effort will have on each of these neighboring communities.
Sometimes, however, this buildup is flushed away almost instantly after the game begins. Sometimes a team comes bursting out of the gates, pulls away to an early lead, and doesn't slow down.
Sometimes, one team simply prevents the opposing side from having much to cheer about. On Friday, that was the case.
It took Trojan senior Austin Stanaford two minutes to score the game's first basket-. This would kick-start a 12-0 run that lasted nearly all of the first quarter and set the tone for the rest of the night.
"We wanted to come out and set the tone early with our pressure," Hess said. "Although we weren't really crisp offensively early on, our defense allowed us to speed them up so that they weren't able to come down and execute offensively, and we could get some buckets in transition."
From there, nothing really changed between the two teams. Piqua gained a bit of momentum to begin the second half, as the Trojans had a few careless possession with the ball, but the Troy lead was never less than 12, and pretty soon it was back up to 20.
With a quick string of three baskets to begin the fourth quarter, the game was all but over, a Trojan win.
"We're not the prettiest team in the state," Hess said about the win. "But our kids play hard…and that really is contagious for us in the way we play."
Troy's offense was able to spread the scoring throughout the starting lineup and the bench, as there were four different Trojans who finished with double figures in points on the night.
The last time a Troy team managed to do that? February 15, 2019. Nearly a year ago, at Piqua High School, in a win against the Indians.
Stanaford led the way for Troy with a season-high 12 points to go with 9 rebounds, one short of a double-double. Senior guard Tre Archie, and the junior duo of Shaeden Olden and Jaden Owens all finished with 11 points.
The Indians were also able to spread the ball out, as senior Iverson Ventura had a team-high 10 points, followed by juniors Devon Sever, Garrett Schrubb and talented young freshman Dresean Roberts, who each contributed 9 points for Piqua.
Hess commended his players for being able to share the scoring with one another, calling the team selfless and discussing the various weapons the team offensively. He said that facilitating offense and finding the best shot is one of the keys he preaches before each game. On Friday night, his last key was something rather unique.
"I told our kids to have fun. Enjoy this moment. For some of you in a year you're going to miss it, you're gonna be here watching and you're gonna miss it. We really want them to embrace that moment."
As the game ended, there were a lot of smiling faces on the Trojan side – smiling fans, smiling players. There was a mammoth version of Mark Hess' smiling face in the student section.
And a smaller version on the court.