In a showdown for first place in the Western Ohio High School Bowling Association, New Bremen rolled a pair of school records to top favored Coldwater.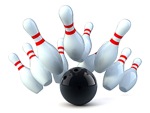 Versailles, OH – Whether it was the significance of New Bremen and Coldwater bowling for first place…or the size of tiny McBo's bowling center…it was packed Saturday afternoon by the curious who wanted to see which of the WOHSBA (Western Ohio High School Bowling Association) front-runners would emerge as the top dog in league standings.
Regardless, proprietor Keith Bowman's house was jammed wall-to-wall with people and the New Bremen Cardinals gave them a show.  The Cardinals set a pair of school records – high game (1,044) in individual bowling – and match total (2,932) – to best the Cavaliers, overall, 2,932 to 2,759.
New Bremen was led by outstanding invidual performances (games) by senior Spencer Alig (235), Maverick Nelson (236), and Nick Alig (255), and took four of the five 'Baker' games to emerge on top and in command of the standings at the mid-point of the WOHSBA season.
"They bowled really well.  They had a great day,"  said Coldwater coach Rick Hartings.  "Any time you have a pair of school records that's going to be hard to beat.  We had our chances today, but they were really good."
The match was set up to pit Coldwater's Michael Schoenherr (220 avg.) against Spencer Alig (204 avg.), a pair of senior anchors that enjoy that kind of competitive challenge.  They both struggled in the opening individual game, Schoenherr rolling a 168 and Alig with a 178.  Both bounced back in game 2, but Alig outdueled Schoenherr, 235 to 211.
"This was a big day for us,"  said Alig, who played football last fall and lost to Marion Local in the Division VII district finals.
"This gives us a boost to go on and take the conference title, with Versailles and Coldwater behind us now.  But you still have to come out every week and bowl.  Bowling is a game that can jump up and bite you if you don't."
And compared to football?
"I like football, but bowling is a different game,"  said Alig.  "Bowling is more individual, but it's fun to achieve something like this with the other four guys.  There's just five of us in bowling compared to eleven in football."
And sibling rivalry with his younger brother?
"That's fun, too,"  he added.  "A few weeks ago I had a really good game to beat him at Fort Recovery, and today he came here and had a 255 to my 235.  That's bowling, but we enjoy the competition."
How about a pair of school records, as well?
"I'm not sure if we had bowled 1,000 for a high game before,"  said Alig.  "And our match total (2,932) was by far our best day."
For Coldwater, both Hayden Beougher and Keaton Bruns bested teammate Michael Schoenherr for high game with a 245 and 215, respectively.
And while both teams admit that the schedule lightens a big from here to the end of the regular season, neither is taking anything for granted.  Anyone who's ever thrown a bowling ball knows how easy it is to throw it perfectly…and leave the 7-10 split.
Anyone will tell you.  That's bowling!