They borrowed from their pedigree, and frankly, a bit from that of Jackson Center's…Anna used its best effort of its still-young season to snap Jackson Center's brief, but unbeaten, run.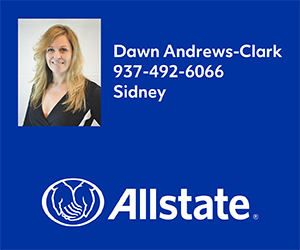 Anna, OH –  Anna's Bart Bixler proudly talked about the shiner under his right eye, as if it could have been motivation for the Rockets' 59-38 win over previously unbeaten Jackson Center Monday night, snapping the Tigers' six-game win streak.
"It's something that happened at the end of the Fort Loramie game last week, right at the end,"  said Bixler.  "You know I didn't realize it was there when it happened, but then I looked in the mirror afterwards and said, 'Whoa.'"
And did it help the Rockets win and even their record to 2-2?
"I don't know, but we needed that.  Coach has been telling us that our defense has been affecting our offense.  So we just got after it tonight."
Whether a black eye was what Bixler and the Rockets, collectively, had been needing?  It didn't hurt.  The Rockets' senior scored a team-high 18 points, played his usual Tasmanian-Devil style of hustle all over the court, made life miserable for Jackson Center's backcourt…and sure, some of that energy was bound to rub off on his teammates.  The Rockets, who had had trouble putting the ball in the rim through the first three games, took better shots, made more of them (23 of 48, 48%), and led throughout the game.
In fact, they never trailed.  And more importantly, they used what should have been a very familiar style of play to Jackson Center to jump on them from the opening tip.  They got inside the Tigers' skin, stayed there, and built a 17-10 lead by the end of the first quarter.  They contested every pass, every drive, and every shot.  When Jackson post man Aiden Reichert touched the ball they swarmed him in the paint.  When Reichert tried to put the ball on the floor and drive there was help defense.  The rotations were crisp, the communication was constant, and the confidence, which had been lacking in their previous losses to New Bremen and Loramie, oozed!
Still, Jackson started the second quarter with point guard Christopher Elchert canning a pair of long jump shots to cut the lead to three points.  And feeding off that energy Jackson began getting to the rim, creating contact and then getting to the line.  But they didn't cash in on those 'freebies', missing three of five for the quarter, and ultimately went to the halftime locker room trailing 24-20.
"Any time you're putting the ball in the hole it helps, and it gives you confidence,"  Jackson coach Scott Elchert would say later.  "So yes, we didn't shoot the ball well tonight, and it probably got to us mentally."
Still, four points is manageable, and a deficit that teams that play defense like Jackson should manage without issue in the second half.  Only, no one told Anna that.  Bixler, black eye or no, came out attacking the rim, scoring seven of his 18 points in the third quarter, as the Rockets quickly built on their lead and led 42-29 at the end of three.  Jackson had no answer.
"We got beat tonight,"  said Elchert, emotionless.  "They played well, they got us out of our game, and I don't think we responded very well."
Simple as that.  And like Anna of a year ago, they weren't about to take their foot off the gas down the stretch, outscoring Jackson Center 17-9 (59-38) over the final eight minutes.
"But the season's still early,"  Elchert added.  "And I like the makeup of my team so we'll get back at it tomorrow."
In the Anna locker room Nate Barhorst took a deep breath, and let out a big ol' predictable "WHEW" over what his team had just pulled off.
"That's exactly it…whew,"  laughed Barhorst.  "We knew it was a matter of time, we've talked about it, that things were going to start clicking.  We had to stay in our offense, and that's what we did tonight.
"We trusted each other, we got great balance inside and out…everything that we weren't doing previously we were able to do tonight.  Other coaches had warned us that we'd have more adversity than we thought starting the season (they started a month late due to football), so to have this kind of game, against that kind of opponent – and they're really good – is huge for us."
Balance?  Bixler's 18 had a solid complement.  Isaac Lininger had 10, Kam Steward had 8, Ben Kovacs had 7 off the bench, Riley Huelskamp chipped in 5, and Justin Murray, who bedeviled Aiden Reichert all night in the low post, finished with 4 points.
"This breaks us out," added Barhorst.  "This gives us some momentum and it opens up the league race again.  Poor defense against Loramie the other night led to poor offense, and vice-versa, but tonight we moved the basketball on offense – we took a few bad shots here and there – but we were able to get things back under control.
Elchert wished he could have said the same.  It was an uncharacteristic performance for his now 6-1 Tigers (4-1 in league play), a game where there was just never a moment, or a shot, that gave them any hope of getting over the hump that grew into a second quarter hill…and a fourth quarter mountain.  Aiden Reichert led them with 14 points (and he earned them all), while Garrett Prenger had 9, Mason Platfoot had 5…and Christopher Elchert did finish with 10 points but never scored again after his two long makes in the second quarter.  The Tigers finished 14 of 40 from the floor (35%) and 7 of 14 from the foul line.
"It seemed like every time we would start to cut into their lead we couldn't create a break for ourselves to get over that hump,"  concluded the Tigers' coach.  "And we didn't have a very good start to the third quarter.  We allowed them to take that four-point lead and expand it, and then continue to expand it.  We just didn't respond very well.  We started rushing shots and taking shots that I guess we thought would count for nine points."
Everyone plays twice in the Shelby County League, which allows for the inevitable question of how he would do things differently the next time Jackson Center plays Anna (at home on January 31).
"I don't know,"  Elchert answered without hesitation, or even a change of expression.  "But I know this much.  I've got to get ready for Fairlawn tomorrow when we practice.  So that's my intention and I just want to get back to my office tonight."
Nate Barhorst was going home to enjoy the holiday with a 2-2 record…and a new mindset for a new year.
And Bart Bixler?  He had some maintenance to do on a black eye – proudly!