Amongst all the other athletes, the best kept secret in Fort Loramie sports plays on Saturday mornings, and out of the public's eye.  But don't bowl her with your lunch money on the line.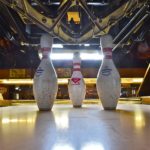 Minster – Community Lanes was playing hardball on Saturday morning.
Strikes were coming tough for the girls bowling in the Western Ohio High School Bowling Conference – from Parkway, Marion Local, Minster, Fort Loramie, Mississinawa Valley, Coldwater and Versailles.  Spares were coming even tougher.
Frustration began to show early as games and scores began to fall apart.  Pocket hits were yielding solid ten pins leaves, and worse…7-10 splits.  Spare attempts were falling off into the gutter.  These games are competitive, mind you, and spirits are normally high.  But bowling is a game that giveth, and taketh away.  And Saturday morning Community was taking more than it was giving.
In the midst of it all…Fort Loramie's Elena Bulcher was doing her best.  She always does.  A name you don't hear in association with the other Loramie women's sports – volleyball, basketball, and track and field – she ranks as one of the area's best in bowling.  And the reason why you don't hear about her in Loramie is for the fact of being home-schooled.  She's not mainstream, and along with her four siblings they've all been taught at home by parents Cletus and Bernice.
How good is Elena Bulcher?  Well she qualified for the state tournament last spring as a junior.  And this past Thursday in a match against the girls from Newton High School, she bowled a 235 and a 279!  Saturday morning, however, started out differently.
In her first game, matched against girls from Mississinawa Valley, she rolled a strike in the first frame…then, like many others, she threw four consecutive open frames.  Undeterred, she picked things up in the sixth frame and rolled spare, strike, strike, strike and spare to finish with a 171.  It was well below her average, but high for her team.  More important, in those last five frames she overcame the house;  and in her final individual game she rebounded to form, rolling a 242 (413 composite).  From those four open frames in the first game, she marked in her next 16 frames.
"She's one of the best here.  Elena's smooth, but I really think she just very talented,"  said Community proprietor, and former PBA bowler, Doug Davidson.  "I know she did a lot of work when she was young with Keith Bowman, at McBo's in Versailles, but mostly she's just a good bowler."
She's as smooth as a pane of glass.  Like pitchers in baseball, Bulcher's delivery is marked by her repeatable delivery.  Her form – her release – is the same on every ball.  Nothing ever changes.  Her speed is constant, and her style is dictated by a late break at the end, maybe a foot, directly into the 1-3 pocket.  If she makes adjustments, they're to differing oil patterns..and they're subtle.  Elena Bulcher is the poster child of consistency, and she attracts the attention of other bowlers.
"We watch her in practice,"  says Dustin Billing, a junior member of the Loramie boys team.  "Her eye never leaves her spot when she throws, and she has that same delivery every time.  She's really, really good, and she'd beat most of us (boys) by 40 pins."
She started in junior bowling, in Versailles, attracted to the sport because it was fun…and something for which she obviously had a talent.  And that talent just sat there for a few years, until she grew older and became more competitive.
"She really learned things kind of late – like how to hook the ball – I think before her freshman year,"  says dad Cletus.  "And her brother Dominic bowls, and he and Elena are both very competitive, so it's something they share and enjoy.  He's helped her a lot."
She'll tell you she bowls for fun, but if you press her a bit you soon find that she's far more competitive than most notice – proud of what she guesses to be about a 192 average.
"That's probably about right after my 279 this week,"  she said following Saturday's match.  "But I think I can do better."
"She's special,"  said Loramie coach Doug Thomas.  "Her ability to be consistent is amazing.  Nothing bothers her, and she got tapped (10 pin) a lot today.  Her 242 could easily have been better, and her 279 on Thursday had a couple of ten pins.  But she just picks up her ball and takes the spare."
She admits that her only real disappointment so far has been her sub-par performance in last year's state tournament.
"I didn't have a very good day,"  she admits.  "I don't know what it was, maybe nerves, because I'd never been in that situation before.  I hope I get back there this year, and I hope I bowl better."
Until then, her approach to bowling and her career after graduation is purely one day at a time.
"I really don't know what I want to do for a career, or about going to school,"  she says.  "But I'm sure something will work out."
There weren't a lot of standout scores on Saturday.  Community taketh away, as Bulcher's 242 was far from her 272 on Thursday, even though it really amounted to just one strike less.
As for the sake of something working out, what could really work out for Elena Bulcher is collegiate bowling, where scores of high school athletes are finding scholarships with the fast-increasing popularity of NCAA bowling.  She smiles at the possibility, but doesn't sweat the fact of her name not being out there.  If it happens, it happens.
And let's hope it does.  Because for now she's the best kept secret in Fort Loramie, where champions are coveted and appreciated.  And Elena Bulcher, whether she knows it or not…is just getting started.