Junior Aidan Reichert, along with the rest of the Jackson Center School District, was gifted a day off of school due to the snow and ice that has impacted the area for the last few days.
By Luke Severt for Press Pros

Jackson Center – "It's way easier," Reichert said with a smile when asked if it was more or less challenging for a player to prepare himself for a game when there is no school. "We have a shoot-around in the middle of the day that gets us ready. We like that. We like that."
And although sheets of white covered the barren fields and building rooftops across rural southwestern Ohio, the gymnasium at Jackson Center High School was packed to capacity – Tiger fans and the Fort Loramie Redskin faithful both braving the weather to support their teams in a battle of the undefeateds.
Jackson Center was in command the entire game, dominating the Redskins by a final score of  55-34. With the win, the Tigers improved to 5-0 on the season and 3-0 in the Shelby County Athletic League, while Fort Loramie fell to 3-1 and 2-1 in the SCAL.
"It's a good win, but we always have to keep it in perspective," Jackson Center head coach Scott Elchert said. "It's only game number five, so it's a good building block, but only if we use it that way moving forward."
It was the fourth time in their first five games the Tigers have been able to hold their opponent to under 40 points, as Jackson Center has been able to execute Elchert's defense-first mindset that the school has become known for throughout the area.
It's the understanding of these game plans that Elchert believes has led to the successful start his team has seen thus far.
"Overall, we did a very good job challenging Fort Loramie tonight on their shots, both when they would get penetration in the paint and we would stay down to make them shoot over a high hand, and we were there on the catch so that for the most part we limited any clean looks from the three point line. We know how dangerous they can be from there."
As per usual with Jackson Center games, it was a low scoring affair on Tuesday. The Tigers led 9-7 after the first quarter, and 22-14 at half. The Redskins managed to stick around as the Tiger lead was down to 34-27 after the third quarter, but Jackson Center dominated the fourth to win by a significant margin.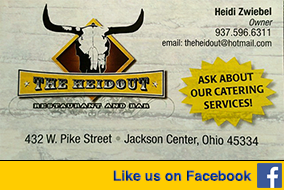 There was one player in particular who simply could not be missed while watching the court: Jackson Center junior, number 32, Aidan Reichert. He's listed at 6-foot-5, he's strong, he's quick. He can shoot, he can jump, he can play defense. He can do it all for the Tigers, and by having his skills, he creates opportunities for others as well.
"He's the central part of where we start our offense," Elchert said. "The good thing for us is he's got shooters around him, so when they do try to double down on him and so forth, he's been doing a good job of finding those open guys. Like I said, we can put multiple guys out there who can knock down those shots from three."
Not only is Reichert an offensive facilitator, leading the Tigers with 20 points on Tuesday, but he also had three blocked shots. He has proved himself as a balanced player, on a team that Elchert describes primarily as being balanced.
Moving forward, the Tigers will have over a week off, as their scheduled game against Anna on Friday will be moved due to the success of the Rockets' football team. Their next home game is with Botkins, at home, in 10 days.
Fort Loramie will look to rebound as they travel to St. Henry on Friday in a non-conference matchup.
The two teams will meet again later in the season, on Tuesday, January 28th. This time, the Redskins will have the home court advantage that both Elchert and Reichert say means so much to the players.
"Anytime you can get a gym full of people and you're at home, it adds to the excitement of the game and gets the adrenaline flowing for the kids a little bit more, so it's really good," Elchert said.
The excitement of the crowd and the win could be seen flowing through Reichert's blood even after the game was over. Although Elchert is quick to remind his players to take the season one game at a time, it was clear that the Tiger star is incredibly anxious to play, and in his mind, hopefully earn more wins.
"I'm definitely very excited," Reichert said. "Definitely very excited. Me and my teammates just have to keep working hard in practice and we will have a good season."