After a sloppy start the Buckeyes settled down to flip the script, tune up for a weekend date out West with Kentucky.
Columbus – It seemed that the color guard had just marched off the court after the national anthem when Ohio State basketball coach Chris Holtmann already had that deranged look in his eyeballs. He was so angry he might have been able to bend titanium with his bare hands.
The Buckeyes, after scoring the first basket 11 seconds after tip-off, had three turnovers on three straight possessions. The closest people to the ball were spectators in the front rows.
And it got worse – much worse.
The giveaways reached five when point guard C.J. Walker had the ball slip out of his hands with 15:44 left.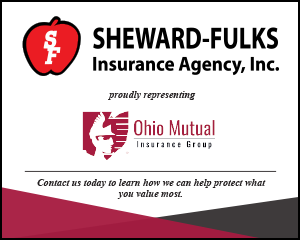 Then freshman forward Alonzo Gaffney actually hit the side of the backboard with a shot from the baseline.
The turnover count reached 11 with 10 minutes, 50 seconds left in the first half on a bad pass.
Holtmann subbed and subbed some more to shake things up, but Ohio State had an astounding 13 turnovers for the half.
There would be no Stephen F. Austin or Evansville miracle as the Buckeyes scored on their first six possessions of the second half and pranced to an 80-48 victory over Southeast Missouri State before an announced crowd of 13,177 on Tuesday night at The Schott.
It was the second straight game sophomore guard and second-leading scorer Duane Washington did not play because of a rib injury. His availability is listed as day to day.
What happened to these guys after all that sloppiness had run its course?
"We just needed to slow down a little bit,'' junior forward Kyle Young said. "We were moving too fast.''
Later, he added, "We were out there playing too frantic. It was a matter of passing and catching.''
Holtmann had players running to the scorer's table to check in when he didn't like what he saw, and he saw a lot of ugly ball.
Sophomore guard Luther Muhammad was pulled after a little more than two minutes rather than during the first television timeout. Freshman forward E.J. Liddell went to the bench after giving up the baseline to an opponent on a successful drive to the basket.
At one time, there were three fresh players checking in.
One benefactor was sophomore swingman Justin Ahrens of Versailles with 19 minutes off the bench. His energy and ball movement helped change the game.
The players had little time to feel sorry for themselves after the debacle in Minneapolis, but they couldn't wait to redeem themselves and get back on to the rails.
"We just wanted to play Ohio State basketball,'' junior center Kaleb Wesson said. "We were pressing a lot (against Minnesota). We just got out of our ways a little bit. We were preaching more about having fun. We were eager to get back (to being) us. Tonight helped us out a lot.''
Ohio State (9-1) certainly did not wash away the stain of an upset loss at Minnesota on Sunday that probably cost it the No. 1 ranking, but this was a pretty good tune-up for the match-up against Kentucky on Saturday in Las Vegas.
There were 21 turnovers for the game, but also 23 assists. Other numbers looked superb: 30-for-51 shooting from the floor overall, 13-for-27 shooting from three-point range, six blocked shots and a 44-25 domination of the backboards.
Individually, Kaleb Wesson totaled 18 points, 10 rebounds and two blocked shots, Young 10 points and nine rebounds, freshman point guard D.J. Carton 10 points, five rebounds and five assists and senior forward Andre Wesson 14 points and three assists.
Kaleb Wesson had four personal fouls, but two should have been no-calls with opponents doing a poor acting job in flopping and the officials actually buying it.
Holtmann was relieved when the Buckeyes started to hit their marks with a 23-10 run the final 10 minutes of the first half to lead 35-26.
"They were really handsy in the first half and made it difficult for us to run offense,'' he said of the Redhawks. "We contributed to that. Our guys did a great job the last 30 minutes. They really moved it and shared it. We made some threes and played inside-outside.
Things really changed at the start of the second half when Young had a lay-up off a feed by Andre Wesson, Muhammad had a trey from the baseline, Young a three-point play and Liddell a dunk from Walker for a 45-28 lead with 14:58 remaining.
"We changed it a little how we were attacking in the second half,'' Holtmann said.
Kaleb Wesson said the changes weren't rocket science.
"We were eager to get back to us,'' he said. "We were trying to find our rhythm instead of letting it come to us.''
Southeast Missouri State coach Rick Ray, a former Purdue assistant, was impressed with what he saw from Ohio State.
No. 1 on his list was how the players play for each other on a nightly basis.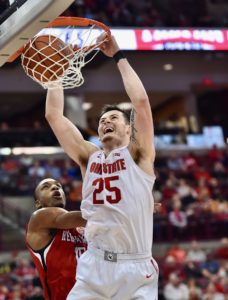 "The biggest compliment I can give that I heard from somebody else is that they don't care who the opponent is whether they are playing Southeast Missouri State or Duke,'' Ray said. "They are going to try to go out and execute and dominate, and I think that's a really good testament to the team he has put together. It's a nameless opponent.''
Ray said the Buckeyes should be ranked in the top five throughout the season.
Asked to compare this team with the 2007 Final Four team that lost to Florida in the championship game, he said this one is better.
"The big thing is you don't have the No. 1 pick in the draft like Greg Oden and another lottery pick in (Mike) Conley,'' Ray said. "This team maybe doesn't have that, but they are a better overall team because the way they are coached and the way they share the basketball.''
Oden was beat up that season, and it looked like Kaleb Wesson was going to follow the path in one game with knee, lip and ankle injuries in a short period.
Wesson laughed when told that he is catching up to his brother when it comes to hurts. Andre had teeth knocked out last season and a fractured orbital bone this season.
"It started out with my knee. It got rolled up,'' he said. "It scared me more than it hurt me. Then I came back down and busted up my lip. Then a couple possessions later my ankle kind of got rolled up a little. It was a tough one today, but I'm good. I'm catching up (to Andre) on the injury report.''
Holtmann ran across the floor to check on Wesson underneath the west basket.
His heart was beating faster with every step, and it wasn't from aerobic exercise.
"Your mind goes to places you don't want to go,'' he said.