Threes were the theme of the game…a rarity in scoring at any level of basketball, and a game that took three periods for Fort Loramie to finally beat New Bremen.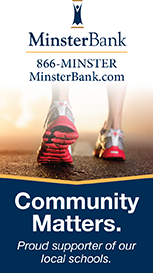 Fort Loramie, OH – They say…that if you hang around any game long enough you'll see something you've never seen before.
Such was the case Saturday night in Fort Loramie's 47-44 win over New Bremen…in double overtime…when it took Loramie 22 minutes to score a two-point basket – not until the 2:12 mark of the third quarter.
Not that they didn't score, you see.  No, they scored 24 points in the first half, and to that point another six in the third quarter – 30 points.  But all of those 30 points came on three-point attempts.  And in doing that Loramie likely set a school record for 3-point percentage that will last a lifetime.  They hit 8 of 12 in the first half, and two of their first three attempts in the second before Grant Albers finally rolled in a two-point shot just prior to the two-minute mark of the third.  Unofficially, the Redskins hit ten of their first 15 shots from behind the arc.
"Hard to explain,"  said coach Corey Britton later.  "But you have to give some credit to New Bremen for that, too.  They made it tough, defensively, we got those three-point looks, and we hit 'em."
Frankly, Corey…every team at any level in the world would like to have it that good.  And enjoy it, because it's gonna' be a long time before you see it again.
In the first quarter alone, they hit six of eight attempts – one by Caleb Meyer, one by Nate Meyer, one by Nolan Berning…and three by Devin Ratermann, who came off the bench;  and he spread it around.  He hit one from the deep corner on both sides of the court, and one from the top of the key.  Then Ratermann hit his first attempt from the right wing in the second quarter before he finally missed one from the left wing.  He finished four of five from the field for the half, and all from behind the three-point arc.

"Devin had a pretty good weekend,"  smiled Britton, afterwards.  "He hit four last night against Houston, and another four (three-pointers) again tonight."
Typically, when you hit 8 of 12 treys in a half you blow someone out, but New Bremen kept pace with five three-pointers of their own – one by Griff Roetgerman, one by Trevor Bergman, one by Dan Homan, and two by Nolan Bornhorst – and trailed 24-18 at the break.  And when Roetgerman hit another three-pointer midway through the third quarter the Cardinals finally took their first lead of the game, 28-27.
But Loramie buckled down on defense, and made Bremen work just as hard to score as it had been for the 'Skins.  Corey Britton would later characterize it as…every possession counted.
Then, of course, Loramie and Grant Albers ruined everything when he made that two-pointer, and the game see-sawed back and forth, ending in regulation with a 39-39 tie.
It was a scenario familiar to those who love baseball.  One night you score 20 runs, and the next night you can't score at all.  In the first overtime period neither team could score from the floor.  Nick Brandewie hit a pair of free throws for Loramie;  and Bornhorst hit a pair for Bremen to finish in another tie, 41-41.
Forced to a second overtime, Grant Albers and Nate Meyer both hit two-point shots from close range, while Albers added a pair of free throws…and Logan Suchland would connect on a three-pointer for New Bremen to conclude things with Loramie escaping with the 47-44 win.
"We had good possessions in the first half, our biggest kid if 6'3″, and we're more perimeter oriented than we've ever been,"  said Britton, explaining his team's first half phenomenon.  "We got inside-out looks and skips, we got shots, and it was big that we made them.  And if Devin (Ratermann) doesn't hit those four threes we're a hurtin' bird."
On the other side, first-year coach Corey Stephens could only shrug.
"They threw a haymaker at us in the first half,"  he said.  "We responded well, defensively.  We gave up 24 points for the half, which is good, but they hit eight threes.  So be it.  That's freaky and you live with it.  You just trust the process – trust what you're doing."
Probably the most unaffected of all was Devin Ratermann, who coming off his four 'mades' the night before, stepped into the game on Saturday with nothing in his head but visions of success.
"I've never done that before,"  he admitted.  "And those points came from in-and-out passes.  My teammates got me those shots.  I didn't create them."
Loramie finished shooting 54% for the game, led by Ratermann's 12 points, with 8 each by Caleb Meyer and Grant Albers, 6 from Caleb Maurer, 5 each from Nick Brandewie and Nate Meyer, and 3 from Nolan Berning.
New Bremen finished 45% from the floor, led by Nolan Bornhorst's 13 points, 11 from Logan Suchland, 9 from Griff Roetgerman, 5 from Dan Homan, and 3 from Patrick Wells.
Loramie improves to 3-0, with previous wins over Russia and Houston;  and New Bremen drops to 2-2.
"I'm not making any excuses, but we've been together for two weeks [due to football],"  said Britton.  "And I think we've had 13 practices, total.  So to have three wins, and tonight's game be a grind it out, find a way to win kind of game…it wasn't pretty but I was proud of how our kids battled."
But it does raise the question.  If you can hit 10 of 15 three-pointers and win…why practice at all?