Following in the tradition of football and basketball, the MAC's newest sanctioned sport is providing the same kind of competition on Saturdays.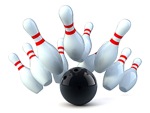 Coldwater, OH –  This should come as no surprise…that the MAC's newest league sport is providing the same competition and rivalry on Saturdays as football and basketball does on Friday nights.
We're talking bowling, of course, a sport voted in as an 'official' MAC sport just six weeks ago, and already the competition for pecking order and bragging rights is taking its place alongside the older, more established sports.  And as play opened on Saturday, December 14, Colwater and Versailles were sitting atop the standings as the league convened at Pla-Mor Lanes, in Coldwater, on Saturday.
As it turned out, the Coldwater girls came out on top in head-to-head competition with Versailles, 2,849 to 2,393, with Allison Fox (212, 193) and Rachel Miller (217, 192) leading the way with individual scores of 405 and 409, respectively.  Natalie York had the individual high game for Versailles with a 215.  Afterwards, Miller, who only started bowling as a freshman, admitted that the competitive fervor is in the MAC's newest sport as it is in football.
"It is," she said.  "We talk about it amongst ourselves and look forward to competing on Saturdays.  It's the same as it is with football and basketball, only bowling doesn't get as much attention at school."
A senior heading to Ball State next fall to get her degree in nursing, Miller uses bowling as a motivation for her priorities for the future.
"I want to get my nursing degree and become an RN (registered nurse),"  she says.  "There's a shortage of nurses and it's a good career.  I'm sure of that, but I don't know if, or how much bowling I'll do after high school.  But this is fun, I enjoy it, I enjoy the competition, and being with my teammates on Saturday mornings."
In the afternoon shift the Versailles and Coldwater boys took up right where the girls left off in the morning, riding atop the league standings and vying for top honors by the end of the day's competition.  Michael Schoenherr and Hayden Beougher got Coldwater off to a good start in individuals, with 232 and 235 scores, respectively, and leading the Cavaliers to an eventual win over Verasailles, 2974 to 2,796.
Schoenherr, a quiet-spoken senior who plans on attending Wright State's lake campus next year to study engineering, particularly enjoys the new official league distinction, and the added competition it affords.
"I do like it,"  he says.  "It really adds to the competition and the goal of winning a MAC championship in bowling."
It also helps to validate his obvious skill as an amateur bowler.  Through the first month of the 'MAC' season Schoenherr has hovered near the 240 mark for an average.
"I don't know how long, or how much I'll bowl after high school,"  he shares.  "But it's probably something I'll do for long time.  So I'm glad to have it now as a league sport because winning a league championship would be something very cool."
"Being a league sport is a very good thing for the kids,"  says Coldwater resident, and bowler, Rob Bruns, whose son Keaton is a freshman member of the Cavaliers' team and rolled a 211 on Saturday.
"It makes bowling more official, but it also helps to give kids the same rivalry with St. Henry and Marion Local that we have in football and basketball."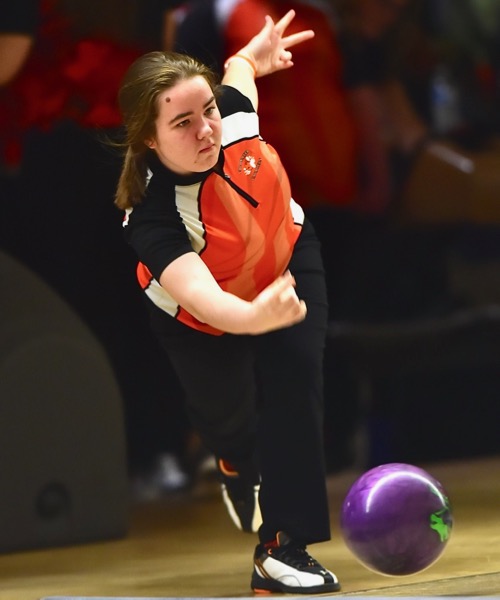 And not surprising, Saturday's competition drew a large enthusiastic crowd.  Pla-Mor was standing room only with parents , family, friends, and interested onlookers…many who commented on Press Pros' addition of bowling coverage to our weekly inventory.
"This is a great thing for the kids who don't play football and basketball…to have some coverage on your website," said one.  "And now I know how you get it published so quickly.  You do it from the bowling alley."
Correct.  Pla-Mor has excellent wi-fi.
And there is a distinct MAC flavor to this, outside of bowling.  Marion Local junior Zach Bruggeman bowls, yes, but played right tackle during last Saturday's win over Lucas High School for the Division VII title in football.  So we asked:  "Does Tim Goodwin bowl?"
"I don't know,"  said Bruggeman, with a shrug.
"Well, would you bowl him for $20?"
"Sure, I guess,"  he said with a confident grin.
The apple doesn't fall far from the tree in the MAC, regardless the sport.  Coldwater, by the way, has five state titles between boys and girls bowling, without official status as a league sport.  So the only surprise is…
Why did it take so long?