Sluggish in the first sixteen minutes, Versailles flipped the switch in the third quarter Monday night to beat Tipp City and improve to 6-1.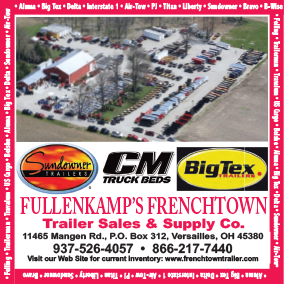 Versailles, OH –  Once they got going they were fine.  It just took the Versailles Tigers sixteen minutes and some halftime mental adjustment to get to the business at hand.
But once they did…the Tigers streaked out to a 14-6 run in the third period, got a comfortable lead, then held off a late Tipp City charge to beat the Red Devils 53-40 Monday night and improved to 6-1 on the season.
"It's definitely an easier game to play when you're making shots,"  first-year coach Tracy White assured after the game.  "When the effort's there, you're making shots, and other things are going your way it's just easier to play the game.
"It was ugly in the first half.  We had some turnovers – we weren't careful enough with the ball – but we made a few adjustments at halftime and talked about just playing our game.  We relaxed in the third quarter and definitely shot better…and played better."
Versailles led 13-12 at the end of the first quarter, but only because senior Danielle Kunk banked in a three-pointer from about 40 feet as the buzzer sounded.  And then the two teams set the game back a few decades by playing to a 6-4 Versailles advantage in the second quarter and take a 19-16 lead into halftime.  Someone reported seeing Dr. Naismith put on his coat and hat and leave the building at about the same time.
But those halftime adjustments were money.  The adjustments and Lindsey Winner…who came out hot in the third quarter and proceeded to score 13 of her game-high 20 points in the second half.  And to make sure she wasn't lonesome taking all those shots, Kunk scored 10 of her 15 points for the game in the same sixteen minutes.
Winner, who missed about a month of the volleyball season with a sprained foot, showed no ill effects and looked in mid-season form.
"The foot is fine,"  she said afterwards.  "It actually was worse then because volleyball aggravated it because of all the jumping.  Now it's fine and I just ice it every night.  I was rusty at first but now that we're practicing every day I'm getting into the old habits from last year."
And the third quarter spurt?
"Determination, I think," said Winner.  "We weren't up by a lot and we just came out and kicked it in.  We worked harder, got some better looks, and we did a better job of finding the open spots on the court."
And, the rim must have looked wider.  After shooting about 28% in the first half the Tigers got out and ran some, got some easy buckets, and executed some nice slip screens and the pick and roll to get more close attempts at the rim.  They shot 11 of 20 in the second half (55%) to seemingly put Tipp away at the end of the third period.
Tipp, however, had other ideas.  Andy Holderman's Red Devils took advantage of some sloppy basketball as Versailles lapsed for the first four minutes of the fourth quarter…and cut what had been a 12-point lead to 8.  But Winner and Kunk both finished with a flourish, each scoring 7 points down the stretch to extend the lead back to double digits by game's end, 53-40.
Katie Hemmelgarn led Tipp with 16 points;  and Ashleigh Mader added 10 for the now 2-3 Red Devils.
"We're working on getting into the routine of our offense,"  explained Smith.  "We're setting a lot of screens, but we're struggling on the end of those screens to make shots…and tonight we were trying to pull out their big girls so we could get a post player isolated or be able to drive.  Right now the non-league games aren't as slug-it-out as it'll be when we begin to see more MAC teams, but I'd probably give us a 'C' for the first six games.  Some days are better, other days are worse, but we're going to get better because we'll do the little things better with time.
"And our defense was good tonight.  Caitlin McEldowney does a lot of things defensively that don't stand out in the stats, but she's a big aspect of our team.  Defensively, she's huge because she's quick, she gets after it, and it's nice to have that.  What we have with our size and Caitlin out front is a good combination.  It definitely makes the offense and running sets easier."
Tipp drops to 2-3 on the season and is back in action on Wednesday with a league game at Piqua.
Versailles improves to 6-1 and likewise slips into league action with a home date against Marion Local on Thursday.