Marion Local completed the MAC's quinella for next week's state finals Saturday with an easier-than-it-looked pasting of outmanned Patrick Henry.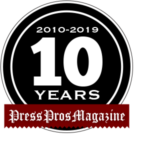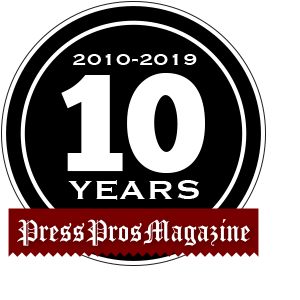 Lima, OH – Somewhere in the back of Tim Goodwin's mind there has to be at a least a little bit of concession…that after you get to the state football finals 14 times it becomes a bit routine.  But he swears to the contrary.
"It never gets old,"  he said following Saturday night's 40-6 shellacking of Patrick Henry in the Division VII state semi-final game at Spartan Stadium.
"It never gets old because every team is different, and because they're all different it's fun to coach…always a different challenge."
And I suppose he could make the case, too, that it's always different in how you pull it off.  Some years it's the offense that gets you there, some years it's the defense.  Some years it's special teams.
But this time, number 14, it was the 'big' play that put the Flyers on top early in the first quarter – a 97-yard touchdown run by sophomore Peyton Otte from out of the shadows of their own end zone, and then a career night by junior wide receiver Charlie Huelsman that just kept growing and growing, and growing!
Otte's run came on the second play of the Flyers' second offensive possession at 8:14 of the first quarter following a 64-yard Patrick Henry punt that rolled dead inside Marion 's five yard line.  On second down Otte took the handout of from Kyle Muhlenkamp, cut off left tackle, and set sail – down the far sideline for the far goal line.  The only person with a clear shot at tackling him was the side judge.  6-0, Marion, after the extra point was deflected and no good.
Three minutes later after another change of possession, Muhlenkamp spotted Huelskamp running ten yards behind Patrick Henry's free safety and hit him with a perfect pass for 71 yards and another score at the 5:34 mark to make it 13-0.
Marion's defense was laying some big hits on Patrick Henry's offense, allowing for more punts than yards, and on the Flyers' first possession of the second quarter Brandon Fleck added to the point total with a four yard run to make it 19-0.  Again, the extra point was blocked, but as it turned out…those two blocked kicks were the sole Patrick Henry highlights for the game.
At the 6:08 mark of the second quarter Marion had the ball on its own 8 yard line after another Patriot punt and Muhlenkamp again fake a bit of play action and launched the football down the field as far as he could throw it.  But not farther than Huelskamp could reach, as he caught it at the 50, broke a tackle, and raced 92 yards for another touchdown to make it 26-0.
Pretty good half, you think?  Think again.  Five minutes and another Marion possession later, Muhlenkamp found Huelskamp again for 19 yards and his third touchdown of the first half to make the score 33-0…and a running clock to start the second half.
Fleck scored his second touchdown at the mid-point of the third quarter to make it 40-0;  and mercifully, against the Marion seconds on defense Patrick Henry finally beat the running clock to score a mop-up touchdown to avoid the shutout, 40-6.
No one had a broader smile than Charlie Huelsman, on whom fate decided to bestow a career performance in what was arguably the biggest game (or at least the most significant) in his young life.
"I hope it's not a career game for him,"  Tim Goodwin later cracked.  "We've got another game next week and he's got another year to play."
But to the 6'2″ Huelsman those big pass plays were never in the plan – the last thing he expected.
"Actually, we thought we might be able to run on them," he said later.  "We thought their secondary was one of their strengths.  We were just able to get behind them on those two big plays and make the big throw."
Goodwin acknowledged that they had scouted them on their first two possessions.
"We had someone watching from the sideline to see what they would do if we ran some action,"  he said.  "And sure enough they came back and said if we do this they're going to bite.  So we did, they bit, and we threw it over the top of them."
In all, the Flyer offense accounted for 490 total yards – 202 on the ground and 288 through the air.  Charlie Huelsman, himself, had 250 of those air yards in seven catches as his counterpart, Kyle Muhlenkamp, finished the game with 10 for 11, and 288 yards.
"I really don't know why it happened that way tonight,"  added Huelsman.  "I really hadn't had a big game during the playoffs, but I was hoping to have one now.  It just happened.  They bit a few times and we took full advantage of it."
Without question, it couldn't have happened at a better time as the Flyers will no doubt need that added confidence in their passing game in next week's championship matchup with Lucas.
"It's the fun part of the playoffs because in our league everyone gets to see what you do every week,"  said Tim Goodwin.  "But in the playoffs you get to see three films and you can bring some stuff out that people maybe don't see on those films.  Tonight we hit those big plays to get out to the lead…and then you say, OK, if you want to run the ball between the 20s and burn the clock, go ahead.
"With Kyle throwing like he did tonight it gives us an added dimension because we do have two very good receivers in Huelsman and Otte…and that's a good thing to see because we have had some ugly offense at times this year.  He's had some issues with inconsistency, but he's a great kid and he just keeps plugging away.  And you root for him to have a good game because he does everything we ask.  I know he gets frustrated with himself at times, but it was fun to watch it happen for him tonight…and I hope he can do it one more time."
They'll play Lucas next week for their fourteenth appearance in the state finals under Goodwin, seeking their 11th state title, which would tie the all-time championship mark currently held by Division I Cleveland St. Ignatius.  And while getting there again doesn't make it a milestone, necessarily, it is impressive when you again consider how far this particular Marion Local football team has come this year after losing those 18 starters from last year's Division VI state final team.  Tim Goodwin is delighted, of course, to get there one more time…but he takes nothing for granted.
Hence, he'll be rooting for Kyle Muhlenkamp again…and a reprise of Charlie Huelsman's 'career' effort Saturday night against Patrick Henry.  This is not the Marion of years past, he concedes.  But the longer they play the better they play – the more they look like those teams that set the standard.
He hopes there's just enough of that…for one more win.