Now there are only two area teams remaining in the OHSAA playoffs, and ironically the two that headed our August list of teams that had Thanksgiving football in their futures.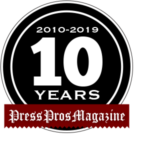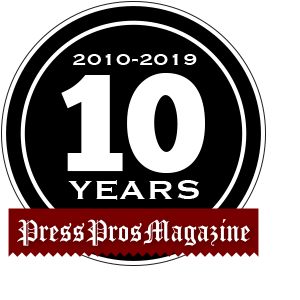 At the Anna-Archbold game last Friday night a photographer from the Sentinel-Tribune in northwest Ohio introduced himself and paid compliments to Press Pros Magazine.
"I read your website because you cover the teams that get to the playoffs every year,"  he said.  "And do you remember that Anna was one of the teams that you listed back in August that would make it this far?"
Duh!  Even with an awful head cold I had to chuckle.  But….
"Do you remember the other team that's playing this weekend?"  I asked.
"Marion Local,"  he quickly answered.  "They beat Seneca East last year.  I remember that game, too."
Two right answers, sure enough.  I just wish he had the answer for the common cold.
But kudos to both Anna and Marion for making it, and for being exactly what we said they'd be back when we ran that story on August 19.  But to be completely honest…I also wrote about St. Henry and Piqua, too, who turned out to be intriguing for entirely different reasons, I guess.  People are still scratching their heads over those two, but dollars to dimes they'll be on next year's list again.  There's something about 'baby-and-the-bath-water' stories that always intrigues me.
But to the present…why has Anna justified our prediction – what we surmised even three months ago?
We wrote at the time that Riley Huelskamp would return as the best player in the MAC in 2019, but he actually turned out to be the best player in the area…or at least the best player we saw personally this year.  We also wrote that quarterback Bart Bixler would be the best complementing piece to any football team in the area, because Bixler creates the awful choice for opposing defenses of who you worry about most…him or Huelskamp.  Without looking, I think we also mentioned their big, experienced offensive line at Anna, about which coach Nick Marino made constant references.  "The best leaders on our team have been offensive linemen,"  he offered.  And was he not still saying that after last Friday night's win over Archbold – complimenting the play up front, tackle to tackle.?
There is, of course, the old-as-time-itself factor of playing in a league that offers better competition on a weekly basis, thereby making the playoffs seem easier than playing against Coldwater and Marion Local.  Archbold coach David Dominique was quick to mention that on Friday, citing that by the time teams from the MAC get this far "it's probably like playing another league game."
But the one thing we didn't mention in August was the impact of Nick Marino, himself.  Riley Huelskamp took care of that in his post-game remarks last Friday.
"Our coaches do a great job with the game plan,"  said the Rockets senior – the first words out of his mouth.  "They give us a great game plan and we just execute it.  I'm pretty happy about that."
Duh!  And the Dow Jones is almost 28,000 today, too.  More reason to be happy.
But what Anna has accomplished also centers on the human spirit of knowing they had this potential, and yet not resting on it.  Instead, they've proven against Marion, Coldwater, and Minster (winning two of the three) that there's an URGENCY to maximize on Huelskamp, Bixler, the offensive line, the game plan, and the coaching each and every week – maxamize on it, and do it NOW.  We sensed that back in August, and we're still writing about it now.
The other team still playing from that August column has done it with different faces, sure…but with the same old recipe of 'next man up' at Marion Local.  The expectation for success there is so great that even the casual observers who follow the Flyers talk about them with full understanding of their tried-and-true formula.
"We gotta' block and tackle better,"  said retired coach and teacher Bill Elking, standing on the sideline of last Saturday's win over New Bremen.  Elking, who's been around as long as long as Bill and Tim Goodwin, themselves, broke it down to football's most basic ingredient.  The team that's the most physical usually wins.  And little by little throughout this 2019 season the Marion Local Flyers have proven that, getting more experienced and more physical with each passing week – even without names like Nate Bruns, Nick Tangeman, and and Sam Huelsman.
There's also this fact.  Goodwin and his staff are expert at taking 'next-man-up' and applying coaching to their individual strengths.  They're not the dynamic offense they've been in past years, but there's enough of past offenses still around that you have respect Charlie Huelsman, Brandon Fleck, and Peyton Otte now…along with Kyle Muhlenkamp's potential to execute the plan of new faces and new talents.  That's how Marion won their last two playoff games against Fort Loramie and New Bremen – by executing better when the game was on the line.
And when was the last time Marion won a clutch game with a 35-yard field goal?
Back in August Tim Goodwin actually mentioned…Peyton Otte (for his speed and playmaking talents), Charlie Huelskamp (for his ability to get open and make catches), and Fleck (a typical Marion running back) and then added, "I think we can stop some people on defense, if we can find a way to score some points."
Will guess what.  The defense has stopped people, holding powerful Loramie to 21 points and shutting out New Bremen, and the offense has been good enough (averaging 25 points a game in those two wins) to again make Marion Local a team of intrigue across the state.  Trust it, they're reading this column today at Mechanicsburg, New Middletown Springfield and East Knox (Division VI) … and at Patrick Henry, Harvest Prep, and Lucas (Division VII).
Just like they did last week – like they've done all season – and at the Sentinel-Tribune.