Their 2019 season came to a close Saturday night.  But while the New Bremen Cardinals sadly bowed out of the tournament hoping for more, coach Chris Schmidt's 'work in progress' took a quantum leap towards the future.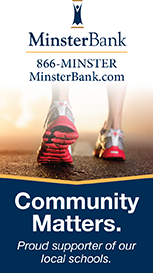 Wapakoneta – There really are no comforting words at a time like this, or at least words that are sufficient.
In the wake of the New Bremen Cardinals being eliminated from the playoffs Saturday night (a cold, snowy Saturday night) by MAC rival Marion Local (27-0), coach Chris Schmidt did his best in the post-game huddle.
"I told them I was proud of what they had accomplished,"  said Schmidt afterwards.  "I thanked the seniors for their commitment, and I told them all that I loved them."
And he meant it, the emotion rising in his voice as he spoke.  But what Schmidt has done at New Bremen in just four short years is noteworthy, given that the program was gasping for breath when he took it over…and that as recently as the beginning of the 2019 season he still insisted that New Bremen football was a "work in progress".  This, coming off a 6-4 season in 2018 when the Cardinals barely missed qualifying for the playoffs.
As it is, they finished the regular season in 2019 with a 7-3 mark…and boarded the bus for home Saturday night after losing to Marion with a 9-4 record, and with new-found respect from the rest of the Midwest Athletic Conference.  The work in progress was measurable, without question – exactly 33% over last year.
"I reminded the kids this week that the Marions of the world, the Coldwaters and the Minsters all had to start somewhere and build themselves up,"  Schmidt said after addressing his kids.  "That's what we're trying to do, and it's emotional tonight as this year comes to an end.  But the reason we didn't play Marion this year in the regular season is because when we rotated the schedule the last time they were on top of the league and we were dead last in the league.  And now here we're playing them in the regional final.  I can't be more proud of the kids and the work they've put in, our coaching staff, the administration, and the community and boosters.  It's been awesome to watch, but we're still trying to build."
The 27-0 score hardly reflects how hard New Bremen played Saturday, holding the ten-time state champions to just 7 points in the first half, while misfiring themselves on opportunities to move the ball and score.  And in the second half Marion was able to strike through the air, get their running game going, and helped their cause defensively with a pair of interceptions of Cardinal quarterback Mitchell Hayes.
"We had some opportunities, but it was a tough night to play and it was tough to put points on the board.  Of course it's always hard to put points up against them.  They're a good ballclub.  But our kids kept battling, and like I said, I'm proud as heck of them."
There were times when they outplayed, outgained, and frankly gave as good as they got physically with Marion Local.  But 'works in progress' work like that – in steps.  It doesn't all come together instantly, and Schmidt and the Cardinals will no doubt go back and look at Marion's maturity to simply move the ball better through the air…or by finding that extra gear between the tackles in the second half, when the Flyers unquestionably won the line of scrimmage.
"I think we were disappointed that we didn't get points in the first half, because we had talked about it during the week – lay it all out there," said Schmidt.  "But we were right there, very close, and all we needed was to pop a play or two and continue to play well defensively.  Certainly it hurt when they scored first and we couldn't get the momentum back, but hopefully tonight shows the kids that if they work hard and believe great things can happen.
"That's what happened last year when we came up short of making the playoffs.  I really think that was a motivation.  They worked hard over the winter and got to see what we accomplished this year.  And I'm eternally grateful to our nine seniors because they led by example all year long.  Now, getting this far and falling short will help get our younger kids to come back and work just as hard – to get better and take another step."
They say it comes in baby steps, but 6-4 to 9-4 and losing to Marion Local in the regional final can hardly be dismissed as minute improvement.  What they've done in four years is nothing short of a quantum leap towards the upper levels of MAC-dom – of Marion, Coldwater, Minster and Anna.
And if that's not enough the Cardinals beat St. Henry this year for the first time since God knows when – before anyone on the roster was even born!  So regardless of what Marion and Anna do from here on, one can make the reasonable case.  2019 was the year of the Cardinals in the manner that 2018 was the year of the Rockets.  Everyone has to start somewhere.