Covington dodged adversity twice in the postseason … but Mechanicsburg and Jake Hurst proved too much in a Division VI, Region 24 championship game Friday night.
Piqua, OH – In addition to its on-field opponent, the Covington Buccaneers also battled adversity in its first two playoff games.
Injuries, penalties, turnovers and late-game rallies all threatened the Buccs' playoff run the last two weeks. Covington overcame it to reach the program's sixth regional championship game and first since 2012.
On Friday night, adversity arrived again. His name was Jake Hurst.
The Mechanicsburg sophomore – perhaps feeling slighted by his honorable mention selection on the area's Southwest District team – was the best player on the Alexander Stadium/Purk Field turf at Piqua High School. Hurst, a first-team, all-state selection in 2018, was a one-man wrecking crew. He rushed for two touchdowns, caught two more, blocked an extra point, harassed the Buccs in the backfield and came up with one of the game's biggest plays early in the third quarter.
Covington trailed 28-14 at halftime and desperately needed a score and defensive stop to grab the momentum. The Buccs drove to the Indians' 29-yard line on the opening drive of third quarter when quarterback Cade Schmelzer broke free from Hurst's grasp and found Kleyton Maschino for an 18-yard pass on third-and-17.
Covington – seeded fourth in Division VI, Region 24, was going to thwart adversity again … until Hurst broke through the line on a blitz, stripped the ball from Schmelzer and recovered it on the 45-yard line. The Indians didn't score off the turnover, but the play demoralized the Buccs and helped drain some clock in No. 6 Mechanicsburg's eventual 42-26 victory.
"That was the mindset all week during practice. We have to win it," Hurst said "It's only happened once at our school so why not make it twice?"
"Jake was a very motivated individual tonight. There's no doubt about that," Mechanicsburg coach Kurt Forrest said. " … We just have to wind him up and let him go."
Likewise, Mechanicsburg's offense felt energized in the first half. The Indians scored touchdowns on four of their five first-half possessions, with the fifth one running out the half.
Covington trailed 20-6 with 3:48 left in the second quarter before rallying. Schmelzer connected with Duncan Cooper for a 46-yard gain, setting up Cooper's four-yard run a few plays later to make it 20-14 with 2:14 remaining before the half.
But on the next play, Mechanicsburg quarterback Aaron Conley hit Hurst down the middle for a 63-yard score. Hurst picked up a key block from Colin Hartley to spring him. Mechanicsburg led 28-14 and it stayed that way until the fourth quarter. The Indians – after recovering that fumble and forcing a Buccs' punt – used an 11-play drive to score on Hurst's seven-yard run with 11:05 left in the game.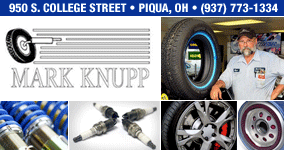 Mechanicsburg led 36-14 after the two-point conversion.
It was just one of those nights for Covington. The Buccs, playing without two senior captains injured in last week's victory, would threaten until a penalty or miscue stalled a drive.
After Mechanicsburg took a 14-6 lead, Covington's next drive was bogged down by consecutive fumbles on a bad snap and a fumble after a catch that would have been a first down, but resulted in no gain to force a punt.
Still, facing the prospect of ending their season with a running clock the Buccs fought back. After Mechanicsburg went up 42-14 with 7:15 left, Covington stopped the two-point conversion attempt to keep the score under 30 points.
Covington's Trentin Alexander then fielded the kickoff at his 20 and took it to the Indians' 2-yard line. He scored one play later to make it 42-20.
Covington's Connor Sindelir intercepted a pass with 1:52 remaining, leading to Maschino's sensational catch-and-run with 1:19 left. On third-and-10 from the Buccs' 17-yard line, Maschino hauled in a pass near midfield, cut across field at the 35 and stiff-armed a defender near the 20 for the 83-yard touchdown good for the final score.
"It was mostly the quarterback. He gave me a perfect ball and I just did my thing. I had awesome blockers," said Maschino, who caught five passes for 146 yards
Said Covington coach Ty Cates: "Our kids never quit. Like I told them, they're a joy to coach every day. It didn't end up the way we wanted but that's life. In life you're going to face a lot of adversity and how you respond to it. Our kids have always responded the right way. Everything was going against us and they could have just quit. There's never any quit in them."
Unofficially, Covington (10-3) finished with 178 yards of offense including 39 on the ground.
Hurst ran for 76 yards on 14 carries and caught three passes for 114 yards for Mechanicsburg (11-2). Chayse Propst added 77 yards rushing on 16 carries as the Indians finished with 190 yards rushing.
"You have to give credit to our offensive line," Hurst said. "They make the holes for us. We just have to hit them and keep running, move our feet."
The two-tandem quarterback system of Logan Hurst and Aaron Conley combined to throw for 170 yards.
Mechanicsburg advances to play Anna in the state semifinals next Friday, the Indians' first appearance since 2013. The Rockets beat Archbold 42-7 to advance. It's another postseason match-up with the Midwest Athletic Conference for Mechanicsburg, which has had some classic duels with Minster and Marion Local in previous seasons.
"The MAC has been the measuring stick around here forever because of where we're located," Forrest said. "A lot of people like to bring up your league's record against the MAC. Well what's every other league in the state of Ohio's record against the MAC? I'm guessing it's not very good.
"We're going to go compete our tails off like they are. I think our league is showing we're taking steps to becoming something that people are going to have to respect."
"It's the kids and the hard work they put into it," Forrest said of the Indians' postseason success. "We ask them three simple things every year: show up every day, have a great attitude and fight like hell. And they do those things. When you do those things – it doesn't matter if it's football or math class or at home – you're going to have success in life. You're not going to win every time, but if you do those three things you'll have success."
As for Covington, the Buccs were playing for their first state semifinal since 1985.
"It's just about family and we stuck together the whole time," Maschino said. "We never gave up on each other and that's what led us here. … They're family. I wouldn't be anywhere without them."
"It's been an awesome ride," Cates said. "It's my fourth year at Covington so this is my first four-year group I've coached. They're like my own sons. To watch them grow and get better how they have, they're just a special group. It was a special group. I hate that I won't get to see them every day. I love this group. They'll forever be in my heart. I've never been to the regional final so they gave us that opportunity and got our program where we wanted it to go.
"It speaks volumes for these kids. Our kids are so resilient. They're going to be successful in life. At the end of the day football is an avenue to try and teach kids life lessons. Hopefully the younger guys take note of the older guys and how you handle adversity."