Nothing went right for Archbold, and Anna did as much as possible early to see to that…the Rockets capture their first regional title in football in championship style with a win over Archbold.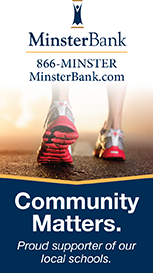 Lima, OH – Archbold head football coach David Dominique summed up Friday night's Division VI regional final game with the Anna Rockets in one statement.
"Riley Huelskamp is one heckuva' player,"  said Dominique, shaking his head.  "Every time you think you had him, you didn't."
Yep, that pretty much summed up Anna's 42-7 win over the Blue Streaks, with this complimenting add-on by Dominique.
"That offensive line is the best one we've seen.  That quarterback (Bart Bixler) is very good.  And they're just a good team – well coached.  They deserved the regional championship."
There comes a point when everything, no matter how good it is, gets redundant when the script seems to repeat itself.  But in Anna they never get tired of reading – 156 yards on the ground for Riley Huelskamp, and three touchdowns…58 yards rushing for Bart Bixler and a touchdown…and a beautiful 36 yard touchdown strike from Bixler to wideout Nolan Emerson that pretty summed up a game that seemed a thing of destiny;  and after three weeks of playoff blowouts, perhaps a season of destiny for the Rockets.
The only irony in this particular win was the disparity in the score and the final numbers.  Because if you didn't know the score you might have thought better for the Archbolds.  The Blue Streaks (11-2) actually outgained Anna 315 yards to 294.  But the manner in which the Rockets utilized their yards was another matter.  From the outset Archbold was just another 'cookie' for a title hungry football team.
The Streaks took the opening kickoff, stuttered on their first three plays from scrimmage, but on third and long an Anna penalty game them life and a first down.  They drove the ball into Anna territory – to the 35 yard line – before turning it over on downs.  It became a trend.
In two plays Bart Bixler showed the faithful from Fulton County the 2019 MAC football profile.  Bixler took a snap, juked a tackler out of his shoes at the line of scrimmage, reversed field through the secondary and ran for 35 yards.  No fewer than five Archbold tacklers missed trying to bring him down.  Four plays later he scored from one yard out to give the Rockets a 7-0 lead.
Archbold ran aground again, turned the ball back to Anna near midfield…and this time it was Riley Huelskamp who ripped off a 38 yard run through the secondary to score at the 3:00 mark, 14-0.
Archbold had a nice quarterback – DJ Newman – and Newman had enough of a cast around him with running back Noah Gomez and receiver Antonio Cruz to move the football.  But every time they got into Anna territory the Rockets would stiffen – bend but not break – forcing a punt or a turnover on downs.  And at the 11:38 mark of the second quarter, on Anna's second play, Huelskamp took advantage of another change of possession with an 8-yard run to make the score 21-0.
Frustration began to show on Archbold.  Literally, the more they did right the more things went south.
"You could definitely feel it,"  said Anna offensive tackle Anthony Billing.  "We felt it very quickly…they got frustrated."
On their first possession of the second quarter Newman and Dominique went a bit deeper into the playbook – a bubble screen play that saw the football fall behind the intended receiver, untouched, and a live ball.  Anna defensive back Brandon Shannon was on it like white on rice, picked it up, and raced 58 yards with it for a touchdown.  Now the score was 28-0, and there was very little 'streak' left as Anna took that four-score lead to the hallftime dressing room.
"It was a good first half, but we bent a lot,"  said Rockets coach Nick Marino.  "They got down the field on us and we gave up 200 yards in the half.  We don't like for that to happen, and we had a couple of penalties to help them extend drives.  But the kids made some plays.  We need to be a little sharper about those things."
They got sharper quickly, taking the opening kickoff in the third quarter and again moved the ball – Bixler and Huelskamp – into Archbold territory where Bixler went for the jugular.  He lofted a pass to the goal line for Nolan Emerson, who went up with Archbold's Jeffrey Richards to compete for the football.  One of the other got a hand on it to deflect it (Emerson didn't know which), but when he came down and looked up the ball was directly over his head and he snatched it out of the air for a touchdown…and a 35-0 lead.
Now with a running clock, Archbold finally moved the ball down the field and into the end zone with a twelve play drive that ended with 35 yard pass to Antonio Cruz to cut the deficit to 35-7.
But Anna immediately came back with Huelskamp to score his third touchdown of the game, from four yards out, to conclude the scoring at 42-7.
"They were good,"  a Blue Streak player told a local reporter.  "They were very good.  We hadn't seen a team like that this year."
Which brings to mind the well-worn, and perhaps tired cliche', that a lot of teams haven't seen teams like Anna until you get to the post-season and run into a team from the MAC.  The Rockets have the dynamic duo, yes – Bixler and Huelskamp.  But even more impressively, their offensive line was big, dominant, and came out to establish that 'conference' confidence with power football on their very first possession.
"We play every week as if it's our last week,"  said Anthony Billing, afterwards.  "Every senior on the team feels that way, so we come out confident, we come out to strike first, and it's fun to have Riley behind us.  We open up holes and somehow he finds his way through even the littlest ones."
"We ran the ball well,"  added Nick Marino, who was actually seen smiling in the closing moments of the game – a rarity if you're familiar with his sideline countenance.  "Our line really blocked well, especially in the first half because we only ran twelve plays, but had some pretty quick scores.  And that scoop and score by Brandon (Shannon) was big because it kinda' broke them.  We teach the kids to go ahead and pick it up and run.  You never know and he did a really good job.  You know we work on that all the time and I think tonight was the first time we've gotten a score on it."
Brandon Shannon doesn't get many opportunities to talk about plays like that, especially in regional championship games.
"I don't know what to say,"  he said quietly.  "I just heard a bunch of screaming and the whistled hadn't blown.  I just picked it up and went.  Coaches always tell us to do that, just in case.  So I did and just kept running."
Coaches will never admit that winning is commonplace, but the manner in which Anna has now won eight games in a row since scoring 42 points against Versailles – 53 against Fort Recovery, 49 against Coldwater, 49 against Parkway, 56 against Delphos St. John, and 143 points in consecutive playoff wins over Minster, Fairview and Archbold – would lead one to believe that no one in Ohio is playing with more confidence, or swag.
Riley Huelskamp talks about it, but modestly.  "It's a team accomplishment,"  he said.  "And a lot of hard work.  We just had a good game plan and we executed."
Anthony Billing talked about it, speaking in terms of the motivation to play as if it was your last game.
And Nick Marino knows he's blessed to have a large contingent of seniors who've played a lot of football together – Bixler and Huelskamp, for starters, but that big offensive line that may yet prove to be their most important asset.
"They know what they're doing, especially the offensive line,"  he says.  "They've been doing it all year, repeating the same plays over and over, so they're very confident.  They trust what they've been coached to do, they trust their teammates, and when you have explosive players in the backfield you can even miss a block once and a while and it's alright."
And cliche' as it is by now, he doesn't discount the fact of it being November, the state semi-final round is next week, and once again there's going to be two MAC teams (in Division VI and VII) involved.
"It's huge to play good football teams all year long," he said with a nod.  "And tonight we beat a good team, and a team that beat one of the best teams in our league (Coldwater).  We were worried about their athletes all week.  But when you play the teams we play you feel like you're prepared."
The Rockets now play Mechanicsburg next week, who eliminated Covington Friday, and a team with its own dynamic tandem in the backfield.  But like with Archbold, you know about teams like Anna, Marion, Coldwater and Minster by reputation, but you really can't appreciate the challenge until you see them face to face…and with a trip to Canton on the line.
"They're the best we've seen,"  Dave Dominique repeated.  And he said it with conviction.