Coaches of vanquished foes highly complimentary of Buckeyes … Rutgers not much of a match, as expected … Fields, Dobbins dominate in lopsided victory.
People were lining up to give Ohio State glowing reviews last week, and some of the most credible respect came from coaches of two teams the Buckeyes pummeled this season.
James Laurinaitis, who was a broadcaster for the Nebraska-Northwestern game, passed along what Scott Frost and Pat Fitzgerald had to say in a Yahoo.com story.
Frost, whose Cornhuskers were beaten at home 48-7, told the one-time Ohio State linebacker: "I've been around a lot of teams. I was on the field (as the former Oregon offensive coordinator) against the 2014 team, and I just feel like this is the most complete, dominant college football team I've seen with my own eyes.
"Everybody's in danger of stubbing their toe somewhere, but I don't see it happening with them."
Fitzgerald, whose Wildcats lost at home, 52-3, told Laurinaitis, a starting linebacker for the 2006 Buckeyes who made the national title game: "The last time I saw an Ohio State team like this one they have now was the teams (you) played on.
"You can see their guys are performing at a very high level from the standpoint of consistency, and that's what jumped out to us on tape. Regardless of who was playing, the consistency of fundamentals and execution in all three phases was outstanding."
That's high praise coming from people who would know, but it doesn't stop there. Laurinaitis said it's the most complete Buckeye team he's ever seen. And a columnist friend of mine, who has been on the Ohio State beat for a quarter-century, said they're he best he's covered.
Based on what I've seen in college football this season — including every Ohio State snap — it's hard to disagree with those assessments.
The Buckeyes (10-0) looked dominant again in a 56-21 win at Rutgers (2-9), which admittedly plays at barely above the FCS level.
They went into the day ranked first in the nation in points per game at 51.0 and first in points allowed at 8.6.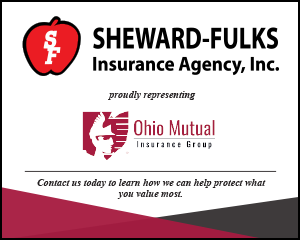 The last team to do that for a season was undefeated Army in 1944. Those Cadets were stacked with talent as future soldiers prepared for World War II — men who will always go down as my personal heroes — and won the national title behind Doc Blanchard and Glenn Davis, the famed Mr. Inside and Mr. Outside.
The Buckeyes went into the week having scored the most touchdowns (62) while giving up the fewest (8). And it's not like they're playing each week against the Mormon Tabernacle Choir. Their strength of schedule is comparable to that of any playoff contender.
But before I can go all in on the Buckeyes, I need to see how they fare against No. 9 Penn State at home and No. 14 Michigan on the road the next two weeks. Let's see how they perform in a tight game with the season on the line where mouths get so dry it's impossible to spit.
I know Penn State didn't exactly dominate Saturday against a foe the Buckeyes crushed on the road earlier this season. The Nittany Lions benefited from a nonsensical muffed-punt call on the opening possession (it stood even after the replay review … Uggh, don't get me started!) in a 34-27 home win over Indiana. But they'll have a different mindset against Ohio State because they can play freely and will presumably be at their best.
I also wonder how Ohio State would do if it has a rematch with Wisconsin for the Big Ten championship — especially after quarterback Justin Fields crowed in the aftermath of a 38-7 win last month, "I honestly think we could have put 50 on them if it wasn't raining."
That should be all the motivation the Badgers would need.
But make no mistake, these Buckeyes are good. Really, really good.
The folks in Las Vegas who devise betting lines had them as a 53-point favorite against Rutgers. That may seem absurd, but it's indicative of what America is thinking. Remember, bookies are trying to draw an equal number of wagers on both sides to guarantee a profit.
Even without five regulars, including Chase Young, the Buckeyes raced to a 21-0 lead in the first nine minutes, led 42-7 after the first series of the second half and then pulled their starters.
The defense forced turnovers on the first two possessions, and Fields went 15 of 19 for a career-high 305 yards and four touchdowns.
He's thrown for 31 TDs with one interception this year — despite never having played a full game — and is completing 69.1 percent of his passes. He's also rushed for 10 scores.
Are we sure Joe Burrow has already locked up the Heisman?
The Buckeyes were No. 2 in the playoff ratings behind LSU and likely will stay there. That's probably fair since the Tigers have four Top-25 wins, while the Buckeyes have just two — though it should have been three since 7-2 Indiana was snubbed last week.
That brings me to my biggest sports beef — the never-ending fawning over the SEC.
No one would argue it isn't the best conference in the country, but it's not head and shoulders above the others like the committee and uniformed fans and media seem to think. LSU has a suspect defense, and Alabama's unit is even worse.
Florida, Auburn and Georgia give the SEC five Top-25 teams, which is one fewer than the Big Ten. And most of the rest of the conference is garbage — just like the bottom portion of any other league.
For the committee to put three SEC teams in its top-five last week was a stretch. Remember, the SEC and ACC play only eight league games and don't put themselves at risk for one more loss, unlike the Big Ten, PAC-12 and Big 12, which play nine conference games. While Ohio State is, say, hosting Wisconsin or facing Nebraska on the road in a cross-division game, the SEC is playing marshmallows.
Here is Alabama's non-league schedule: Duke at a "neutral site" in Atlanta (can the home of the SEC title game be considered neutral?) and New Mexico State, Southern Miss and Western Carolina at home.
But the committee had the Crimson Tide fifth this week. Are they out of it now that they've apparently lost starting QB Tua Tagovailoa for the season? Probably. But what if they win their last two games convincingly with a back-up?
Or what if No. 4 Georgia wins the SEC title? They're a lock for the playoffs, and a one-loss LSU isn't going to be left out, either.
I'd love to see the committee show some spine and not just give a second SEC team a pass based on the league's reputation, but I wouldn't count on that.
That's why Ohio State had better win out. Nobody wants to end up among the one-loss teams fighting for spots, especially with the SEC bias being such a powerful force.
Can the Buckeyes run the table? The oddsmakers will think so, based on what the point spreads figure to be — and they're not the only ones.
Scott Frost and Pat Fitzgerald don't see a loss on the horizon, either.