Once on the verge of shutting down the program, the Cardinals have rallied to reach the Division VII, Region 28 championship game for the second time in program history.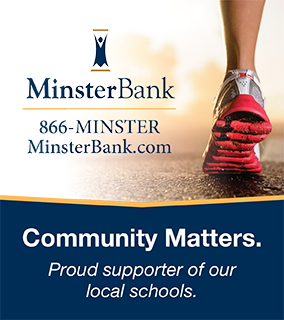 Piqua, OH – As recently as 2014, the football talk in New Bremen centered around possibly leaving the Midwest Athletic Conference … or shutting down the program entirely.
Now when locals talk about "shut down" and "football," they're more than likely referring to the Cardinals' defense. And that offense isn't too bad, either.
Eighth-seeded New Bremen matched its longest postseason run in program history Saturday night with a thorough drubbing of No. 5 Lima Perry. The Cardinals scored touchdowns on their first five possessions for a 42-14 victory in the Division VII, Region 28 semifinals.
And — with no offense to the
— it wasn't even that close. Perry (8-4) avoided the shutout with a pair of touchdowns – the final one aided by an onside kick – in the final 1:06 of the game.
Until then it was all New Bremen (9-3). The Cardinals – making their first playoff appearance since 2004 and the program's third overall – played like postseason veterans at Piqua High School's Alexander Stadium.

New Bremen's first scoring drive took four plays and 1:52 off the clock. It ended when junior Zach Bertke broke a tackle near the line of scrimmage and bolted 15 yards for the 7-0 lead.
The second drive needed 10 plays and 5:40 before junior quarterback Mitchell Hays sprinted seven yards up the middle for the 14-0 advantage. Hays' 15-yard run made it 21-0 on New Bremen's five play, 53-yard drive in 1:25.
Desperately needing a score to stay in the game, the Commodores failed to fall on a short kick-off that was recovered by the Cardinals on the Commodore's 37-yard line. Eight plays and 4:03 later, Hays lofted a pass to senior Patrick Wells for the 15-yard TD.
And they struck again three plays later … this time on defense. Hays stepped in front of Perry sophomore quarterback Ryan Yingst's pass in the end zone and returned it to the Cardinals' 15-yard line. New Bremen needed seven plays and 3:40 to drive downfield for Bertke's second score, a 14-yard run. New Bremen led 35-0 with 2:10 left before the half.
Just 50 seconds later, the lead jumped to 42-0 when Hays stepped in front of Yingst's pass and returned it 30 yards for the score.
Perry fumbled the ensuing kickoff and New Bremen recovered on the Commodores' 30. The Cards drove to the 10-yard line, but missed wide left on a 29-yard field goal attempt with one second left before halftime.
Not bad for a program that in 2014 had discussed the options of leaving the MAC in football only, dropping football or keep plugging away. The Cardinals choose No. 3.
"I'll put it this way," said New Bremen coach Chris Schmidt, "these seniors, when they were sophomores we were just trying to win a game in the league. When these kids were eighth-graders we had the state's longest losing streak. Five or six years ago this program was close to extinction. The work these kids have put in – and the kids before them – to build this thing back up … it's been a fun run this year."
It's a good sign when the football team's season lasts longer than the volleyball team. And that's more of nod to the spikers' prowess after reaching their third straight state championship game, winning two of them. So with the football team three wins away from a state title themselves, the football team is asking why not us?
They'll get no argument from Perry. New Bremen held Perry to 12 plays total in the first half for 60 yards. The Commodores finished with 235 total yards thanks to some big chunks through the air in the second half against New Bremen's second and third teamers. Perry was held to 11 yards rushing on 11 carries overall. They went into halftime with minus-11 yards on five carries.
The Commodores, who won the Northwest Central Conference and were making their second playoff appearance in program history, struggled to match up with New Bremen. Having just 23 players on the roster – and starting five sophomores on defense – didn't help.
"We shot ourselves in the foot a handful of different ways," Perry coach Dan Baker said of two first-half interceptions and two turnovers on kickoffs. "(New Bremen) played hard and physical. A couple of our guys didn't quite play as hard and physical."
New Bremen, meanwhile, rolled up 352 of their 423 yards in the first half. The game was played with a running clock in the second half.
Bertke led New Bremen with 110 yards rushing on seven carries, all in the first half. Hays added 72 yards on nine carries. As many as 11 Cardinals carried the ball Saturday night and seven different receivers caught passes.
This time of the year the MAC typically fields the favorites for small-school football championships. This season is no different, except that New Bremen is among them. Three MAC schools remain in the postseason – Anna in Division VI and New Bremen and Marion Local in Division VII.
New Bremen and Marion play 7 p.m. next Saturday for the regional championship at a neutral site to be announced Sunday. No. 2-seed Marion beat No. 3 Fort Loramie 24-21 in overtime on Saturday. New Bremen and Marion did not meet in the regular season.
Five MAC teams have as many state titles as New Bremen has postseason appearances (3) – Marion Local (10), Coldwater (6), St. Henry (6), St. John's (6) and Minster (3). It goes to six if you add Versailles' six titles, though only one came as a member of the MAC. Fort Recovery also has a state title.
But none of that matters to New Bremen. The Cardinals were one of five No. 8 seeds to claim an upset over a No. 1-seed in Week 11 joining Kettering Alter (D-III), Clyde (D-IV), Carey (D-VI) and Sherwood Fairview (D-VI).

"We're coming from a good conference. We get that competition from teams like Minster, Coldwater, Marion," Hays said. "We're going to expect a good team next week. It'll be a couple hard-nosed teams. Perry, I wish them the best of luck next year.
"We knew coming into the season we had the athletes and we had the coaching. We're here now. That's all we expected. We expect it next year and the year after that. We have the guys now. We thank the past alumni for what they put in for us. We look up to them."
Previous New Bremen teams certainly took their lumps. The program struggled through an 0-24 stretch from 2012-2014, including 0-10 seasons in both 2013-14.
The nine wins this season match the single-season record (2004, 1998). From 2010-17, the program went 10-70.
But the program started to turn around in 2018 with a 6-4 record. The Cardinals just missed the playoffs by finishing ninth in the region, one spot shy of qualifying.
"Last year we were really disappointed we didn't get in because we felt like we could have made a run. It just didn't work out that way," Schmidt said. "The opportunity has been there and the kids are making the most of it. It's a very exciting time for our program and our school.
"You could see some of these groups at the junior high level had success. I think it built from there. They started to believe why couldn't they collectively – as a couple classes – put things together to turn things around. We had great groups of kids who knew they probably weren't going to experience some of that success but were helping to lay the groundwork."
Senior lineman Ryan Paul credits last season's success and senior class – it was the Cardinals first winning season since going 9-4 in 2004 – with building confidence.
"That senior class really helped us out showing us what it took to win," said Paul, the right tackle, who along with center Sam Sailer, right guard Hunter Williams, left guard Spencer Alig and left tackle Ben Blickle blew open holes for the offense Saturday night. "A lot of credit goes to the upperclassmen before us to help build this program up.
"It's awesome to bring this program back around. We're all really excited about that."
New Bremen knows the challenge facing them next week. Marion Local has 78 playoff wins, a state record for all divisions. The Flyers, making their 22nd playoff appearance, are 78-11 in the postseason with 17 regional championships.
"We talked (Saturday night) that these kids have done a lot," Schmidt said. "They're going to be able to put a banner up in the school. Now it's a matter of what it's going to say on the banner. Is it going to say regional runner-up or regional champion? State runner-up or state champion?
"We want to try and make the program the best we can make it. These are special opportunities we don't always get a chance to do. We want to make the most of it."
The Cardinals already have.