It could have been the best Division VII tourney game of the tournament, regardless of what the next three weeks bring.  Marion Local took Ft. Loramie's best punch and still came away a winner in overtime.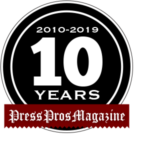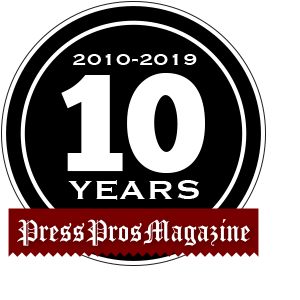 St. Marys, OH – Regardless of what happens over the next three weeks, one could arguably say that the 'unofficial' 2019 Division VII state championship game was won by the Marion Local Flyers Saturday night…a 24-21 overtime thriller over Fort Loramie – two teams so evenly matched, and competitive, that it's hard to conceive that there's another two in Ohio that's better.
That's an opinion, of course, but when you consider the records, the history, and the competitive effort of ten-time state champion, #2 seed Marion Local (10-2), and #3 seed Fort Loramie (10-2), someone would have to provide relevant evidence to the contrary.  And considering the state…I don't see it.
On a cold, chilling 30 degree night, the two teams hit, and played, and fought as if there was no tomorrow.  And indeed, for the loser there was no tomorrow in the most profiled Division VII game of the weekend.
"We knew it was going to be a battle,"  said Loramie coach Spencer Wells afterwards.  "We came expecting to win, but we knew it wouldn't be easy.  They just made one more play than we did at the end.  That's a credit to them, of course, but this was a bitter disappointment for our seniors and our team."
Loramie did come expecting to win, and they did everything in their power to do it, denying Marion Local its bread and butter running game, holding the Flyers to less than a hundred yards on the ground.
Loramie denied the line of scrimmage, as well, winning the war in the trenches with stout play against a Marion offensive line that simply had no traction.
And perhaps the best compliment of all, Loramie, in just its fifteenth season of football, forced the heralded Flyers to respond to save their season, twice making Marion play from behind.  But owing to their reputation, they did respond.  They weren't as efficient as they've been in the past, but there was just enough of the old magic left to make a few plays when necessary – none bigger than the 35-yard field goal by Alex Klosterman in overtime to win the game…and break Loramie's heart.
Marion struck first at 5:13, on its second possession, with a one-yard touchdown run by Brandon Fleck to take a 7-0 lead.
But with 50 seconds remaining the the opening quarter Loramie quarterback Collin Moore engineered a drive that culminated with Nate Meyer scoring on a romp through the Marion second from 22 yards out, tying the game at 7-7.
It wasn't tied for long.  On the ensuing Marion possession, they fumbled an exchange in the backfield in that 30-degree cold and Loramie jumped on the football, taking possession at the Flyer 31 yard line.  An uncharacteristic mistake, the Redskins took full advantage by scoring on a 31-yard toss from Moore to Mark Seger at 11:54 of the second quarter to jump ahead, 14-7.
From that point Loramie's defense rose, denying Marion on the ground, and on a fourth and three from the Redskins' 21 yard line, they forced the Flyers to turn it over on downs.  Their play from tackle to tackle forced the Flyers' Kyle Muhlenkamp to move the ball through the air, or not at all.  In the cold night air that wasn't easy, and the two teams went to the halftime locker room with Loramie clinging to that 14-7 lead.
"Obviously we weren't happy at halftime," Marion coach Tim Goodwin would say later.  "We were gettin' outhit, we weren't executing the stuff we had worked on, and we challenged the seniors in the locker room.  Our seniors played badly in the first half and that can't happen in playoff football.  We told them…this is do or die for you.  So we got into our seniors pretty good."
It worked.  Marion came out with a different energy in the second half and after exchanging punts and field position twice Marion finally found the end zone at 3:54 of the third quarter with a five yard pass from Muhlenkamp to Fleck to tie the game at 14-14.
And the Marion defense, led my MAC defensive player of the year Matt Everman, turned up the heat on Collin Moore, forcing him to scramble, sacking him a couple of times, and disrupting Loramie's dominance of the line of scrimmage.  Suddenly, nothing was coming easy for the Redskins, either.
Still, after an exchange of interceptions at the mid-point of the fourth quarter, Moore moved the 'Skins from the Marion 40 yard line to inside the red zone before Nate Meyer scored his second touchdown of the game from twenty yards out – untouched – to take a 21-14 lead.
The Loramie sideline, and the partisan Loramie stands, erupted as the emotion and momentum of the game seemed to have changed dramatically.
But you can't count out a team with 76 all-time playoff wins – a team with those ten state titles – and a team that resorted to cool in the face of calamity.
With 3:11 remaining the game Muhlenkamp began Marion's final drive after a short kickoff gave them excellent field position at their own 40 yard line.  Still with no running game, he dinked and dunked a couple of passes to Charlie Huelskamp and Blake Schwieterman, but had to convert on a fourth and four to extend the drive.  He did.  They drove the ball all the way inside the Loramie ten, before a holding penalty put them behind the sticks with another fourth down, and 18 yards to go for a first down.  Somehow, Muhlenkamp found Schwieterman wide open at the eight yard line for another first down to extend the drive again.  This time, however, they converted, hitting Peyton Otte for a ten-yard touchdown pass to tie the game at 21-21 with exactly a minute to play in regulation.
"Nothing came easy,"  said Matt Everman afterwards.  "It was just a team effort to keep things going, some young guys, Carson Griesdorn and Grant Meier on defense, they helped lead us.  They got us going and they got the crowd going.  We knew we had a chance at the end and we just kept going."
Loramie took a knee to run the game into overtime, where Marion Local got the first possession.  Starting at the twenty yard line, the Flyer running game ran headlong into another determined surge by the Loramie defense, and after failing to move the ball it came down to fourth down and long with the ball sitting at the 18 yard line.  Goodwin rolled the dice and sent kicker Alex Klosterman onto the field to attempt a 35-yard field goal – the biggest kick of the year, and the biggest kick of his life.  Cool as the air he breathed, he drilled it right down the middle to give Marion a 24-21 lead.
It became Loramie's turn, but now it was Marion that turned up the heat, playing for their season and pride.  Everman and company forced Collin Moore out of bounds on first down for a loss of three yards.  They nearly intercepted a pass attempt on second down.  Third down came up empty on another pass attempt.  Then to complicate things, a delay of game penalty put Loramie into fourth and 18 with no other option.  Moore threw the ball deep into the end zone for Mark Seger, but Seger cut off the route short, stopping at the five yard line.  The ball fell harmlessly incomplete, and Marion had survived.
"That was a tremendous football game, and obviously we can't respect Fort Loramie more for their effort tonight,"  said a relieved Goodwin, afterwards.  "Their kids made some plays, but somehow we were able to come up clutch on some big ones, as well.  This was a huge game for both communities, and I really don't know what to say. Somehow we converted a fourth and 18 when we needed it, the kids kept fighting.  We just made a few plays."
None bigger than the kick by Alex Klosterman.
"For a Marion Local kicker that WAS a big play,"  said Goodwin.  "We've made some big kicks at Marion over the years, but we've never made a kick that big in a playoff game."
"Biggest moment of my life,"  Klosterman shyly admitted.  "The snap, the spot, and the kick…it was all good.  It was perfect.  I couldn't have asked for it any better and I just said to myself, 'Put it through.'  I've been doing this for six years, and six years of practice helps."
Marion had found a way to win, despite Loramie's all-out effort to take as much as away from them as possible.  They made the Flyers one-dimensional, with no run game, but somehow the experience of all the years and 76 previous playoff wins came up aces, and just in time.
"They play a 4-3 cover 2 defense,"  said Goodwin.  "And at Marion Local we're not built to pass against that, so we tried to establish the run and we couldn't.  That's happened before a time or two, and usually it doesn't end up well for Marion Local.  But like I said, we look at a defense like that and run the ball, and if we can't run it we have to play darn good defense.  We did have some opportunities tonight that we didn't capitalize on.  And when you don't take advantage of those situations you don't win many games like this one."
But bottom line, they did, sending a magnificent Fort Loramie team home to regroup, rebuild, and set their sights on another season and another opportunity to get to the 'official' title game in football.
There is no one classier than Spencer Wells, who took the time to address his team's disappointment, and pay tribute to the Flyers for one more Marion miracle.
"This was tough, but I just credit the effort of our kids and the preparation by our assistant coaches,"  he said.  "I told our guys at halftime…expect them to come out with guns blazing.  They made some plays with the passing game, but I thought our defense was outstanding, overall.  This was a brawl between two really good teams, and unfortunately we came out on the short end.
"In my heart…do I believe that these were the two premier teams (Div. VII) in the state?  Yes, and I think that says a lot about the Fort Loramie Redskins, because those guys haven't been beat in a playoff game – other than the championship game – in damned near a decade.  So we have to learn from this.  We'll come back and take the next step.  I'm honored to be a part of this, and to coach my kids.  They laid it all on the line tonight."