After a slow start the Anna Rockets reeled off 34 unanswered points to drop Sherwood Fairview from the tourney and advance to next week's Division IV regional final.
Wapakoneta, OH – There were two things evident early in Friday night's Division VI regional semi-final game between the Anna Rockets and the Sherwood Fairview Apaches.
And no, Cochise, the legendary Apache leader wasn't there..but Fairview could have used him.
One, no high school team, regardless of talent, can defend the forward pass consistently, as Fairview proved on their first two possessions of the game.  They threw liberally at Anna with success, and ran out to early 14-0 lead as a result.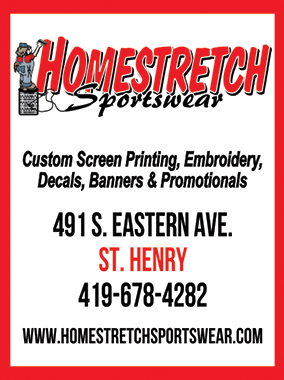 The second thing – Fairview, with or without the great Cochise, could not tackle Riley Huelskamp, the best Division VI runner in Ohio, as the Anna senior turned rockets red glare incarnate on the way to a 54-20 Rockets' win.  Fairview's issue?  Huelskamp carried the ball 31 times for 291 yards and six touchdowns, simply too quick, too elusive, and too much for the 10-2 Apaches.
"He's a stud,"  said Fairview coach Doug Rakes.  "In fact, both of them (Bart Bixler and Huelskamp) are unbelievable, the real deal.  I was worried all week about slowing them down because I didn't think we could stop them.  And we couldn't."
But at the outset the Rockets fizzled on the launching pad, thanks to Fairview quarterback Cade Polter.  Polter came out slingin' it to teammate Doug Rakes, Jr. for an opening touchdown to go up 7-0;  and after a lost fumble by Bart Bixler on the ensuing Anna possession, Fairview quickly punched it in again from 28 yards out…off the hands of defender Riley Huelskamp and into the waiting arms of Caleb Frank for another score, and just that quickly they had their foot on the Rockets' neck, 14-0.
But this wasn't Paulding, or Ayersville, and Rakes, Sr.'s concern about slowing down the MAC's most prolific offense soon became manifest.  On Anna's next possession Bart Bixler teased a soft screen pass over the outstretched arm of Fairview defender Riley Puffenberger and into the waiting arms of Huelskamp, who turned upfield, juked a couple of tacklers, ran through another, and on to a 67-yard touchdown at the 6:02 mark of the first quarter.
Five minutes later, after a change of possession, Huelskamp tallied again from 14 yards out to cut the margin to 14-13 after sophomore kicker Zach Ambos missed the extra point.
Anna's pass rush began to heat up, forcing Polter to move in the pocket and miss receivers downfield as he tried to hit them on the run.  After another Fairview punt Anna took over on the 38 yard line, but briefly.  On the third play of the drive Bixler faked some poor soul out of his shoes, got to the corner, and turned it on for 57 yards and another touchdown at the 8:35 mark of the second quarter.  Anna led, 20-14.
Fairview came right back on the next possession, and after a 37 yard strike through the air to move the ball inside the red zone, Riley Lucas crossed the goal line for Fairview from one yard out to tie the game at 20-20.  The PAT attempt was no good.
That was it for Fairview.  Nothing more, as Bixler came back on the next possession to score at 4:51 before the half on a 14 yard run and Anna took a 27-20 lead into the halftime locker room.  From that point on…it was a Riley Huelskamp highlight reel.
In the second half….
He scored on a one-yard run at the 8:01 mark of the third quarter to make it 33-20.
He scored from three yards out at 4:22 to make it 40-20.
He scored again at 1:51 of the third quarter to make it 47-20.
And at 9:27 of the fourth quarter he scored from 27 yards out, his sixth and final touchdown, to make the final margin 54-20.
In between…he gashed the Fairview defense for one run after another of 8, 10, 12, and 20 yards – at will.  His big offensive line simply pushed the Fairview defensive front out of the way.  And at one point in the third quarter Doug Rakes might have felt like Chip Otten four weeks ago when Huelskamp and the Rockets became the irresistible force on their way to a 49-8 avalanche win over Coldwater.
"Their size and physicality just wore on us,"  said Rakes, afterward.  "Those inside holes their line made were just gaping.  And a back like that, once he gets through the line and into the second and third level…there's no stopping him.  He's got great balance, great quickness, great acceleration, and that's a great combination to have.  And you put him and Bixler back there together and you've got a really good football team.  A lot of teams don't have one of those guys, and they've got two."
Huelskamp would finish with 31 totes for 291 yards.  Bixler carried 12 times for another 128 yards and two touchdowns.  And the Rockets, in total, finished with 580 yards of total offense, and 478 of that on the ground.  For the second week in a row…they made it look easy in the second half.
But there were some tense moments at the outset.
"Whew, we didn't come out and play like we wanted to,"  said Rockets' coach Nick Marino.  "They're a nice team and their quarterback can throw it, and that's why he was first team All-Ohio last year.  But we tightened up our coverage after halftime, we got a better pass rush in the second half – got to him a few times (five sacks) – and offensively we made some adjustments and things started clicking."
The offensive line simply crushed the smaller Fairview front, dominating the point of attack.
"We went more to an inside running scheme because they were loading up on the edges,"  added Marino.  "They're quick out there, so we went back inside and ran it up the middle with our big kids up front.  Riley's really a strong kid and if you keep giving him the ball good things are going to happen.  Sometimes, even if you miss a block he can make it look right and that's why he's so fun to coach.  He's a special player."
Huelskamp, himself, deferred as always to the play of his teammates, in particular…the Rockets' offensive line.
"We started off a little rough," he smile, referring to Fairview's start and turning the Bixler turnover into a quick 14-0 deficit.  "We faced some adversity and we responded.  We responded the correct way tonight and I was happy to see that.
"And our offensive line absolutely dominated.  They deserve all the credit because I couldn't accomplish what I did without them.  But as the game moved on they (Fairview) lost a very good linebacker with an injury, and after that our line just kept winning the line of scrimmage.  Coach got into them a little bit at halftime and I think it got them going a little bit more."
Riley Huelskamp is simply too modest, besides being too elusive for Fairview's frustrated defense to tackle.  On top of it, his interception at the outset of the third quarter negated an onside kick recovery by Fairview to start the second half – a turning point in the game that set in motion his four second half touchdowns and the tidal wave finish.
By the way, it's strange to find the nickname 'Apache' this far east, and I asked one of the Fairview ball boys about it prior to the game.  Just what is an Apache?
"They're an Indian," he said proudly.
"From where?"  I asked.
"From Ohio," he assured.
"Are you sure?"  I pressed.
"Pretty sure,"  he answered, but a bit confused with his native American geography.
It was an omen, as it turned out, as Bart Bixler and Riley Huelskamp would create confusion of their own…Fairview surrendering about as much ground as Cochise and the Chiricahua tribe did when they signed the peace treaty back in 1872.  580 yards isn't quite 100,000 square miles, but it probably felt like it at the end of 54-20.  Anna (11-1) proved again that they're as good as the moment dictates.
Whether Coldwater, Minster…or Sherwood Fairview.