Sad as it was to see, the end of Thursday's Browns-Steelers game gave us all the more reason not to watch the NFL, and question those who fail to understand that first, second, and third impressions go a long way towards determining the future of a sport.
Plain and simple, the end of the Browns-Steelers game Thursday night was another black eye for football, and a sure sign that the apocalypse of public opinion is growing – that the NFL had better clean up its act, and do it NOW!
Another red flag, if you will, in terms of public relations for a sport that badly needs to address its obvious issues, as well as that of questionable personalities on the field.  And while we're at it…the questionable priorities in management who continue to give a pass to players like Vontaze Burfict and Myles Garrett.
The irony of it is that even watching on TV, two hundred miles away, you felt like it was happening in your living room – something creepy – because we've become so accustomed to such senseless behavior by claiming …"it's an emotional sport."
To one who pointed out to me Friday morning that Myles Garrett ripping off the helmet of Steeler quarterback Mason Rudolph and hitting him over the head with it – that it was an isolated event in a hotly contested football game – consider the following.  Twice, earlier in the game, the Browns were found guilty and flagged for head-to-head hits on Steeler receivers.  First, Juju Smith-Schuster left the field with a concussion and didn't return.  And later teammate Diontae Johnson left the field from a hit to the head that left him dazed and bleeding from his ear.  Browns safety Damarious Randall was ejected for that hit.
Now, I write, in part, to those who criticize my position on professional football – 1) that there are too many unstable characters who play and perpetrate events like what happened in Thursday night's game. And  2) that criticize Press Pros for not covering the Browns and the Bengals in the manner in which we cover high school and college football.  One in particular, who writes that you're not relevant if you don't "RESPECT" real football.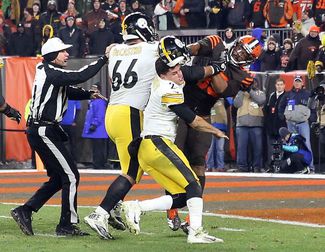 Well to him, and others who proudly fly their Browns flags, their 'Who Dey' banners, or Steelers' terrible towels…that attitude leaves me to wonder just how much is too much?  And at what point do you turn off the 'thuggery' of hits intended to maim defenseless participants, as with Vontaze Burfict (who's suspended presently for the rest of the year).  I would wonder what your position is on other crimes on society?
What do you say when Raider defensive coordinator Paul Guenther comes out and defends Burfict by saying, "I think it was a witch hunt from the beginning, quite honestly.  Somebody in the league didn't want him playing football and they got what they wanted."
Hey, I like football, but I don't Vontaze Burfict playing, either…or Myles Garrett or Ray Rice, who clocked a woman in an elevator.  These people aren't getting kicked out for just fighting on the football field.  They're getting kicked out for trying to kill people!
It makes me appreciate what we'll cover this weekend when we watch the high school games, properly taught, and properly administered by adults with proper priorities.  Save me the argument about social advocacy – that everyone deserves a second chance if you're Pacman Jones.  And save me the argument about it being an emotional sport.  Every sport is an emotional sport if played correctly.  It's 'competition', and if you don't play with some emotion you should be on the debate team.
There's a difference between emotion and emotional instability, or as one Steelers player characterized Thursday's incident, "That's something you see in the 'hood."  But no one cares about paying $75.00 to see the 'hood' in a football game.  No one takes their kids to observe how professionals play, only to spend the ride home trying to explain away the contradictions.
No one should wonder why there's a decline in those who play football – not after Thursday night – because you just never know what's going on with people like Burfict and Myles Garrett, who say they just lost their cool.  Here we go Brownies, eh?
And dollars to dimes Mike Brown signs Colin Kaepernick.  What could one more hurt?