Anna's Riley Huelskamp, the MAC's offensive player of the year, backed up the honor with 291 yards rushing and four touchdowns in Anna's 47-21 win at Minster in the opening round of the D-VI playoffs.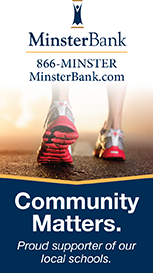 Minster – The Midwest Athletic Conference has collected 33 high school football state championships in its history. Minster coach Geron Stokes, who knows one or two things about winning state, believes the MAC can add to its haul this season.
And if his team isn't the one to do it … well, he just might know who can.
"Anna needs to win a state title. They should be going for a three-peat. Tell them to actually win one this year," Stokes said of the Rockets, who got off to a hot playoff start on a frigid Friday night with a 47-21 victory on the Wildcats' home field.
Don't be fooled by the final score. The Division VI, Region 23 quarterfinal game was still in doubt until Anna senior Riley Huelskamp scored a pair of touchdowns covering 7 and 39 yards to cap the scoring.
Huelskamp – voted the MAC offensive player of the year – ran through Minster's defense for 291 yards and four touchdowns on 32 carries. Quarterback Bart Bixler rushed for 139 yards and two TDs on 23 carries and completed 8-of-9 passes for 165 yards and another score.
Anna hoarded 603 yards of total offense, including 438 yards on the ground. They also dominated time of possession, holding the ball for 30:56. By comparison, Minster finished with 357 yards of offense, with 263 coming through the air in a comeback attempt.

"When our offensive line is moving we're doing pretty good," said Huelskamp, who led the MAC with 1,516 yards rushing during the regular season. "We won the line of scrimmage and when we got to the edges our receivers were blocking. I couldn't ask for anything better than what my guys did.
"It's just like a backyard rivalry. Some of those guys are my close friends. I've played AAU with them. It's nice to battle against someone classy and respects you."
Friday night's meeting between the MAC powers was one of the area's most anticipated playoff matchups since the teams did not play during the regular season. Anna (10-1) and Minster (9-2) shared the MAC championship along with Marion Local. Their showdown was solidified when Minster claimed the No. 4 seed and Anna the No. 5 seed in the final computer points.
"We knew they weren't going to make it easy on us," Anna coach Nick Marino said. "That's a really good football team we just beat there.  They put us in some tough situations and our finally did respond. Obviously we have some dynamic kids in the backfield who make a lot of that go."
Anna led 21-7 with 5:34 left in the second quarter on a Huelskamp's weaving 27-yard TD run, Bixler's 62-yard sprint off a fake pitch to Huelskamp that froze the defense for a second and Huelskamp's three-yard run.
The Rockets extended the lead to 27-7 with 38 seconds before halftime in Bixler's 3-yard run, all but putting the game out of reach. Except no one told Minster that.
The Wildcats drove 63 yards in six plays to score on Trent Roetgerman's one-handed, 11-yard touchdown catch from quarterback Jacob Niemeyer. Roetgerman and Niemeyer connected 11 times for 202 yards and two TDs.
Anna was driving toward what appeared to be another touchdown with the ball on the Wildcats' 11-yard line. But the Minster defense contained Huelskamp on a run, flushing him backward and to the other side of the field. Huelskamp then pulled up and attempted an ill-advised halfback pass that was intercepted by Minster's Adam Ketner.
Minster scored five plays later when Niemeyer hit Roetgerman for a 49-yard score. Roetgerman had a step on a pair of Rockets defenders and Niemeyer placed the pass just over their heads for the score. The Wildcats trailed 27-21 with 9:08 left in the third.
On Anna's next drive, the Rockets faced fourth-and-2 on their own 43-yard line and were lined up to punt. Minster jumped offsides to give Anna a first down. The Rockets scored on the next play when Bixler hit Jeffrey Richards in stride down the middle of the field for the 52-yard score. Anna led 34-21 with 6:12 left in the third.
The Rockets defense forced a punt on the Wildcats' next possession and the offense used an 11-play, 88-yard scoring drive that drained 5:30 off the clock. Huelskamp's seven-yard scored made it 41-21 with 11:30 left.
Minster's next drive ended with a tipped interception that landed in the hands of Anna's Kamren Steward. Three plays later, Huelskamp took the handoff 39 yards for the 47-21 lead.
"We were getting a little worried there," Marino said, referring to Huelskamp's errant throw and Minster's comeback. "A kid who doesn't usually do anything like that made a bad decision. He might have made up for it with 30 other plays."
"We said trust what you've been coached to do. That's what I thought the kids did at the end."
Add in his 26 receiving yards and 23 yards off an interception return and Huelskamp accounted for 340 yards of total offense.
"I loved our effort tonight," Stokes said. "Those two backs are just really good.  We couldn't stop them. If they had a couple more possessions they would have gone for 800 yards. I loved our kids effort."
Minster's Niemeyer was 18-of-36 for 263 yards and two TDs. He also threw three interceptions, but two were tipped at the line and lofted high into the air and under Anna defenders.
The Wildcats' leading rusher, Alex Schmitmeyer, was held to a season-low 42 yards on 12 carries. It was just the second game he'd been held to under 100 yards all season. Coldwater did it, too, limiting him to 90 yards on 21 carries. Schmitmeyer didn't get as many opportunities in the second half with the Wildcats forced to get away from the running game.
"We brought a lot of pressure," Marino said. "We have a couple talented kids up front that did a good job getting pressure on him. That was big early.
"It was a tough matchup for the first round. Those guys are a doggone good football team. That's probably the best team we've seen all year. Obviously Marion Local, as well."
Anna advances to the regional semifinals against No. 8 Sherwood Fairview, which stunned No. 1 Lima Central Catholic. The game will be 7 p.m. Friday at a neutral site to be announced by the OHSAA on Sunday.
Stokes would obviously love for his team to be moving on. In lieu of that he'll throw his MAC support behind Anna.
"This was a great matchup. Only one team is going to win this whole thing," Stokes said.
"That kid (Huelskamp) is a stud. These guys should be going for their third straight state title. That's what they should be doing. They need to go win one."