Minster did it again Saturday at the Division III state cross country meet, winning the Wildcats' fourth straight title and 13th overall. And Fort Loramie wasn't far behind. The area's strong cross country presence is expected to continue next season … and beyond.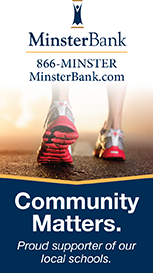 Minster, OH –  Try as they might, opposing coaches and competitors have attempted to figure out the Minster Wildcats' secret to success in high school girls cross country … especially those 13 state championships.
Just ask veteran coach Jessie Magoto. She'll gladly tell you it's tradition, discipline, work ethic, integrity and accountability, among other things. Oh, and butterflies.
That there are no butterflies fluttering around the 3.1-mile state championship course at National Trail Raceway is a benefit to the Wildcats.
"We've got young, goofy girls," Magoto said, smiling last Saturday afternoon after clinching a fourth straight Division III state championship. "Like literally, I have to say don't look at the butterflies while you run. That may not go with a state-championship quote, but that's really where we're at. They're great kids who love to get out and run but I have to tell them, 'Don't look at that butterfly. Focus and run.' It sounds ridiculous but that's the God honest truth. They're just young and fun."
Minster is the standard high school cross country teams want to reach. The Wildcats have a girls' state-record 32 appearances. The 13 state titles are a record for both boys and girls. And then there are those 32 Midwest Athletic Conference championships. The other nine MAC schools have combined for six since the first league meet in 1982.
On Saturday, Minster's main competition came from West Liberty-Salem and Fort Loramie. During the regular season the three times combined to hold the top three spots in 10 of 11 state polls by the Ohio Association of Track and Cross Country Coaches.  The three teams know each other well, often competing at the same meets.
"Unlike a lot of other sports, cross country programs have the chance to race their rivals a lot over the course of a season," Fort Loramie coach Dennis Prenger said. "That can be a double-edge sword, depending on the type of kids you have. Our program has always embraced the opportunity to race great competition."
The three schools did it one final time this season Saturday. Minster won its 13th state title with a hard-fought 79-89 victory over runner-up West Liberty-Salem. Fort Loramie finished 11 points out of first. In a sport where the top five runners determine the team's score, that's a barnburner.
"We knew we'd have to race well to have a chance to beat (Minster)," Fort Loramie coach Dennis Prenger said. "Our kids ran extremely well yesterday. … We certainly put our best effort out there. A lot of years that would have been enough, but this year we came up just a little short. You have to tip your hat to Minster and West Liberty-Salem; they had a slightly better day, but third is still an outstanding day."
Located in Logan County, West Liberty is about 52 miles east of Fort Loramie. From there it's another three miles north to Minster. That might not be coincidence considering a cross country course is 3.1 miles (or 5,000 meters).
So, what makes State Route 66 such a hotbed for running?
"It's all the sports," Prenger said after the 2018 state meet, where his Redskins girls finished runners-up and his boys won their second D-III state title in three seasons. "You either sink or you swim. You cut your teeth every week in basketball, in football, in volleyball. Obviously in cross country we run against (Minster) enough to know what you have to do."
Basically, run fast. Minster and Fort Loramie's girls return the core of their teams next season so another run at state is anticipated. Minster graduates two seniors from its top seven runners with Gwendolyn Meiring and Mackenzie Bohman. Fort Loramie returns its entire top seven. As for West Liberty-Salem, the Tigers graduate two seniors with Grace Adams and Lydia Moell.
"I don't like to think in terms of what we have coming back and risk taking anything for granted," Prenger said. "It's 370 days (as of last Saturday) until next year's state meet. That's a lot of time to pass.  We do return all nine girls that traveled to Columbus this weekend, and we had some outstanding kids that didn't make the state team. We will add a couple junior high girls next year that have had good success, but now they will be bumping up to the 5K. On paper we will be even deeper next year, but we'll need those girls to embrace that competition from within our program and from around our area. Nothing is guarantee to anyone; success goes to the ones who will work the hardest."
Minster, Fort Loramie and West Liberty-Salem forged a 1-2-3 finish (in that order) at the 2018 state championships, too. In addition to Minster's 32 trips, Fort Loramie has qualified 18 times with a state title in 2002. West Liberty-Salem has gone nine times.
The Wildcats are still the team to beat with four straight state titles and no signs of slowing down. But the gap is closing.
On Saturday Minster edged West Liberty-Salem by 10 points and Fort Loramie by 11. The Wildcats won their previous three titles by 88 (2018), 96 (2017) and 57 (2016) points. 'Cats currently hold the D-III state records for fewest points scored (34 in 2017) and largest margin of victory (96 in 2017).
Following Saturday's meet Magoto anxiously awaited the results of an official scoring review that could have changed the overall team points. It wasn't losing a state title that concerned Magoto the most. It was the idea that her athletes might think they let themselves, and their community, down.
"I never want them to be judged or their value based on winning," Magoto said. "The older I get the more emotional I get about that. They're always champions, no matter what. The kids get a lot of pressure to go out there and win. … Just race your heart out and leave it all out there. No matter what the place is they're always champions to me. I never want them to feel regardless of their place that makes them a champion or not. What they stand for, who they are, their competitive nature … they are always No. 1 in my book."
Perhaps no runner exemplified that more on Saturday than Meiring. The senior was one of the team's top runners during the regular season, but sat out the district and regional meets with a foot injury. She was still aching after taking the 3.1-mile pounding Saturday but you couldn't tell it from the state-championship worthy smile on her face as she clutched the trophy.
If she felt good enough to run Saturday morning, there was no way she was sitting this one out.
"Whatever happens I'm just going to run," Meiring told herself in the days leading up to the meet. "It's my last race so I might as well run. I knew I was going to run but I didn't know how well I would be running.
"My teammates really encouraged me and the whole town did, too. It was a good feeling knowing I had the support of everyone."
Meiring ended up sixth on the team and 76th out of 180 runners overall. Last season Meiring was 11th overall.
"We told each other we weren't nervous," Meiring said keeping Minster's state title streak going. "Internally I was wondering. Whatever happened I'd be happy. It's a great group of girls. It's amazing having the team I have."
Celebrating once again on top of the podium Saturday were junior Ella Boate (10th overall), freshman Taylor Roth (17th), junior Mason Pohl (37th), Bohman (38th), freshman Cameo Cedarleaf (54th) and sophomore Emma Meyer (101st). Last season it was Boate who missed the district and regional meets with a hip injury, and ran a gutsy race to finish 10th.
"I'm so proud of these girls," Magoto said. "They worked hard and fed off each other. It's just a great group of kids. They love to compete and they love their teammates."
As for Fort Loramie, they just missed another podium finish by one point with sophomore Olivia Borchers (14th), freshman Ava Turner (25th), junior Dani Eilerman (33rd), sophomore Claire Rethman (39th), sophomore Anna Detrick (59th), junior Corynn Heitkamp (45th) and junior Caitlyn Glasson (87th).
"I told our girls that I was disappointed for them, but I've never been disappointed in them," Prenger said.
Minster's trophy case has more cross country state titles than any team – boys or girls – in Ohio. But the accolades aren't what Magoto embraces most. She's more impressed with the effort and attitude.
That goes for the coach, too. Magoto runs daily and has competed in marathons and 5Ks to stay in touch with the same pain she asks her team to put themselves through. Magoto once described a "really long … just brutal" run she was on. She thought about stopping. Then she thought about her Wildcats.
"I told the girls the only reason I really do this is for me to go through what I put you through," Magoto said. "Mentally. That moment when you're running and one minute you're great, and the next minute you feel awful. It's a reminder I have to do this. This is what I expect from the girls. If I can't get through it myself, then there's no way I can expect them to do it."
Cross country talent isn't confined to the Minster and Fort Loramie communities. In recent seasons, the Fort Loramie boys won state both in 2016 and 2018. Versailles' Sam Prakel chased down individual championships in 2011 and 2012. Anna, Botkins and Minster all competed in the D-III boys meet Saturday with individuals from Coldwater, Houston and Fort Loramie.
In addition to Minster and Fort Loramie, Saturday's D-III girls meet also featured Versailles and individuals from Coldwater, Houston, Russia and St. Henry.
As for recent girls success, Minster's Emma Watcke won state in 2017 before moving to Illinois last winter. She recently announced her verbal commitment to run for the University of Wisconsin.
Versailles' Tammy Berger won state titles in 2009 and 2010. Coldwater's Sarah Kanney matched it with individual wins in 2012 and 2014. Minster's Sunni Olding did them one better with state championships in 2000, 2002 and 2003. Anna's Sarah Schulze kept the title in the area in 2004.
But, as Magoto stresses to her team, the journey – no matter where it ends – is what matters most.
"It's about their discipline, their work ethic, their integrity, their accountability," Magoto once said, describing the so-called secret to the Wildcats' success. "Training hard and competing hard. Putting it all out there to be courageous. We talk about the legacy that's been set before them. All those girls that were willing to put it on the line for each other. When you do that the rest will take care of itself. That's all we stress. We don't stress winning. Of course it's something we want to do. But when we talk about what guides our program it's definitely discipline, integrity and accountability.
"There's nothing to lose, ever. They won before they got out here. You work hard. You're disciplined. You do what's right. You're a winner. When you race the other teams it's out of your control. Do what's right and work hard and they'll be winners no matter what happens at the state meet."
Unless … there are butterflies.