Playing like a well-oiled machine, Fort Loramie came out strong, withstood a determined Russia challenge, then sent the Raiders home with a four-set win in the Division IV regional tournament.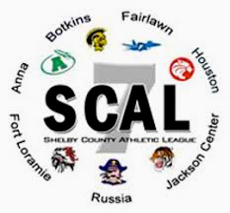 Englewood, OH – Apparently John Rodgers was right.
After sweeping through a somewhat suspect sectional and district tournament schedule, he bristled last week when asked if the quality of competition in those two rounds would adequately prepare his third-ranked Fort Loramie Redskins for the heavier lifting yet to come in the regional round.
"Our practices are very tough,"  said Rodgers.  "And our coaches are making it tough on the girls.  Is it the same as game competition, as the threat of being beaten?  No, you can't simulate that, but I'm confident that we'll be prepared."
Saturday he took another step toward proving his point, sweeping past Shelby County League rival Russia in four sets, 25-13, 25-11, 23-25, and 25-14 to take the regional title and move on to next week's state semi-final round where they'll meet Newark Catholic Friday at the Wright State Nutter Center.
They played like a finely-tuned engine.  Their service game was flawless.  Serve-receive was confident.  Passing was crisp and their hitting efficiency put Russia out of system and on its heels.  If New Bremen was 'perfect' in their execution against St. Henry on Thursday, Rodgers and the Redskins took a page from that book and used it on Russia.
It took them no time to warm to the task.  From the first serve of the match they were on their game, while Aaron Watkins' young Russia team was slow to get up to speed.  Russia seemed tentative, out of synch, and perhaps…intimidated by the reality of playing for a berth in the state's Final Four.
"I would say that nerves probably had a lot to do with how we played,"  said Watkins, thirty minutes after the trophy presentations.  "This was a big moment, and we're young.  I told my coaches…if we could have just started with the third set."
Loramie hit harder, and harder, their confidence growing with each point.  Kenzie Hoelscher, Marissa Meiring, Ava Sholtis, Maya Maurer, Macy Imwalle…right down the line…the way Loramie played looked, indeed, like New Bremen – aggressive, confident, and well-prepared for the task.  Nothing seemed to go right for Russia, thanks to the Loramie onslaught, as the Redskins took the first two sets.
They started the third set in a similar fashion, but finally, some inaccuracy with their hitting – some mistakes – left an opening for Russia, who for the first time in the match scored three consecutive points.  They crept closer to Loramie and finally tied the score at 13-13.  Suddenly their spirits rose, along with their confidence.  Loramie would retake the lead, but Russia kept fighting to stay close.  Loramie took the game to 20, but they couldn't shake Watkins' young Raiders, who tied it at 23-23, then scored the final two points to take the set and send the match to a fourth game.
As quickly as they faltered, Loramie came back to form just as quick and began peppering the court with shots while blocking, digging, and saving everything that Russia could send over the net.  If Russia was the irresistable force in the third set, Loramie proved to the the immovable object in the fourth.
"I think we knew that this was the moment that we had prepared for,"  said Kenzie Hoelscher.  "We knew we had to be mentally there and we got our minds right.  We couldn't take them lightly. They came after us in the third set like they had nothing to lose.  So we had lost in the regional finals before, and we were sick of losing in the regional finals."
With that thought in mind they made short work of the fourth set, this time winning the regional finals with a 25-14 concluding score.
"Our senior leadership was great,"  said Rodgers.  "Across the board, that's what it is.  Those four seniors (Marissa Meiring, Macy Imwalle, Alyssa Wrassman, and Taylor Raterman) really have this team focused on the next point, the next play, and that's their mentality.  I said earlier in the year that those four were on the basketball team last year and have been at this level and lost.  And we all agreed before we got here that today there would be tears of joy, not tears of sadness.
"They were huge – huge.  Seniors are supposed to lead the way and that's what they did today.  They just went for it.  And one of our other hitters, Ava Sholtis (a sophomore) had one of her best matches of the season.  Defensively, if you were to ask me to pick a player of the game…I don't have one.  Everyone contributed in a huge way today.  Everyone on that floor did their job and did it well."
And to the point about a light schedule leading into the regional round, Rodgers was not backing down, again emphasizing that 'home schooling' had more than done its job.
"Everyone was asking us about the competition, and whether it would hurt us…and I told you that we had high-level competition in the gym every day.  We're training hard every single day and we're going to continue to do that next week."
Marissa Meiring was floating on air after it was over…after the trophy presentation, the pictures, and the congratulations from fans and well-wishers.
"This is great," she shared, trying to explain how they had played as big as the moment demanded.  "We work as a team and we have a great coaching staff that gives us constant reality checks.  They make us realize what we have to work on.  And us four seniors try to give as much leadership as we can.  When energy's needed we try to give it – to get the underclassmen up and ready to go.  Because once someone does something good, everyone seems to build off that."
Aaron Watkins and the Raiders, by the way, will be back.  They played with six freshmen this year, finishing 16-11, and like Loramie, will be back next year as a formidable challenge to the Shelby County League title.  Saturday marked their third consecutive trip to the regional round, something never before done by Russia volleyball.
"We want to get back here and get beyond this game,"  he sighed.  "But we're proud to be here, and we're proud to take a game from them today because they're a good team."
And having told me in early that September…assuring me that the Raiders would return to the regional round, even with six freshmen, Watkins delivered on that promise.  He walked out of the gym Saturday with a focus on freshmen becoming sophomores, sophomores becoming juniors, and what juniors he has becoming seniors…because you can't buy what Saturday did for them all, collectively.
In the meantime..now there are two – just two from that marvelous collection of area Division IV teams that killed each other off – Ft. Recovery, Jackson Center, Marion Local, St. Henry, Lehman, Minster, and Franklin Monroe – leaving only New Bremen and Fort Loramie on opposite sides of the bracket in next Friday's semi-final round.  Bremen (26-1) ousted Tiffin Calvert on Saturday, and will play Monroeville (26-1) at 4 pm.  Loramie will meet Newark Catholic (19-6) at 6 pm.
And not surprising, John Rodgers assures that the Redskins will be ready to go.  And at this point, who can doubt him?