Troy quarterback Brayden Siler runs for 4 touchdowns, and his offensive line dominates, as Troy wins its 4th straight in county rivalry game with Piqua.
Troy – There were a lot of numbers being bounced off Troy senior center Riley Hubbard as he stood outside the locker room talking about one of the greatest 2 ½-hour stretches of his life on a football field.
The No. 73 on his jersey started out bright white at the opening kickoff, but was turned to something of a charcoal gray with grass stains, mud, sweat and probably someone's blood.
The Trojans had just smacked around Piqua 35-9 behind four rushing touchdowns by quarterback Brayden Siler and 150 yards rushing by Kelvin Walters on Friday night at Memorial Stadium.
It was the 135th meeting between the teams, but there also was conference business to take care of. The Miami Valley League Miami Division championship was on the line.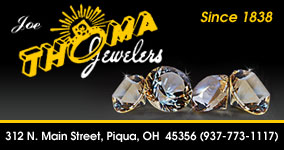 The winners also went to bed knowing they probably will be seeded third and host a first-round playoff game in Division 2, Region 7. Computer points wizard Joe Eitel has published that much.
Hubbard was smiling with satisfaction hearing all of that. What really got his heart pumping was his class going out owning the Indians.
"Throughout our high school career and all through seventh grade and even through the Trojan Horse in little league, we've never lost to Piqua,'' Hubbard said. "That's an awesome feeling.''
First-year coach Dan Gress said the staff brought up the "P" word only once during the week of practice.
"We mentioned the playoffs – we wanted them to know what was a stake – but after that it was all about Piqua because 20 years from now they aren't going to be asked about the playoffs,'' Gress said. "They are asking what you did against Piqua.''
The scored was 7-7 at halftime, with Troy (8-2, 7-1) having blown an opportunity to lead 17-0. Drives ended with a missed 25-yard field goal and the ball being turned over on downs at the Piqua 27.
The Indians (5-5, 5-3) trotted off the field pumped up after intercepting a desperation pass with no time on the clock.
It would be juicy reading how the coaches threw together a plan on the run in the locker room to jump start the offense into scoring touchdowns three of the first four times it had the ball in the second half.
It didn't happen that way.
"This is an emotional game and a physical game and the most physical team always wins,'' Gress said. "In the first half, we were a little too focused on them and not enough on ourselves. We focused on ourselves and worried about ourselves.''
The Trojans have been golden quite a bit in the second half this season.
"It has been that way all year in the second half,'' Gress said. "They responded. You know what, that's all we keep asking them, 'How are you going to respond to the first half?' That's tough (it being) 7-7 to a team that you should have been up a little more on. Adversity and how these boys respond is the key, and always this year they have responded.''
Siler got the large home crowd charged up with a 58-yard touchdown run down the sideline just 4 minutes, 19 seconds into the third quarter. He went airborne in lunging toward the end zone from the 3.
The defense forced a three-and-out, and Troy needed only seven plays to score on a 9-yard run by Walters over left guard. He began the drive with a 14-yard run.
Piqua defensive back Aidan Meyer blew up the Trojans' third drive of the quarter by intercepting Siler at the 1-yard line.
Three plays later, though, cornerback Tucker Raskay got Troy the ball back with an interception at the Indians 45.
Siler did the honors in capping another touchdown march with a 13-yard run on a draw with 8:41 left in the quarter.
"In the first half we knew we weren't play to our potential, so we got into the locker room and the coaches told us this isn't how you guys know you can play,'' Siler said. "This is the last time for the seniors to prove what you can do against this team, so we took it to heart. We came out and just marched down the field supporting everybody and getting touchdowns.''
The United States Marine Corps representative at the game awarded Siler a trophy and medal for being voted the most valuable player of the game.
Television broadcaster Greg Frey said on air that the quarterback was "knocking defenders backward.''
"That's what he does,'' Gress said. "He doesn't know any other way than to be physical and play hard every single snap. That's why we let him play safety this game and that's really the first time we did that. Your best players have to come out and play their best game if you are to win games like this.''
Hubbard also spoke highly of Siler.
"There is something about him. He's just something else,'' he said. "I've been riding with him since seventh grade. He is the textbook example of a leader. He is just awesome.''
But the offensive line of Hubbard, Zach Ray, Dawson Hildebrand, Ethan Freed, Jacob Moorman and tight end Tito Fuentes gave him wide paths in opening holes.
"That's where it all starts, with them in the weight room and on the field,'' Siler said. "They don't get much recognition with what they do, but they continue to support everybody on offense. It has been amazing watching everyone come together. Anytime I can come out here and play with my brothers, it's special.''
Piqua has an outstanding front four of Hudson Hall, Jerell Lewis, Lance Reaves-Hicks and Caleb Lyons, and the difference in the game was the Troy offensive line making holes against them in the second half.
"We were focusing on getting our assignments done,'' Hubbard said. "I was preaching that to every one the entire time. I said, 'O-line, we've got to get our assignments. What happens when we do our assignments?' In the second half, we were more physical than their defensive line. We took it to them. It wasn't given to us. They gave us a tough fight.''