Minster and New Bremen entered Friday's season finale seeking to make a personal statement about their season, and their immediate future.  It went as planned for the Wildcats.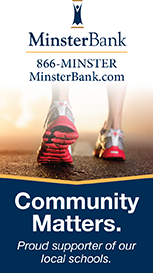 New Bremen, OH – Coach Chris Schmidt and his New Bremen Cardinals entered Friday's season finale with Minster with quite a agenda.
They had not beaten Minster in the regular season in a decade – since 2009.
Standing 7-2 for the season, they had a chance to finish 8-2, and guarantee their status for next week's first round of the post-season playoffs.
But most important, they had a chance to prove that at 8-2 they had earned a seat at the big kids' table…with the likes of conference powers Marion, Anna, Coldwater, and Minster.
Except for making the playoffs, none of it worked out.  Minster came out hot, scored on their first two drives – 28 points in the first half – and made a statement of their own with an eventual 42-2 win.
It moved Minster to 9-1 for the season, and a share of the MAC title, along with Anna and Marion Local, which defeated Delphos St. John and Coldwater, respectively.
The statement?  Minster is a very good football team, and one that has proved once and again that they have the balance, power, and speed to beat any and all bidders.  New Bremen, now 7-3, made their bid, and was turned away, emphatically.

"They're a good football team,"  said Chris Schmidt afterwards.  "We would have like to have played better, but tonight was not our night."
But it was Alex Schmitmeyer's night, again, as the Wildcats' senior running back continued his habit of 100-yard rushing games with 110 yards on 22 carries and scored three touchdowns.
It was Jacob Niemeyer's night, too, as he ran for for 39 yards and a touchdown, and passed for 216 yards and pair of touchdowns.
And, it was Trent Roetgerman's night, the lanky split end catching 4 passes for 95 yards and a pair of scores.
They got right to it, you might say…Niemeyer running for 7 yards and a score just three and a half minutes into the game.
Six minutes later he hit Roetgerman for 27 yards and the first of his two touchdown catches.
At 11:55 of the second quarter Schmitmeyer barged across the goal line for the first of his three scores.
And at 2:53 of the second quarter Roetgerman hauled in a post pattern for 15 yards and another score to make it 28-0 at the half.
For all intents it was over, Minster having amassed 240 yards to Bremen's 70 in the first half alone.  But Minster came out in the third and made it a running clock game, scoring at 8:33 on a Schmitmeyer 9 yard run to make the margin 35-0.
At 8:33 of the fourth Schmitmeyer again rang the bell for 9 yards and his final score, the Cat's final tally, to make it 42-0.
New Bremen's only points came with three minutes left in the game when Minster reserve quarterback Johnny Nixon was trapped in the end zone for a safety.
For the Anna Rockets, Minster's likely first round playoff opponent next week, it was a picture of a football team capable of scoring on the ground and through the air – a team that since their only loss to Coldwater seven weeks ago, has outscored the opposition 221 to 68.  Afterwards, Minster coach Geron Stokes spoke in an uncustomary tone.
"I liked what we did tonight,"  said Stokes.  "What I really liked was our seniors.  They had an awesome week, and an emotional week because they've done a lot of work and they've struggled some in our program.  They've come together to be a family, and I think that's probably the coolest thing in sports…when you see a bunch a kids willing to sacrifice for each other.
"The mission tonight was to be as good as we could possibly get heading into week 11.  Now the mission is to maximize this group, get everything we can, get everyone playing at their best, and see where that ends."
The $64,000 question, and one that Stokes rarely answers in the affirmative is…does he finally like the way the Minster Wildcats are playing…right now?
"I like our seniors and the way their leading,"  he answered.  "Because now you don't have to play well, you just have to win by one from here on out.  I'm just anxious to see us fight to keep our family alive."
It took Chris Schmidt a long time to address his team huddled around him after the final horn.  There were some long faces, some tears, and moments of remorse as his own seniors came to grips with the reality of their last home football game.  Many languished in the corners of the field, seeking closure with four years of the same hard work that Geron Stokes spoke of – that which you cannot understand if you haven't played high school football.
And yet, it will not be their last football game, as even with Friday's loss the Wildcats made the post-season as the eighth seed in Region 28, Division VII, and would play New Miami in next week's first round game.  They finished 7-3, a game better than a year ago, and took another step under Schmidt in his fifth year as the Cardinals' coach.
"I told them that the sun will come up in the morning," he said proudly.  "That it looks like we still have some football to play and that we should make the most of that.  It wasn't our night, obviously, but Minster's really good and it was important for our kids to see Minster get the trophy as league champions.  We have made steps, but that's where we want to work towards.  I told them I was proud of them.  It was a tough night, but we'll work to get better and continue to raise the program."
Minster would finish with 354 yards total offense, compared to New Bremen's 174.  New Bremen's Zach Bertke led his team with 82 yards rushing on 8 carries.  An important distinction…Minster went 5 for 5 in red zone scoring.  They made the most of their opportunities and gave indications that they're peaking at just the right time.
"That's something we need to work toward,"  added Schmidt.  "Minster played well tonight and our three losses this year were all to the big boys – Minster, Coldwater, and Anna.  But our seven losses the last two years have all been to state-ranked teams, and that's a big hurdle to climb.  But we'll keep chipping away and see what we can do, beginning next week.  It's a great opportunity to be in the playoffs.  We have the ability to surprise someone, we just have to play better than we did tonight."
And no need to try and do too much.  You don't have to play well now, you just have to win by one…or so the man said.
Note:  Our thanks to Bruce and Deb Monnin for contributing the statistical content in this story.