The latest of letters (emails) from readers of Press Pros, mostly pro (a few con), with their views on…Northridge coach Bob Smith, the Friday night 'Picks', Jason Schondelmyer, Charley Pride, and Riley Huelskamp.
The clear winner in terms of mail volume since our last Reader Speaks post is Northridge football coach Bob Smith, from our feature with Bob published on October 17:
"What a great story.  Sadly there are many more people like Bob Smith whose commitment and loyalty are for granted.  People like him are far more important to our schools than boards of education."  … Ken Marko
"Congratulations! Thanks for all of time, effort, and compassion that you have given to fellow Polar Bears!"  … Deana Herbert (via Facebook)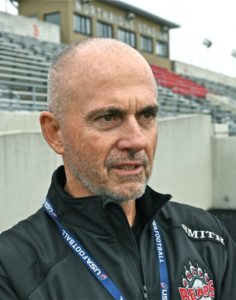 "Great job and story on a very deserving individual."  … Mike Mescher
"Wonderful story, but the part that caught my eye was the quote from the other coach who correctly added that (Bob) Smith has never used his position as coach as a stepping stone to a better position.  That's says a lot." … Bill Burke
"He did a lot for me that I will never forget, along with a lot of other coaches and teachers at Northridge."  … Tony Chambers (via Facebook)

"Such a well-deserved tribute.  Nice to see someone written about for something other than wins and losses."  … Chad Otting
"I've watched my dad dedicate his life to the game and his athletes. Thanks for a great article! Go Bears!"  … Chelsea Smith (Via Facebook)

Our Friday predictions page has been a weekend staple on Press Pros since 2012, and this month we heard this about it:
"I wonder if it's a good idea to predict the outcomes of high school football games.  I suppose it's fine for the teams you say are going to win, but are you not mindful of the negative message that this suggests as well.  I personally don't see the need.  Why not let the kids play and write about what actually happens in the game, instead of writing about what you think you know before the game?" …  Richard
(Ed. Note:  In our eight years of doing Friday 'picks' this is the first time anyone's ever questioned it.  Nor has anyone ever suggested (as I think you are) that the content of the picks is discouraging to a team not picked to win.  The page is nothing more than a commentary on the week's games – fun – designed to enlighten and entertain, and both reader and sponsor support has always been positive.  We do get the occasional 'stink eye', but nothing more, or worse.  And…why not write about both?)
"First time writer to say that I loved the October 15 article about the Covington-Arcanum game and the relationship between coaches Jason Schondelmyer and his former player Ty Cates, now the coach at Covington.  I'm sure this has happened before, but I think it adds something to high school sports and I appreciate your letting people know.  Good job." … Daniel Smith
"As it turned out maybe Schondelmyer taught Cates a little too much, and a little too well.  Covington won that game 57-0.  Great story, though."  … Don (Greenville)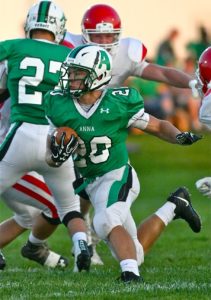 Our October 14 profile on Anna running back Riley Huelskamp received a lot of acknowledgment, but this one from out of the area is our favorite:
"Wow, and I wish that there were more young people that demonstrate the maturity and leadership qualities that you highlighted in your article about Riley Huelskamp.  No tattoos or suggestion of self expression in sight – old school!  Sounds like a great young man.  Best of luck to him and the Rockets."  …  Tom Killilea (Columbus)
Finally, the occasional profile we do about popular songs and musicians usually finds an appreciative and receptive audience.  But not all…..
"As a sports website I think what you do is mostly good.  But why do you keep posting that music s—, and who the hell cares about Charley Pride?  I'm thinking worthless fill."  …  Bozo Bill
(Ed. Note:  They say that music soothes the savage in all of us, so help yourself.  And while you're thinking, I'm thinking…don't be a 'hater', Bozo, and I hate to say that term because 'hater' is a term I think of relative to people who write letters like this.)