The tourney rolls on for St. Henry, and past Crestview in Monday's district semi-final, setting up more of the expected MAC drama to come.
Kalida, OH – It's a long way to Kalida, Ohio…best known for venerable basketball coach Dick Kortokrax, who won several thousand games over the course of his long and distinguished career there.
It's somewhere up north, on route 224, and it's probably an overstatement to say that it's the end of the world when you get there.  It's not.  But you can see the end of the world from Kalida.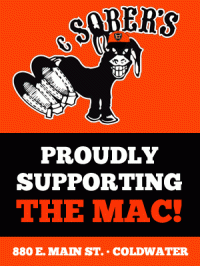 And the state's top-ranked St. Henry Redskins wanted to make the most of their long bus ride up 118, or 127, and 224 when they matched up Monday night with #16-ranked Convoy Crestview (21-3), an athletic group that prides itself on team play and hustle – for making opponents work.  They did just that, but in the end couldn't keep pace with the state's best, falling to St. Henry in straight sets, 25-19, 25-21, and 25-22.
St. Henry's Tricia Rosenbeck wanted a second-round challenge for her Redskins – a test under tournament tension to get past early round jitters, and forced to see how the arsenal responds when called upon.  Crestview did just that.
The Knights came out blazing in the first set, playing St. Henry to 10-10 before Nora Vaughn, Mia Niekamp, and Hannah Bruns heavy hitting began to make cracks in Crestview's defense…and resolve.  The Redskins stretched their lead to eight, only to see Crestview cut it to five, and ultimately come short by six, dropping the set 25-19.
"They're a good team,"  said Rosenbeck, post-match.  "Their defense was amazing and I thought Lexi Gregory (outside hitter) had an amazing match, both offensively and defensively.  It wasn't the prettiest, but I was proud of how we stuck with it tonight.  They made us play, and we knew they could play coming in."
They came right back in the second set, jumping out to a slim lead which they held, despite the heavy hitting from St. Henry…and some remarkable serving.  Still, St. Henry finally edged ahead at 19-18, fought of Crestview's attempts to retake the lead, and finally took the set, 25-21.
Again, in the third it was close throughout, Crestview making several runs at St. Henry.  For their part, the Redskins withstood the challenge by turning up the heat with kills by Nora Vaughn, Niekamp, Bruns, Brianna Siefring – all playing their best when Crestview demanded their best.  Clearly disappointed when St. Henry finally drove match point home, Crestview left the court having given Rosenbeck and the 'Skins exactly the challenge they wanted, or expected.

"They were good,"  said Hannah Bruns, who never fails to deliver with her accustomed hustling play.  "They seemed to pick up everything, they were good, and I give them credit."
Rosenbeck had her concerns, nonetheless.  It was a little more ragged than she would have liked at times.
"We found ways to get out of some tough situations,"  she said.  "I was glad that we were able to finish it in three sets.  I just felt like we were up and down tonight.  I don't know if it was a case of the jitters, or what, but we need to find a way now to play a little bit more consistently."
If it did seem ragged at times, it was because Crestview was that good…and able to force the issue.  Lexi Gregory had a big hand in that, but as a group, their ability to extend plays and get the ball back over the net just make it look ragged.
"We had some different people step up for us,"  added Rosenbeck.  "I though Mia Niekamp had a great match.  She put down some balls at critical points.  Brianna came through when she needed to, and Nora Vaughn made plays in some big moments.  When we really needed a ball to be put away tonight they were, which was good to see because when we were challenged we found a way to finish."
And on a night when the next bigger challenge became manifest with New Bremen advancing in straight sets at Bluffton, with Marion Local advancing in four sets with their win over New Knoxville…and with Fort Recovery getting by Lima Central Catholic to set up a dangerous district final for St. Henry on Thursday, Tricia Rosenbeck probably appreciated a sound, but winning dress rehearsal before meeting Recovery for the third time this season.
"This is what everyone expected to see from the tournament draw,"  said Bremen coach Diana Kramer two weeks ago.  "Because the quality of play in our league is so strong – all those good teams in one district."
The people get their way, and another long trip to Kalida (and Bluffton)…for St. Henry, Fort Recovery, Marion Local, and New Bremen.  Not really the end of the world, just the end of someone's season.