After fifteen seasons and six seasons of personal frustration, Geron Stokes exorcised a football demon as his Minster Wildcats finally beat Marion in MAC classic.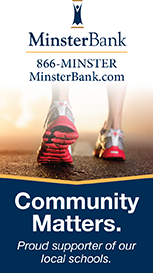 Maria Stein, OH –  On a night when Coldwater's Chip Otten joined the George Armstrong Custer Club (the Cavaliers were savaged by Anna, 49-8), Minster's Geron Stokes conquered a Little Big Horn of his own with a thrilling 27-26 win over the Marion Local Flyers.
It was his first win over Marion in six seasons as coach at Minster, and Minster's first regular season win over Marion since 2004.  Someone mentioned that it was also Minster's first win 'at' Marion since the mid-90s.  So this was no Johnny-come-lately win.  This bordered on a win for the books – a classic MAC thriller that saw both teams lead, hits unspeakable, fans ejected for harrassing the officials, and one big play after another…culminating in Minster's seventh win of the season against one loss (to Coldwater).
Marion fell to 6-2, and 5-1 in MAC play.
It was close – almost dead even, a game that Minster had repeatedly lost during Stokes' five previous years.  Minster had 337 yards of offense.  Marion had 328.  Minster rushed for 189 yards.  Marion had 142.   Minster had 27 points.  Marion had 26.  So even…it came down to a pair of missed extra points that decided the game!
"Give credit to Minster,"  said Marion coach Tim Goodwin, post-game, classy with his respect for a good football team and a great high school football game.
"Both teams played hard,"  said Goodwin.  "I'm proud of the way our kids played.  It was a great game that came down to a play here or there.  We obviously got challenged in every which way tonight.  I'd like to have a couple of plays back, and a couple of play calls, but Minster is a big strong football team with a great scheme, and they make it tough on ya'.  We had some chances, but they had a great running back tonight and we couldn't stop him."
'Him' was senior Alex Schmitmeyer, who carried the ball a miraculous 41 times for 189 yards, eating up yards and clock while exasperating Marion's defense. Time of possession proved that as Minster had the ball for 34 minutes, while Marion had it for 13.   Schmitmeyer broke as many tackles as he did hearts, and when it was over he simply thanked his offensive line.
"I just want to thank my linemen,"  said Schmitmeyer.  "They put in a great effort all night long and our wide receivers did a great job with blocks on the perimeter.  Our quarterback threw the ball well, we made some plays, and our defense played like we should, as well."
And Geron Stokes, who never minces words, pro or con, summed up his team by saying, "They cared.  They cared.  You could see it in the way they were fighting."

But after fifteen years of waiting, and six years of Stokes' personal frustration – of his claims in the past that his teams weren't tough enough against the likes of Marion and Coldwater – it started out in typical Marion fashion, the Flyers scoring at 7:29 of the first quarter on a wide open 23 yard pass to Charlie Huelsman from Kyle Muhlenkamp to take a 7-0 lead.
Minster answered.  At 10:16 of the second quarter Jacob Niemeyer hooked up with Brendan Bornhorst for 17 yards and a score to tie it, 7-7.
Marion came right back, methodically moving the ball downfield until Brandon Fleck ran it in from five yards out to retake the lead, 14-7.
Minster was undaunted.  They took Marion's punch and answered before the end of the half with Niemeyer hooking up with Bryan Falk for three yards and a tying score, 14-14.
In  the meantime Schmitmeyer was making a statement that spoke volumes about how the second half would be played.  Minster's big offensive line pushed Marion's younger, smaller defensive front off the line of scrimmage, creating huge holes that Schmitmeyer freely ran through.  And that's how the second half started, with Schmitmeyer picking up yards on a 9-play drive that took 5:41 and ended with Niemeyer going airborne to score from four yards out and Marion took a 21-14 advantage.
Marion would prove that it was still Marion, coming right back to score on a 34-yard pass from Muhlenkamp to Huelsman to make the score 21-20, but Minster was penalized half the distance to the goal line on the extra point try, and Goodwin and the Flyers decided to go for two.  They came up a yard short, Brandon Fleck being stopped at the one foot line.
In Minster-Marion games during Stokes' previous five years there had always been a mistake, a turnover – interception or fumble – at those critical moments when the game was there for the taking.  But not on this night.  The Wildcats continued to play error-free football, starting the fourth quarter with an eleven-play drive of 65 yards that ended with Niemeyer hitting Falk with a short pass to score from two yards out.  But Falk would miss the extra point attempt wide right, and leave the door open for Marion Local…27-20.
With eleven minutes left in the game Marion started up field against a stiffening Minster defense, and on a third and three play Kyle Muhlenkamp took a vicious hit from Minster's Dustin Frericks, who was flagged for helmet-to-helmet contact.  It gave Marion 15 yards and a first down…and on the very next play Muhlenkamp skipped through the line, broke a couple of tackles, and raced 48 yards to score what seemed like the latest in a long line of Marion 'miracles'.
Only, on the extra point attempt by Alex Klosterman to tie the score at 27-27, the snap was bobbled by holder Reece Hess.  It resulted in chaos, Hess attempting a pass into the end zone that was batted down by a Minster defender, and the 'Cats would still hold the lead, 27-26.
Marion would hold on the ensuing possession by Minster, forcing the Wildcats to punt, and started upfield with just under two minutes to play and certain momentum.  Only, Mulhenkamp went for the big play downfield to Charlie Huelsman on the third play of the drive and had the ball picked by Minster's Brendan Bornhorst, who literally ripped the ball out of the arms of Huelsman.
Still, with 90 seconds of time remaining Marion held again…and got one more shot at taking the lead with 52 seconds remaining.  It didn't happen.  On a fourth and three play Muhlenkamp ran for the first down, only to have it called back for a holding penalty.  On the fourth and eighteen play that came next, his pass attempt went through the hands of Blake Schwieterman and out of bounds.  Minster took over on downs, and ran out the clock.
No one could really remember the last time that both Marion and Coldwater had lost on the same night, a night that saw all kinds of devilish things happen in football games all over the Miami Valley.  And Geron Stokes was subdued in his post-game comments, admiring of his team's nearly error-free effort as much as the fact of finally being the irresistible force that took down the immovable object.
"We weren't perfect, but we just scrapped,"  he said.  "You could see early on that we had a different look in our eyes.  It wasn't the timid Minster that we've seen for six years against Marion Local.  Tonight they were ready to fight.
"And awesome stuff by our seniors.  Those guys had us ready.  Alex had a great night.  The offensive line did a great job.  Jake (Niemeyer) made some nice plays to keep drives alive.  We just had playmakers make plays tonight and you have to have that in a game like this, and that's how they scored their points.  I'm just really proud of our guys because they were not timid.  They were ready to fight."
They won't meet again, of course.  Minster is in Division VI and Marion is in Division VII.  Minster now has Versailles next week before meeting New Bremen on week 10.  But the inevitable question was what this win was worth down the line, considering the fight shown against a team that's accustomed to winning games of this magnitude?  What did Stokes learn that he didn't previously know?
"I learned how much they cared,"  he said appreciatively.  "They cared.  You could see it.  They were fighting, and fighting for each other.  I saw how much they cared for each other. And that was big."
And Tim Goodwin?  While he was proud of his team's effort he didn't dwell on it.
"I'm sure our players would like to have a re-do, but that's football and that's life," he said.  "I'm already thinking about next week because we can't let this game become two losses…because Fort Recovery's going to bring a lot of talent."
The MAC is as the MAC does.  It always gets juicy this time of year, and because of Friday night four teams now head into the final two weeks with one league loss apiece – Coldwater, Marion…Anna and Minster.
Anna and Minster who both proved on the same night…that these are no longer the days of being taken for granted.