Indians' junior Ca'ron Coleman rushed for three touchdowns, picked off a pass and broke up another as Piqua made Greenville's path to the postseason more difficult.
Piqua – Seven Piqua Indians entered Friday night's game with 22 or more rushing attempts in Bill Nees' ground-and-pound offense. With competition for carries, junior Ca'ron Coleman found another way to get his hands on the ball against Greenville.
Coleman broke up a fourth-down pass in the third quarter and grabbed an interception in the fourth to highlight Piqua's 21-7 victory over Greenville. The win snapped a two-game losing streak for Piqua (4-4 overall, 4-2 Miami Valley League Miami Division) and ended a two-game winning streak for Greenville (5-3, 4-2 MVL Miami).
The loss was a blow to Greenville's playoff aspirations. The Green Wave entered Friday night sitting at No. 9 in the Division III, Region 12 computer playoff points. The top eight teams in each region qualify for the postseason.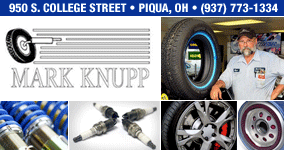 Greenville, which last celebrated a playoff berth in 1996 and a winning season in 2008, still has a shot at both with victories over Butler (2-6) and Sidney (3-5) the next two weeks.
"We have a lot of football left to play," Greenville coach Bart Schmitz said. "It's a good learning experience. The kids haven't been in this position recently. We're better than what we showed tonight. We'll respond."
While Piqua was going with the hot hand to decide who carried the ball – and they had a variety of choices Friday – Greenville struggled just to hold on to it. The Green Wave lost three of their four fumbles and threw two interceptions. Piqua junior Braiden Strayer had the final turnover on an interception with 2:23 left to send Indian Nation home in time to catch the Ohio State University Buckeyes before they headed into halftime of a rare Friday night game.
Piqua converted two of those turnovers into touchdowns. The Indians recovered a fumble on their own 31-yard line midway through the first quarter. Eleven plays later Coleman scored on a 2-yard run for the 7-0 lead.
Greenville responded with a 14-play, 73-yard drive capped by senior Tony Sells' 2-yard run.
It stayed that way until Piqua fell on another Greenville fumble on the Green Wave's 41-yard line. On the first play Piqua junior quarterback Blane Ouhl handed off to Coleman. He did the rest. Coleman broke a tackle a few yards from the line of scrimmage and sprinted down the Piqua sideline for the 41-yard TD with 3:47 left before the half.
"I broke a tackle and then there was all green in front of me. Nobody was there," Coleman said. " … I knew after I broke the tackle. I just lowered my shoulder and I took off.
"The O-line blocked great. Jerell Lewis blocked great for me the whole night. I was just trying to get yards."
Coleman rushed for 136 yards on 17 carries. He added Piqua's third touchdown on a 5-yard run with 8:48 left in the game to make it 21-7.
"He had a good game," Nees said. "We came back from two tough weeks and hung in there against a really good Greenville team."
So, what felt best Friday night – those three rushing touchdowns or that big interception? Neither, actually.
"Just the team win. That's the most important thing," Coleman said. "We worked hard.
"We're regaining a little bit of momentum that we lost. We're on to the next game with Tipp City."
Piqua entered the game No. 17 in the D-II, Region 7 computer points. Piqua finishes the regular season on the road at Tippecanoe (3-5) and at Troy (7-1), giving the Indians an outside shot at the postseason by winning out.
"It's big. You come off two weeks of getting beat, you come out here and you're playing a team that's having its best season in a long time," Nees said of ending that two-game losing streak. "For us to get a win here we're very thankful."
In addition to Coleman, sophomore Corey Miller (11 carries for 57 yards), Ouhl (8-26), sophomore Jasiah Medley (5-51) and Lewis (3-14) had key carries.
"You have to give credit our offensive line, I thought they played well," Nees said. "Our stable of running backs played well and Blane orchestrated the game really well."
Piqua rushed for 300 yards on 49 attempts. The Indians finished with 305 yards of total offense.
"Piqua is well coached," Schmitz said. "They know what they do and they do it very well. Tonight we got stopped. We couldn't sustain a drive. It wasn't our night."
Greenville finished with 174 yards of total offense, including 79 on the ground. Senior quarterback Tyler Beyke completed 11-of-18 passes for 95 yards and rushed 14 times for 25 yards.
Sells finished with 46 yards on 11 carries.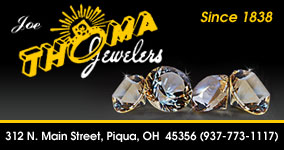 "We didn't do the little things right. Too many penalties (6 for 60 yards). Too many turnovers (5)," Schmitz said. "We couldn't finish a drive. When you have that many mistakes you're not going to come out on the right end very often. We'll learn from it. We'll get better. That's what we do."
As for the Indians, they run the ball. That's what they do averaging 247 yards per game.
"We have six guys that can run the ball," Coleman said. "You just stand by coach and hope you get in."