On a miserable night weather-wise, Anna's Riley Huelskamp made memories in the rain as the Rockets tried to sharpen their game for the stretch run.
Fort Recovery, OH – On a night in the MAC when the scores were lopsided – Marion over Versailles, Coldwater over Delphos St. John, Minster over St. Henry, and New Bremen over Parkway (the cumulative score of these games was 172 to 32), the one game on the schedule that seemed to portend some drama was Anna (5-1) at Fort Recovery (2-4).
Fort Recovery is not an easy place to play.  The Indians have athletes, a star-in-the-making with quarterback Clay Schmitz, and there was some concern that Anna might look beyond them in preparation for next week, and Coldwater.
But the Rockets put those thoughts to rest on the second play of the game.  On second and seven quarterback Bart Bixler dropped back, found wide receiver Kam Steward streaking down the middle of the field behind the Recovery secondary, and put the football right on his finger tips for 75 yards and the opening score.  And for those still standing in line for a hot dog that might have missed it, there were plenty more touchdowns to come in a 53-20 Anna win.
Not that there wasn't at least some early drama, because there was.  On their very next possession Clay Schmitz moved Recovery down the field and Derek Jutte moved them into the end zone from nine yards out to tie the game at 7-7.
But faster than you can say the Life of Riley, Riley Huelskamp stiff-armed Jutte on a tackle attempt, got to the sideline and raced 62 yards untouched for a touchdown – the first of four he would score for the night, to go along with 279 yards and a new school record for yards rushing.

By the end of the first quarter Anna had scored twice more – Huelskamp on a 20 yard run and a 1-yard touchdown by Bixler – and Recovery found itself trying to battle back from a 27-7 deficit in a driving rainstorm that opened up after Anna's fourth score.  Bixler would score again to open the second quarter on a 31-yard run to make the score 34-7.
The temperatures dropped as the wind picked up, but not the spirits of Clay Schmitz and Gavin Thobe, who hooked up at 5:08 before halftime on a 90-yard bomb to score and cut that margin to 34-14.
But a turnover on an interception by Anna's Isaac Lininger set up Anna with great field position with 1:21 left in the second quarter, and who else by Riley Huelskamp would cash in with 5 second remaining to make the halftime score 41-14…and visions of a running clock in the second half.  For the first 24 minutes of football, the Anna tailback had carried the ball twelve times for 179 yards and three touchdowns.
Recovery fans hoping for something better (and drier) began making their way to the parking lot and an early exit to home, and in truth…a few Anna followers, as well.  There was talk of duck hunting outside the concession stand, and the officials cloistered themselves in the ticket booth trying to get dry and warm.
As it turned out the best part of the scoring show was over, as Anna scored early in the third quarter on a 13-yard TD pass from Bixler to Jeff Richards – that made it 47-13.  And Gavin Thobe ran 79 yards and broke about a dozen tackles to bring Recovery back to within 47-20.
And at 2:13 of the third Huelskamp scored his fourth touchdown on a modest 10-yard romp to close the scoring, 53-20, and pretty much put the box on his night's work.  Neither team would dent the goal line again.
In a jubilant Anna locker room they were chanting, 'Riley, Riley, Riley' as he entered, the last Rocket to leave the field, and first in the record book for all-time rushing yards, having eclipsed the old mark held by Christiaan Williams (and yes, it's spelled with double AAs).
They might also have made time for Bart Bixler, as well, who ran for 89 yards, scored twice, and threw for a pair of touchdowns.
"I couldn't have done it without our line playing well,"  said a modest Huelskamp.  "Those guys were great tonight, and when I got past the line of scrimmage the perimeter guys were winning blocks downfield.  So I have to thank them for everything.  It wasn't a great night for weather, but it's football weather, it's October, and you gotta' play no matter what."
He is the preeminent back in the MAC, tough, quick, and willing to carry the ball as much as he asked – the ultimate team player, and one that has earned the appreciation of rival coaches…none more than Recovery's Brent Niekamp.
"They have some electric guys in their backfield, and he (Huelskamp) is the best we've seen so far,"  said Niekamp, post-game.  "He reminds me of Will Homan, who played for us a few years ago.  He's built the same way, he's got that kind of vision, he's hard to bring down, and he has another gear once he gets out in the open field.  He gave us a lot of trouble tonight and it's really hard to win a game when they have a guy that you just can't tackle."
"I won't say he's the best in the league," added Anna's Nick Marino, with a wry smile.  "But he's up there.  That's for other people to decide if they think he's the best."
'Coach-speak'…at its best!
It was obviously a tuneup game for Anna, and one, in truth, that they could not take lightly.  Coldwater looms next week, 49-0 winners over Delphos on Friday, and Marino came out blazing to let 'em know that there's more to prepare for than just Riley Huelskamp.
"You're always looking to take a shot when you can,"  said Marino about Kam Steward's 75-yard bomb on the game's second play.  "We threw it, it was wide open, and it turned out to be a big play.
"But next week is a big football game.  Obviously Coldwater is really good, they're playing really well, and they're good on both sides of the ball.  I thought we played well offensively tonight, but we've got to fix some things on defense before next week.  We missed a lot of tackles tonight, we've got to tackle better, and our discipline has to be better."
Brent Niekamp was disappointed, but upbeat about over his team, if not the outcome.
"I thought our kids battled hard,"  he opened with.  "Obviously Anna has great talent in their backfield, and that hurt us.  But our kids never got down, they kept fighting and trying to make plays and we ended up 33 points at the end.  That's a really, really good football team we just played.  They've got twenty seniors, they're physical, and we hung in there and swung for four quarters.  That's all you can ask of your kids."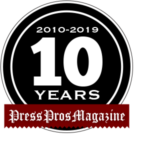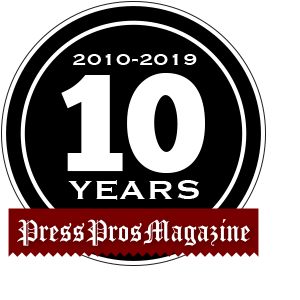 Anna plays host next week, and they've never had a lot of luck against Coldwater.  But with a senior-laden roster, the confidence of 6-1 record, and regardless of who says it…the league's best running back…Nick Marino must know that there's no time like the present.  The term The Life of Riley, by the way, comes from the title of an old television sitcom in the 50s, about a guy who lived every day of his life knowing that he could not wish for better.
Riley Huelskamp has done that for Anna.  And regardless of who says it, Nick Marino knows…he, too, could not wish for better.