It went five sets, it was ugly, then beautiful, then an ending that had everyone gasping for breath.  But somehow New Bremen found a way to win the season's most unusual volleyball match…over Fort Recovery.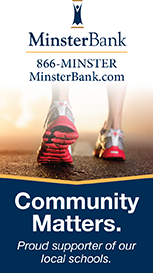 New Bremen, OH –  You can't play worse and win.  Those aren't our words, but those of New Bremen volleyball coach Diana Kramer following Tuesday's thrill-a-minute five-set match with Fort Recovery – one that took nearly two hours and ended by taking the breath away from everyone who could bear to watch.
"I mean, let's get real…you can't play worse than we did, and we beat a team as good as Fort Recovery,"  said Kramer, shaking her head.  "Somehow we stuck together, we got a huge game from Macy Puthoff and Kaylee Freund, and I'm telling you…Fort Recovery is one of the best teams in the state of Ohio.  They've got incredible athletes, they played great defense tonight, and we missed 22 serves and made a lot of mistakes…and still won."
Officially, it ended this way…22-25, 26-24, 25-20, 23-25, and 18-16 in the fifth and deciding set.
Bad?  New Bremen came out and missed eight serves in the first match alone, at one point creating some concern about there being any paint left on the gym's back wall by night's end.  Recovery took advantage of those mishits, serving aggressively, using their size advantage at the net, and quickly had the Cardinals on their heels. They played THAT well.

"We'll really got off to a bad start,"  said Bremen senior Macy Puthoff.  "We struggled, but we played together as a team and we came through it.  We missed a lot of serves, but we responded and got better as the match went on."
Indeed they did, but it took a while, and for the first 30 points of the second set it looked like it would never happen.  Recovery played as well as you can possibly play, especially on defense.  Their blocking was superb as New Bremen amped up its aggressiveness in hitting.  The Indians, in turn, took those blocks, extended rallies, and frustrated Bremen by dumping balls into the middle of their defense for easy points.  And at one point they led 22-17, just three points from taking a two-set lead in the match.
Then, the inexplicable happened.  New Bremen scored consecutive points on a pair of serves that did not hit the back wall.  Puthoff, junior Josie Reinhart, and Taylor Paul scored on kills, and just that quick cut the lead to 22-21.  Recovery would get the serve back, but a missed serve on their part kept Bremen's momentum going.  They finally tied it at 24-24, Recovery called a timeout, but it was too little, too late.  New Bremen came out of the timeout to take the final two points and the set, 26-24.  The crowd went nuts.  Down seven points and just three points away from losing, they had found a way to win.
They got off to a better start in set three, but Recovery showed some grit of its own and kept pace.  But without warning the most unlikely of impact for New Bremen came from sophomore Kaylee Freund (pronounced Friend), a soccer player-turned-volleyball-player two years ago, who got hot on quick sets at the net, and at one point scored on five consecutive kills to give Bremen some breathing room and all the momentum.  Now the serves began raining in, the outside hitters were connecting, and in the middle of it all, Feund, the shortest middle hitter in the MAC (at 5'7″) just kept getting the ball fed to her and just kept scoring."
"My teammates…," she said.  "They really picked me up, they got me hyped, and I just kept putting them (points) away. I've never had a night like I had tonight."
"You know she just started playing volleyball two years ago,"  added a smiling Puthoff.  "She was AMAZING tonight."
Bremen took the third set, 25-20, setting up what most must have thought would be a quick and decisive end of the match with set four.
But Recovery had other ideas.  They kept playing defense, blocking, and their size at the net continued to have an impact.  Sophomore Whitney Rammel hit with authority, while teammates Paige Fortkamp and Brooke Kahlig hustled on defense to keep the ball off the floor and take the momentum back from New Bremen.  Tied at 23-23, the Indians surprised Bremen by taking the set on a pair of easy points at the end, 25-23.
More, they came out and scored the first four points of the deciding fifth set, and it was 5-1 before Bremen caught fire and eventually tied the game at 8-8.  From that point on it was tied at 9, 10, 12, and at 13 before New Bremen went ahead at 15-14.  But Recovery came back to tie it at 15-15 on what else but a missed serve by the Cardinals;  and then a missed serve by the Indians gave Bremen an added life.  Still the game was tied again at 16-16 before Bremen broke through to end it, 18-16.
Macy Puthoff would finish with 18 kills, 18 digs and 3 blocks.  Sophomore Kaylee Freund would finish with 10 kills, Josie Reinhart had 10 of her own, and Taylor Paul would chip in with 9 kills and 5 serving aces.

But it proved that #1 seed New Bremen was capable of withstanding the risks that come with its attitude of playing with high risk and high reward.  In baseball, when you're not getting on base by swinging away you have to go to plan 'B' – bunt, take a walk, get hit by the pitch, whatever it takes to get on base.  For a while Tuesday Diana Kramer had to resort to plan 'B'.
"We do have one,"  she assured.  "But when you're missing serves and try to be too cautious it can create more pressure to get the ball in bounds, and then you can miss it even more.  And that's what I feel was happening.  It's a situation that's particular to volleyball and you have to have played to understand that it's part of the game.  We started with missing eight serves in the first set and I think it made us play trying not to make mistakes.
"But for us to beat a team as good as Fort Recovery we had to step up and make plays, and we did.  Our middle hitters were really good tonight and our outside hitters made plays when they needed to.  Macy had a remarkable match with 18 kills in five sets and that's a bunch.  And Kaylee was the perfect complement to her.  Between the two of them they had about 30 kills."
New Bremen, the #1 seed in the Bluffton Division IV sectional, concludes its regular season on Thursday with another pressure match, on the road at Coldwater.
Fort Recovery, the #2 seed in the Kalida D-IV sectional, played valiantly in its comeback attempt, and concludes its regular season schedule Thursday, on the road with Versailles.
"This was a great match to have to prepare for the pressure of the tournament,"  added Kramer.  "Because we were on our heels tonight and that's a compliment to Fort Recovery.  But our girls are tough-minded people – people who aren't afraid to go out and put a ball away after making all those mistakes."
Diana Kramer pulled not punches.  And for those who watched…it probably was tough to breathe.  A thrill a minute.