Anna flipped the switch to return a favor after a sluggish first set to drop Russia in four – on senior night – in a memorable regular season finale.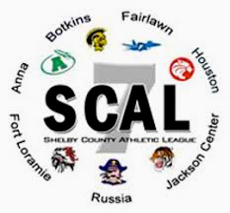 Anna –  They weren't even playing for second place.  Presumably Russia will wrap up that penultimate prize tomorrow night when the Raiders conclude their regular season with a match at Houston.
But it didn't matter to the Anna Rockets, who were playing for pride, and for the sake of their six seniors on 'Senior Night' Monday.  After a hit-and-miss season that saw them finish 12-10 overall, and 8-4 in Shelby County League play, Kelli Zumberger's kids no doubt remembered a loss to Russia two weeks ago – straight sets, frustration, and humbling.
Well, they atoned for it Monday night with a 19-25, 25-23, 25-21, 27-25 win in four sets to wrap up their regular season schedule and send Liz Michael, Madison Roe, Lauren Barhorst, Macy Wiktorowski, Maggie Stiefel, and Emily Bertke (the six seniors) home smiling.  One could say, it epitomized the landscape of their season – a bit of up and down.
Only Monday it was down, and then up.  After a stumbling start that saw Russia claim the first set 25-19, Anna roared back to take the next three, thanks to "emotion on Senior Night, and getting some key players back and healthy,"  said Rockets coach Kelli Zumberger.
"We're kinda' finding our niche right now.  And we were able to stay poised tonight.  We'd get a lead and we just had a calmness about us tonight that we didn't have at the beginning of the season.  There weren't any frantic faces out there tonight."
You could feel their confidence building with each point – their determination after the 25-23 win in the second set – to return the favor of that September 24 loss in Russia.  The Raiders, for sure, would make their runs, only to fall back with errors or by a serve out of bounds or into the net.  It was contested throughout, the biggest lead of the match being Russia's 7-0 start in the first set.  And after that, the margin for either team in the final three sets seemed never more than five points.
It wasn't that Russia played poorly, because they didn't.  But this was the night when Macy Wiktorowski would come of age, leading the Rockets with 19 kills, and seven of them coming in a withering stretch of the final set that saw Russia come from a five-point deficit late to finally tie the game at 24-24.
But that calmness that Zumberger talked about…it prevailed, taking three of the next four points to close the match, Wiktorowski, Lauren Barhorst, Liz Michael, Madison Roe, et. al., scrambling, blocking, extending points, and eventually wearing through Russia's resolve to finally score match point.
"Lauren Barhorst has been a bigger offensive threat the last four games than she was when we played Russia two weeks ago,"  added Zumberger.  Barhorst scored repeatedly in the final two sets on quick sets at the net where she used her 6'1″ framed to elevate above the block attempt and spike the ball downward at a sharp angle – impossible to stop.
"But the last two sets Macy (Wiktorowski) really turned it on for us.  She had 7 kills in the third, 6 and the fourth, and 19 for the match."
Wiktorowski is just 5'9″, but her timing was so accurate, and the complementing assists of her teammates was so good, that it allowed her to execute her shots with surgical precision.  She was the difference maker in the third and fourth sets.
"My teammates helped me,"  she offered, humbly.  "They talked to me all night, telling me what shots were open.  Plus, everyone had a lot of energy tonight and that helped energize me."
But teammates couldn't place the kill for her.  That…Wiktorowski had to do for herself."
"I think some of it comes from Coach, because she helped me so much along the way,"  said the Rockets' senior.  "I've practiced it a lot, and this is my fourth year and I've just kept getting better and more confidence with each season."

Russia's record drops to 11-10 for the season, and 8-3 in the Shelby County League, and while Aaron Watkins didn't admit to Monday's match being a dagger to their confidence, it was a match they would sorely have liked for the sake of tournament momentum.  Russia is the #3 seed in the Division IV Troy sectional and opens post-season play on October 15 against Tri-County North, the #20 seed.
"We've looked good in a lot of first sets,"  said Watkins afterwards, talking about Anna surge in the final three sets.  "Some of it comes with our youth, coming out hot and then just getting comfortable.  But at this point of the season we're really not young anymore, and that's something that I or my coaches can't coach.  Hopefully tonight lights a fire under us, because we got an excellent draw for the tournament and we just talked about that."
For Anna, the Rockets are a #6 seed in Division III and open tourney play against Twin Valley South on October 17 at Brookville High School, and Zumberger hopes, like Watkins, that Monday's win lights a similar fire under her team, as well.
"Tonight was important for us, but we're going to take it one match at a time,"  said Zumberger.
"We've really started playing better the last four matches, and while we kinda' stubbed our toe against Jackson Center (last week), you learn from those kinds of things.  And it showed with the close scores we had with Russia tonight."
What they did was 'raid' Russia, who had won five of their last six matches.  What a way to return the favor – to celebrate Senior Night.
"And what a great memory," Macy Wiktorowski said, with a broad smile.