Tight end Adam Trautman became the all-time leader in pass receptions, and quarterback Jack Cook sets a record for most TDs in a game.  Aside from that, all the Flyers did was send Jacksonville back to Florida with a 28-point loss.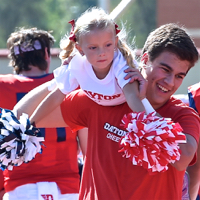 DAYTON — Adam Trautman was in the process of making the Jacksonville University secondary resemble stationary lawn jockeys.
The University of Dayton tight end was hauling in passes from quarterback Jack Cook as easily as if he was picking peaches and apples off trees.
He was on his way to setting career catch records and single game touchdown catches while the Flyers were en route to routing Jacksonville, 56-28.
A game official, whistle in hand and hankie in his pocket, approached UD coach Rick Chamberlin, not to explain a penalty, but to talk about Trautman.
"That No. 84 (Trautman) is something else and I don't just mean catching all those passes," the official told Chamberlin. "He is all over the field, hustling on every play, making blocks."
Asked if an official had ever said anything like that to him about a player during a game, Chamberlin smiled and said, "No, never."
And it wasn't only game officials paying attention to the 6-foot-6, 253-pound senior. Scouts from the NFL's Oakland Raiders and New York Jets were in the Welcome Stadium press box.
It has been that way since the first day of spring practice when a couple of pro scouts showed up. After watching Trautman and asking coaches about his personality and family, one of the scouts told Chamberlin that he would see more than enough scouts this year to fill the school cafeteria.
"That's never happened at UD in my 45 years associated with the Flyers as a player, assistant coach and head coach," said Chamberlin.
Trautman played high school football at Elk Rapids High School in the small village of Williamsburg, Mich., "Where we had 18 players my junior year and 21 players my senior year," he said.
Small-town Trautman had the scouts scribbling notes furiously Saturday afternoon.
Trautman's first catch of the day was a 17-yard touchdown pass from Jack Cook just a minute-and-a-half into the game.
It was his 134th career catch, breaking the all-time record of 132 previously held by Bill Franks (1988-91), who was in Welcome Stadium to watch his record disappear.
Trautman didn't stop there. The next three times the Flyers scored, it was Trautman catching touchdown passes — 30 yards, 2 yards, 34 yards.
The four touchdown passes, all caught in the first half when the Flyers constructed a 35-14 lead, is a UD record for touchdown passes caught in  game.
For the game, Trautman snagged six Cook deliveries for 107 yards.
Oh, and speaking of records, quarterback Cook also hooked up with wide receiver Ryan Skibinski for a 33-yard touchdown pass and with Kyle Butz for a 14-yard touchdown. His six touchdown passes set a UD record for most in a game.
And he sat out most of the fourth quarter, "Because I didn't know he had tied the record," said Chamberlin.
Cook, a scrambler who doubles as a contortionist while delivering passes from every unfathomable angles, finished 13 of 16 for 198 yards and the six touchdowns.
There is a reason there is a tattoo on Cook's throwing arm that reads, "Dare to be great."
It was quite the contrast.
A football field is a no pass zone for Jacksonville. Head coach Ian Shields believes the forward pass hasn't been invented yet.
The Dolphins threw only two passes all day. Last year, Jacksonville completed only 24 passes…all season.
In the first quarter, they had a first-and-20. They ran the ball. They had a first-and-32 and ran the ball. They had a second-and-29. They ran the ball. They had a third-and-37. They ran the ball…for five yards.
Their offense in constructed around running quarterback Calvin Turner Jr. The Flyers knew that. They were prepared. Stop him and you stop the Dolphins.
But on the game's first play, Turner circled right end and UD's free safety over-committed. Turner bolted 72 yards untouched by human hand for a touchdown, 16 seconds into the game.
The Flyers, though, scored a minute-and-a-half later on Trautman's first touchdown catch. The Flyers kept Turner under reasonable control (21 more carries for 97 more yards).
Trautman and Cook took it from there.
"It's awesome throwing to Trautman," said Cook, a red-shirt sophomore from Cranberry Twp., Pa. "It seems he is always open. He is so big and so fast it is just awesome for a quarterback to have a guy like that.
"He is bigger than anybody, taller than anybody and faster than most defensive backs," Cook added. "He is an NFL prospect for a reason. He is a great security blanket."
Trautman was not recruited by UD. His older brother. Andrew, was but decided to go elsewhere. But his father remembered UD and the campus and the people when his older son visited, so he called UD recruiting coordinator Eric Evans.
Trautman, a quarterback in high school, had only one offer and it was from Cornell, "And they were about to take it away from me." After he committed to UD, Michigan State made him a preferred walk-on offer that he declined. He could have been playing Saturday night for Sparty against Ohio State and said, "I'm confident I could have played there and done well, but I'm thoroughly happy here at UD."
Although he was a high school quarterback and reported his freshman year as a quarterback, Chamberlin said, "Because of his size, we had him in mind as a tight end and told him that. We let him work at quarterback in the first practices, but about the fourth day he came to us and said, 'I think I'd like to try tight end.'"
Chamberlin smiled and said, "And the rest is history."
Said Trautman, "I told Mr. Evans that Cornell was about to strip their offer away and I'd take Dayton over Cornell anyway. The next day UD called me and put me on the roster.
"I then got other offers but I'm a pretty loyal guy. It was the best fit for me academically and especially athletically because we win all the time. I wouldn't change a thing about it.
"A historic program and I wanted to play right way and I knew I could get on the field," he added. "I moved to tight end because I wanted to be part of the culture. The guys here are so great. We don't play for money but I wouldn't change a thing about where I decided to go to college."
In addition to the Cook-Trautman aerial show, with Skibinski (three catches, 67 yards) and Butz, the Flyers showed Jacksonville they, too, can move the ball on the ground.
Jake Chisholm ran for 101 yards and a touchdown on ten carries and Sean Proffit carried nine times for 82 yards.
Defensively, UD safety Brandon Easterling became personally acquainted with Jacksonville's Turner. He made 16 tackles, eight unassisted, and linebacker Anthony Best chipped in with 11.
There may have been another record, too. Left footed kicker Sam Webster recorded nine touchbacks — Jacksonville was unable to return any of his kickoffs that he put either deep into the end zone or completely out of it, and he converted eight straight extra point kicks.
The day, though, belonged to Trautman. In a fitting conclusion, as the game ended, Trautman's visage appeared on the south end zone message board and he said, "The University of Dayton would like to thank you all for coming."
Jacksonville wished Trautman had a different commitment than a football game Saturday.