They weren't as good as they could be, and may be yet, as Marion Local won its fourth straight, in convincing fashion, over St. Henry.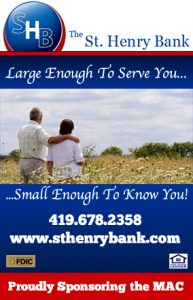 Maria Stein, OH – No, the opposition wasn't the New England Patriots.  And yes, Marion Local could have been sharper.  The Flyers' first play of the game…and their first two possessions resulted in interceptions.
Still, the now 5-1, and ten-time state champs – in the midst of full-scale rebuild mode – rebounded quickly enough to score 21 first half points, put up 400 total yards on offense, and pulled away from an energetic St. Henry team Friday to win 35-14.
It was a game of big plays…and heart-stopping plays.  The game was suspended for nearly 15 minutes in the second quarter when St. Henry sophomore Bennett Gels was tackled on a kick return and lay prostrate on the field with an apparent neck/spine injury.  He was carried off and squaded to the hospital where his initial prognosis was positive.
But after Marion quarterback Kyle Muhlenkamp got past throwing the football to the wrong jerseys, he settled down to direct the Flyers on a pair of touchdown-producing drives.  The first, at 1:43 of the first quarter, saw junior Grant Meyer cross the goal line on a four-yard run to give Marion a 7-0 lead.  After an exchange of possession by punt, Marion started upfield again at the outset of the second quarter, Meyer scoring again, this time from two yards out, to make it 14-0.
On the ensuing kickoff Bennett Gels dove to cover the loose football at the 30 yard line, only to have his head find the knee of Marion defender Darren Meier.  He crumpled with possession of the football, but the stadium grew hushed awaiting the outcome of his injury.  And no sooner was he was helped from the field, than teammate KJ Jacobs broke through the line of scrimmage and raced 61 yards, untouched, to put St. Henry on the scoreboard, 14-7.
"It was a scary moment for us when you see a teammate going off like that"  said St. Henry coach Brad Luthman.  "But I'm proud of our pride and effort, especially when we didn't play very well last week, and we had a couple of linemen that were unable to play.  So you don't know what to expect.  But we fought."
And Marion made 'em fight, because the Flyers answered Jacobs' touchdown with a one-yard run by Brandon Fleck with 40 seconds before the half to go up 21-7.
Fleck would finish the night with 95 yards rushing and a pair of touchdowns, and led an obvious attempt by Marion to establish the run after the two opening interceptions.
"We struggled a little bit in the first quarter, but we got it going in the second,"  said the Flyers' senior tailback.  "We're getting better every week.  We just have to keeps our heads and limit the mistakes."
And teammates Dylan Heitkamp and Grant Meier helped Fleck with the running game, Meier complementing Fleck's two touchdown performance with a pair of his own, along with 61 yards.
The second of Fleck's touchdowns at the seven-minute mark of the third quarter broke the game open – a 30 yard scamper through the middle of the Redskins' secondary to make the margin 28-7.
But the oohs and aahs really amped up on the Flyers' next possession, where backed up to their own 11-yard line by a penalty, Kyle Muhlenkamp went for the 'Big Bambu' and hit junior Charlie Huelsman in stride at the 50 yard line.  Huelsman outran everyone to the goal line for an 89-yard strike.
With both teams playing reserves in the fourth, St. Henry put together a drive that scored with 3:49 left to finish points for both teams for the night, and a long worrisome night for Luthman's Redskins, now 1-5.  St. Henry would finish with 257 total yards, 144 of that on the ground, thanks to KJ Jacobs, and quarterback Andrew Lange would conclude his work with 113 yards passing on 9 of 17 attempts.
It marked their fourth straight win since Bishop Watterson, and while Marion coach Tim Goodwin wasn't blown away, there's a lot of football left and time to polish what is without question the quest at this point of every season.  Begin the charge for a league title;  and make ready for the playoffs.
"208 yards on the ground is a good total, but I wasn't happy with how we played overall,"  said Goodwin.  "We just weren't on point with things, like we were last week (against Anna).  I thought we had a bit of a letdown intensity-wise.  We didn't practice that great this week and tonight we played like we practiced."
Goodwin and Marion have been at this point before, and without as much as a 5-1 record, but he insists that while winning is good, the manner in which they've won has left something to be desired.
"Obviously if you'd told me we'd be 5-1 I'd would have been happy with it,"  he said.  "But sometimes we take two steps forward and one step back…then another step back before we take a step forward again.  We're improving, but it hasn't been consistent improvement.  The bits and pieces part of it has been a little bit frustrating.
"But I think we have the elements to be what we can be by the end of the season.  We've got guys playing well tonight (Fleck and Huelsman), and hopefully we get a couple of guys back from injury here in the next couple of weeks.  That'll help our depth.  And we've got some younger kids dinged up a bit, so we have to stay healthy and you never know about that. So yeah, I think we're coming around toward putting the right guys it the right spots."
Kyle Muhlenkamp, a first-year starter as a senior, is looking a bit like Chris Stucke, #7 and all.  After the two early interceptions Friday he finished 10 of 16 passing for 189 yards and a touchdown, picked up 30 yards on the ground, and generally did a good job of managing the game.
"He's got the right number, doesn't he," smiled Goodwin.  "He manages things and last week he really made some plays for us.  He's definitely capable, we just need consistency, from him along with everyone else."
And now the heavy lifting begins.  After a road game with 3-3 Versailles next week, consecutive weeks of Minster, Fort Recovery, and the season's finale with unbeaten Coldwater.  Goodwin said nothing about future opponents following Friday's win, just the need for improvement and consistency.  It sounded pretty much like week six of the past twenty seasons.
And to Minster (5-1), Coldwater (6-0) and would-be opponents beyond those two, Friday pretty much looked like Marion Local beginning to make its annual charge.  After losing eighteen starters from last year it's different, for sure – but eerily the same!