A college dorm roommate wrote to remind me that there was a time when I didn't take such a dim view on the National Football League.  And that I had Don Meredith to thank for that.
Mike Parker, a college roommate (Ohio State University, circa 1971), wrote this week to respond to my Tuesday column about thugs like Vontaze Burfict making the National Football League an unsavory thing to watch.
"As I remember,"  he wrote. "…we used to watch Monday Night Football and you didn't complain because you laughed at Don Meredith singing 'Turn Out The Lights The Party's Over'.  I know we've all changed since 1971, but go to YouTube and watch the tape of Meredith singing again, and maybe you won't be so grumpy."
First, there's no accounting for the relationships you make in a college dorm.  And how many of those guys you hoped you'd never see again back then…now make the heart grow fonder at the mention of their name.
And second, there probably aren't that many people left that probably remember when Don Meredith, Howard Cosell, and Keith Jackson (later Frank Gifford) made their debut on Monday Night Football in the fall of 1970.  The football was OK because it beat studying.  But the trio of Gifford, Cosell, and Meredith was a whole 'nuther kind of entertainment.  Cosell, Jackson and Gifford, when he came along, were of course broadcast professionals.
Meredith, on the other hand, was a former quarterback with the Cowboys, a pretty face, and an amusing personality who frequently would sing the lyrics from the old Willie Nelson hit, "Turn Out The Lights, The Party's Over" when the game got prematurely decided.  Cosell hung on him the nickname, 'Dandy' Don.
For a while "Turn Out The Lights" was a big deal.  But when Meredith left the booth after twelve years the memory faded, and when he died in December of 2010 reference to his Monday night ballad disappeared altogether.  If you never heard it, here's what you missed (click above).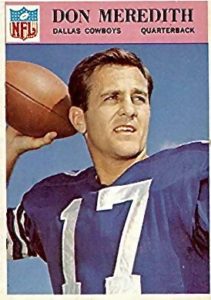 On the other hand, Turn Out The Lights was one of Nelson's first really popular songs, originally written and published in the mid-50s, and when Nelson would be hired to play shows he always finished with it.  It became a Texas tradition, and very popular on college campuses, which is where Meredith probably first heard it as a student as SMU.  The song endured for years, even during Nelson's down times as a song writer, publisher, and performer.
But it wasn't until 1966 before Nelson actually recorded the song, in Nashville, and two years later it was included as the title track of the album The Party's Over And Other Great Willie Nelson Songs.
Nelson was not a football fan, particularly, but he was amused by Meredith's attempts to croon his song, and when Nelson re-recorded Turn Out The Lights in 1982 for his Always On My Mind album, he referenced Meredith and Monday Night Football for helping to keep the song popular and a Texas tradition.  The recording embedded here is that 1982 recording, with strings and harmonies that represented the Nashville sound of that era, if not Willie Nelson.  But it is one of the best Nelson songs, and recordings, of all time.
Mike Parker was right when he said that we all change with time.  What we remember as football in 1970 is a far cry from the National Football League today, its corporate image, and usurious pricing for tickets and paraphernalia.
But what I remember about Turn Out The Lights is still vintage Willie Nelson…and 'Dandy' Don.  Thanks, Mike.  It was a better day.