What we learned in week 5 of football season is what a lot of us already suspected.  And some things, good and bad, never change.
What we learned, first-hand, in week 5 of the football season is simply this. Those same Coldwater Cavaliers that people questioned after last season – that people questioned over the summer, about whether they had enough athletes and experience – that people questioned even after their first two wins of the season, against Kenton and Mount Healthy…that same Coldwater is again ranked #1 in their region, vying for Division VI attention across the state, and look like a team that the title could again go through come November.
And one can say the same for Marion Local after the Flyers' dramatic win last Friday over previously unbeaten Anna.  Call it culture, call it coaching, whatever you will.  Question all you want, but never count these two programs out.
"Coldwater is for real, good as advertised,"  said Fort Recovery coach Brent Niekamp following last week's loss at Coldwater.  "Their team speed is unbelievable and we've got some kids who can run a little.  But they just have player after player who they bring in, and they're all explosive."
"Their speed is impressive,"  said Versailles coach Ryan Jones, when his Tigers played valiantly, but lost to the Cavaliers three weeks ago.  "And speed is the most important asset to have in sports."
And finally, "They don't do anything different than we prepared for,"  said Minster coach Geron Stokes, when the Wildcats fell two weeks ago, 38-20.  "But there's something we have to do differently to get ready to play teams like Coldwater."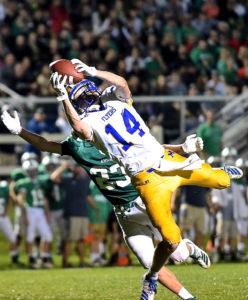 "We are fortunate to have the number of skill players we have,"  said Chip Otten following last week's win over Recovery.  "Hopefully we can stay healthy, but it also helps when you have a quarterback (like Jake Hemmelgarn) who can both run and throw.  That makes a big difference."
If you counted out Marion Local after their week 2 loss at Watterson, think again.  Since that time the Flyers have pitched a pair of shutouts and held Anna's powerful offense and run game to just 14 points last week.  How did they do it….?
"Our kids are tough – Marion Local kids,"  said Tim Goodwin said to PPM's Mark Znidar, following the game.  "If we can ever clean up the mistakes we can be a pretty good football team."
A team that lost 18 of 22 starters last year due to graduation, and still stand 4-1 and ranked #2 in last week's OHSAA poll in their Division VII region.  And that's bad news for other teams in that region, because Marion ALWAYS improves between now and Week 10.  And they usually peak by week 11 –  that matchless culture of winning big games, something Coldwater knows about, too.
And this year the two teams WILL NOT MEET in the regional round of the tournament.  Like with the old days, when Coldwater was Division V and Marion was Division VI, someone in their respective divisions will get to see what we already know now…after Week 5.
---
What we also know after Week 5 is there's a reason why it's easy not to watch the NFL on Sundays anymore, and the latest is to the hit Oakland's Vontaze Burfict put on the Colts' Jack Doyle, the latest in a seeming lifetime of Burfict blows "below the belt".
He was immediately ejected from the Sunday's game, and Monday he was suspended by the league for the remainder of the 2019 season, an action Colts coach Frank Reich called justified, and satisfactory.  But in Burfict's case the part that makes you wonder about his psyche is the manner in which he left the field after being ejected – smiling, waving, blowing kisses to the Indianapolis fans who booed him out of Marion County.  Others have since called for his ouster from football…for LIFE!
There's an actual thread on YouTube now entitled Vontaze Burfict Hits That Make You Sick To Your Stomach, and if you have questions about football and kind of players that play at the ultimate level I'd suggest you not watch it.  Obviously every player in the NFL is not like Vontaze Burfict, but that doesn't diminish the irrefutable fact that football on Sunday's represents the ultimate in human risk – bigger, faster, and hits that people like staring at, like an accident on the interstate.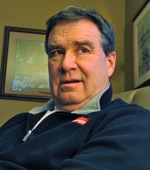 There have been other Burficts over the years.  Every generation seems to have one or two, and while they represent a minority…they play against someone every week and it's a matter of time until the next Darryl Stingley comes along.  And while it took Stingley a few years to succumb to that paralyzing hit from Jack Tatum (They Call Me Assassin), the day will come when you'll see someone actually die on the field from an encounter with a Vontaze Burfict.
And if you ask me why that's jaded me from watching the NFL?  Well, there's a reason why he wasn't drafted out of college.  There's a reason why Marvin Lewis kept him around so long.  And Jon Gruden knew of his reputation when he brought him to Oakland, and has only kicked the can down the road. So there's a pattern, don't you think?
Personally, I prefer the 'better' football under Friday Night Lights.