It took them five sets to do it, but a dogged effort by Troy Wednesday finally knocked Tipp from the ranks of the unbeatens, and moved the Trojans from underdogs to top dogs.
Troy, OH – The Troy Trojans volleyball team went from underdogs to top dogs in the span of about two hours on Wednesday.
Troy's seniors – after a pep talk from coach Michelle Owen – helped unleash a five-set victory over the previously undefeated Tippecanoe Red Devils in a battle for the Miami Valley League championship. Troy forged a tie with Tipp atop the division with the victory, both are 15-1, with a 15-25, 25-16, 25-20, 18-25, 15-11 victory.
As for the Red Devils, they still have plenty of bite left despite their first regular season loss in 36 matches.
Tipp (19-1) entered leading the MVL and ranked No. 9 in the Division II state poll, including garnering seven first-place votes. The Red Devils also owned a five-set thriller over Troy on Sept. 4.
"It was hard to know who was the team supposed to win this match tonight," Owen said. "Were we the underdogs? I guess? When you have two losses and the other team is sitting undefeated and state ranked, I guess we're the underdogs. We didn't have a lot to lose."
Well, except a string of division titles. Troy (18-2) had won seven straight Greater Western Ohio Conference division titles before moving into the MVL. That streak looked in jeopardy after Tipp took the first game with a steady offensive scoring. The Red Devils scored four consecutive points twice in the match, the last time taking a 20-14 lead, and closed it out with the final five points highlighted by a Rachel Wildermuth dink and a sensational one-handed diving dig from Abby Hughes that led to Alayna Titley's spike at the net.
Troy, meanwhile, struggled to get much going and never scored more than two consecutive points.
"I really challenged our seniors to step up," Owen said. "We have eight of them and told them the way we performed in set one was not what our history and tradition has been. I felt like we didn't come out ready to compete. … I really challenged them to show our underclassmen and everyone in gym what we were about."
If the match wasn't a pressure cooker enough, no air conditioning in the Troy High School gym cranked up the heat even more. And so did the Trojans.
Troy rallied to win the next two games for the 2-1 lead. Troy held a steady lead in the second game. Tipp pulled to 20-14 before Troy scored five of the next seven points. Lauren Schmitz hit a cross-court winner and bounced another spike off a defender before Anna Boezi's hard kill closed out the win.
The third game featured eight ties, the last coming 16-16. Troy's Morgan Baber, Kate Orban and Boezi all scored points at the net to help the Trojans score 10 of the final 14 points. Baber caught the Red Devils off guard several times during the match with quick dinks on second hits.
"She attacked a lot," Owen said of Baber. "I didn't look at the stats to see how many kills she finished with but I think it's almost double digits. They struggled to find an answer for her. That was a big difference from the first time we played Tipp."
"I think we got a little bit tight. Troy got a little looser," Tipp coach Howard Garcia said of games two and three. "The key was a lot of the plays on second contact (Baber) scored on some balls we should have picked up but didn't. We had some miscommunication on some balls that fell between the seams. That said,I thought we blocked awesome. I think we played with a lot of intensity.
"Our serve receive broke down a little bit so we couldn't get our offense going. With that said, when we were able to stabilize the receiving game in set four we were able to do what we were capable of doing."
Troy led 7-5 in the fourth game before Tipp reeled off 11 straight points behind Kaitlyn Husic's play from the outside. She went cross court numerous times to help the Red Devils build a 15-7 lead. Troy managed to get to 24-18 before Corinn Siefring's spike landed in front of a Troy defender unable to come up with the dig.
Game five was back-and-forth with Troy leading 7-5. They managed four straight points to take control starting with a great save from Lauren Schmitz and Brianna Slusher's dink. A Genna Coleman ace, an illegal touch from Tipp and Slusher's kill – following the Trojans' defense withstanding two solid kill attempts from Siefring — put Troy up 11-5.
Tipp scored four straight to get within 11-9. The teams traded consecutive points five straight times to put Troy on the brink of closing it out at 14-11. The Trojans final two points came on an illegal touch against Tipp and a match-clinching serve that glanced off Tipp's outstretched fingertips and into the back court.
"We were here to play tonight and wanted a shot at the league title," Owen said. "They really responded."
Troy's student section – dressed in appropriately enough Hawaiian-themed spirit wear considering the sweltering gym – stormed the court and swarmed the Trojans players in celebration.
"The Big Red Rumble definitely helped us get through with some extra energy when we needed it," Troy libero Emmie Jackson said."
The Trojans switched their offense from a 5-1 (five hitters and one setter) to a 6-2 (six hitters and two different setters) following the loss of setter Morgan Kaiser to an ACL injury. That was something Tipp didn't see in the first meeting won by the Red Devils 25-19, 25-21, 19-25, 23-25, 15-10 on Sept. 4.
The Red Devils also made a few uncharacteristic errors not normally seen this season.
"I still think if we had some breaks it could have been different," Garcia said. "The breaks occur because you put yourself in that position. If you don't make a couple of errors here and there you don't need the breaks. … I think if we played again I think it would be a very good, intense match again. It was an exciting match and it was some good volleyball."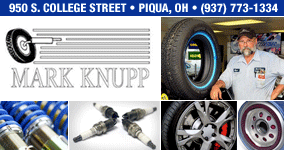 Facing a recent schedule that included Centerville and Versailles also prepared the Trojans for the talent the Red Devils brought to Troy on Wednesday. And don't forget that senior leadership, too.
"It's so nice knowing our eight seniors could come together and work together as one team. It's just so great. I don't have words for it," Jackson said. "I think the key was certain people coming in a certain times. I struggled at times and my teammates stepped up and helped me. They said it's okay, we'll get the next ball. That supportive atmosphere pushed us to the next level.  Of course we want to own the title, but we'll take a tie over losing it. I'm proud of my team."