Versailles overcame a halftime deficit, a stagnant third quarter, and made plays at critical times in the fourth quarter Saturday to beat Delphos St. John.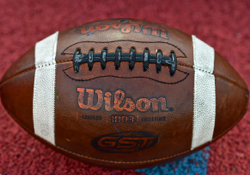 Delphos, OH – It was hard to tell, really, whether Versailles first-year football coach Ryan Jones appreciated more his team winning its third game of the season, or the manner in which they did it.
Either way, his youthful Versailles Tigers overcame a 14-12 halftime deficit Saturday afternoon to beat Delphos St. John, 25-14…and yes, the manner in which they did it was impressive – heartening!
On a sweltering day when players had to play both offense and defense – when rest of any kind and hydration were at a premium – Jones and his coaches asked their players to "find a way" to win a football game under those conditions.
Quarterback Ryan Martin did his part, running for one touchdown and throwing for another.
Landon Henry did his part, running 36 yards for the go-ahead touchdown (18-14) with 8:26 left in the third quarter.
Alex Kaiser did his part, flushing Delphos quarterback Brady Parrish out of the pocket in the fourth quarter, and then nailed him for a loss in the backfield…a hit that appeared to make Parrish miss the rest of the game.
Sophomore receiver Eli McEldowney did his part, catching a critical 4th and 10 pass over the middle with 2:25 remaining in the game, extending a drive that was culminated by teammate Jack Osborne, moments later.
And Osborne put the seal on the Tigers' win with a 20 yard run against a tired St. John defense with 1:56 remaining, completing the mission.
"We found a way,"  said Jones in his post-game remarks.  "We made some plays on offense, and the defense shut 'em down.  We were able to figure out some things they were trying to do in the second and take that stuff away.  We struggled a bit in the first half, but we stepped up our intensity in the second half and played much better.  We didn't change a bunch of stuff, we just executed better what we wanted to do."
They started strong, Michael Stammen scoring on an 11-yard run in the first quarter (2:25) to give the Tigers a 6-0 lead.  And while they ultimately found a way to win, they couldn't find a way to convert on the point-after try.  They missed two kick tries on the afternoon and one two-point conversion.
Delphos came right back with a 21-yard run by running back Devin Lindeman to take a 7-6 lead with 41 seconds remaining in the quarter.
Then Ryan Martin scored his touchdown on a one-yard run at 9:30 in the second to go ahead (12-7), matched moments later by a one yard run by Parrish to retake the lead at 14-12;  and at that point it looked like the over-under for the game might be 50 as the pace picked up.

However, no…the respective defenses came alive in the third quarter, forcing both teams to exchange punts and Versailles into some awkward field position, backed up hard near its own end zone.  But Delphos could not take advantage, shooting itself in the foot with some penalties and missed connections through the air.   On its final possession of the third, Versailles did take advantage, moving the ball on the ground and with some short slant routes to McEldowney to the Delphos 36 yard line, where Henry struck with his bolt through the middle of the Blue Jays' secondary.  But not without controversy, as line judge Steve Oren threw a flag for an illegal formation.  Moments later, after consulting with the rest of the officiating crew, the flag was picked up, and the touchdown stood…18-14 after the failed two-point conversion attempt.
When Brady Parrish was nailed by Alex Kaiser on a run attempt somewhere near the opening of the fourth quarter it seemed to swing momentum in the Tigers' favor.  Brady Kerner, a 5'8″ sophomore came on to relieve Parrish, but on his first drive three consecutive procedure penalties backed up Delphos from third and 5 to third and 20.  And after a Delphos punt Versailles started upfield with what turned out to be the drive that would end the game.
They moved it to the Delphos 35, but stalled – fourth down and ten yards to go.  But instead of punting, Ryan Jones sent in a play for Ryan Martin, hoping to get the first down…or if they didn't enough yards to at least back up Delphos on the change of possession.  They ran that same slant to McEldowney, only from the opposite side of the formation.  The diminutive sophomore awarded Jones' confidence with a spectacular catch, snaring the back of the football before falling to the ground with the first down.
"You know, we had 'em at the 35 and I thought we had a decent chance of stopping them from there even if we didn't get the first down,"  said Jones.  "But we also had a chance to put the game away, and we put it in our quarterback's hands – (in Eli's hands) – and give them a chance.  Fortunately he stepped up and made a heckuva' catch.  If he hadn't caught it they still have to drive sixty five yards, and our defense was playing pretty good in the second half.
"If you try to pin 'em deep and it goes into the end zone they're at the 20 yard line and it's only a fifteen yard net on the punt.  So I thought it was worth the risk."
As it turned out, it was pure gold.  Somehow McEldowney found a way to make the catch in the midst of good coverage from the Delphos secondary, and moments later Jack Osborne roared in for the final score of the game.  McEldowney had a busy afternoon, playing both ways while catching six balls from Ryan Martin – too tuckered to talk after the final horn.  He quietly made his way to the locker room to enjoy the spoils of his efforts.
Some numbers:  Versailles won it's third game against two losses with 299 total yards of offense – 149 on the ground and 150 through the air, pretty good balance.  But the manner in which they won had to be as big a plus as the win itself, justifying the coaches' fourth quarter encouragement from the sidelines to "finish" – that meaning, finish the job and yes, find a way to win.
"We continue to improve and we're getting more familiar with the offense,"  added Jones.  "Guys are getting more reps and we're getting more consistent.  We've seen different defenses now and we're learning how to adjust.  And you have to make plays in this league.  You look at the best teams and they make big plays all the time, and today we were fortunate to have a couple of guys who stepped up and did that on offense, and on defense we did a pretty good job of keeping things in front of us.  We did a good job of making them drive the length of the field.  We 'finished' today."
After a season a year ago when they managed but two wins overall, Saturday's outcome was not doubt cherished for the sake of steps in the right, and future direction under Jones.  No one said as much, but you knew that they were aware of the significance of 3-2 at the midpoint of the season.
"It's great because it gives the players confidence that they can win,"  Jones said, wrapping up his comments.  "You talk during the pre-season about competing and winning these games and sometimes you don't know if you can do it until you actually do it, right?  So seeing is believin' and every time you can come back and do what we did today it makes you more confident when you're in that situation again.  You believe you can do it."
But the best thing…it's good to see a rebuilding program take steps, players have success, and the community experience the progress.  And to this story's opening sentence relative to winning, and how you do it….
"Any win is great,"  said Jones, with a smile.
Agreed.