Coldwater again flexed its quickness and depth in skill positions, racking up 400 yards and 43 points in a thoroughly convincing win over Fort Recovery.
Coldwater, OH – When he was asked for a general assessment of Friday night's 43-21 loss to the #1-ranked Coldwater Cavaliers, Fort Recovery coach Brent Niekamp thought about his answer for a second before answering.
"They are as advertised,"  he said, having just watched his Indians team fall to 1-4.
"Their speed is for real, and we've got some kids who can run a little bit.  But they just came out with kid after kid after kid and all of them were explosive.  And they execute really, really well.  We didn't execute well in a couple of phases early on and that broke the game open.  And, we just aren't physical enough on defense.  We don't tackle well enough."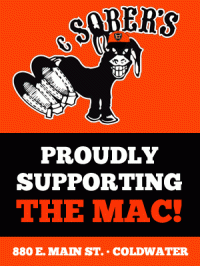 There you have it, kind of…a game delayed by an hour because of thunder and lightning, but one that once started featured more of each than the distant rumbles and some piddling rain.  Coldwater rushed for 288 yards, passed for 131, and answered every Fort Recovery threat with one of their own, as if to say…anything that you can do, I can do better.
Quarterback Jake Hemmelgarn continues to ascend as one that has to be considered the area's top playmaker – 111 rushing yards on 11 carries, and 8 of 13 on passing attempts for 131 yards and two touchdowns.
And as Chip Otten would share in his own post-game comments, Hemmelgarn spread it around.  Ethan Post, Ross Weigel, Zack McKibben, and Noah Miller – they all caught passes, and when they did they were wide open.  Because who can cover that many available threats in a high school passing game?

"We're really fortunate to have so many good skill guys,"  said Otten.  "And then Isaac Fullenkamp and Alex Knapke can come in and run hard, too, and they were our scout team tailbacks.  Both of them can play.  And of course, we spread the wealth.  We didn't throw a whole lot, but we didn't have to.  The offensive line is all back and really playing solid football."
It didn't take them long.  On their first possession Hemmelgarn found Ethan Post wide open – no one within ten yards of him – for an 8-yard touchdown pass.  But Recovery showed some flashes, too, and junior Clay Schmitz engineered a 12-play drive that covered 80 yards and he scored from a yard out to apparently tie the game at 7-7.  But no…Will Broering came off the edge and blocked the extra point attempt and Coldwater held a 7-6 advantage.
But only for about four minutes, because at 10:36 of the second quarter Myles Blasingame capped a 9-play drive that covered 69 yards to make the score 14-6.  And then a turning point, as Recovery and Schmitz came right back down the field and looked to be going in…only to fumble on the Coldwater ten yard line and kill the drive, and momentum.  The Cavaliers promptly reversed things, drove 83 yards in four plays and Nathan Grieshop ripped off a 34-yard run right through the heart of the Recovery defense for a touchdown and a 21-6 halftime lead.

Zack McKibben ripped off another big play to open the third quarter at 9:39, a 33-yard touchdown pass from Hemmelgarn to push the lead to 28-6.
Then at 7:52 of the quarter Hemmelgarn got lost in traffic, somehow found an exit, and rambled for 15 yards and another score.  This time they went for the two-point conversion, made it, and put the game into a running clock situation, leading 36-6.
As bleak as it looked for Recovery, they did not quit.  The Indians have a junior running back named Derek Jutte who ran for 111 yards in the game and got 80 on one play, splitting the Coldwater line of scrimmage and sprinting the length of the field untouched to make the score 36-14.
But the Cavaliers answered that, of course.  Isaac Fullenkamp, a tough 155 pound sophomore, gashed the Recovery secondary for 16 yards and another touchdown at 9:18 of the fourth to again extend the lead, to 43-14.  And still, the Indians had one more challenge, scoring on a short touchdown pass from Schmitz to Gavin Thobe with five minutes left to close things at 43-21.
Some numbers:  Coldwater outgained Recovery 419 to 362, a difference of just 57 yards.  But a blocked extra point, a blocked punt, and all that speed – explosiveness in bursts – was simply too much for the 1-4 Indians.  Still, Recovery, like Coldwater, had six different receivers catch passes for 235 yards (Schmitz was 12 for 25) and the toughness and competitiveness of Derek Jutte portends better things in the future.
"We did some things tonight that showed we're going in the right direction,"  said Brent Niekamp.  "But against a team like that it just doesn't show up."
It was a tough loss for Recovery, their fourth straight since beating Lehman on opening night.  More, it marked the 19th consecutive loss to Coldwater…in 19 attempts.  Disappointing, as well, for a team that many talked about before the season as one talented enough to challenge the ranks of teams like Coldwater, Minster and Marion.
"Pre-seaosn expectations are really stupid,"  added Niekamp.  "It should just be you are what you are.  And right now this is what we are."
On the other side of the field the excitement and anticipation builds with each passing win – a different emerging talent each week.
"Playing on the scout team just gave me a good look,"  said Isaac Fullenkamp, who would rather run than talk.  "Playing against our players just makes it easier.  Our roster is really deep and that many guys who can play is really going to help us."
Chip Otten couldn't agree more, even though six months ago he was uncertain – he had no idea – as to the bounty of riches that would present itself in five short weeks.
"Hopefully we can stay healthy,"  said Otten, who could hardly contain his grin.  "If we can keep spreading it around, getting everybody touches, that's a huge part of it.  And of course when you have a quarterback like Jake who can run and throw…that makes a huge difference.  This was a good win for us because they're a pretty good football team.  They've got a big strong quarterback and their skill guys are pretty good, too."
But for at least the next week, and beyond, the talk will continue to be about Coldwater – the yards, the points, and the efficiency.  How do you prepare for that many players with speed, and waiting for their chance to play.
How do you prepare for…"good as advertised?"