Starters play only one half in 76-5 rout over in-state foe … Fields accounts for six touchdowns, including four through the air … Chase Young leads defense to another stellar showing.
COLUMBUS — If Ryan Day had a wish list going into the Miami game, it probably looked something like this:
No injuries.
Grow as an offense.
Build confidence on defense.
Make an impact on special teams.
Rest the starters by halftime.
And did we mention injuries?
Ohio State was so thoroughly dominant after a ragged start that Day could draw a line through each item afterward. The Buckeyes led, 49-5, at intermission on their way to a 76-5 victory, allowing fans to stream toward the exits long before it was over (Nick Saban would fume about that, of course).
The offense was all smiles as Justin Fields had a magical two quarters, save for a couple of wayward throws. He finished 14 of 21 for 223 yards and four TDs. He also had 36 yards and two more scores on nine runs, displaying a competitive fire by taking hits and refusing to slide.
Defensive end Chase Young was beastly again. I've been reluctant to put him in the Joey and Nick Bosa class. I thought Nick would have put up insane numbers if he'd played past the third game last year.
But I don't see much separation now. Young came off the edge like a sprinter and practically maimed the Miami QB twice, causing a pair of fumbles that Ohio State recovered. He now has seven sacks in four games. The Ohio State record is 14.
The special teams also notched their third block of the year after they batted down a punt in Miami territory.
Although resurgent cornerback Damon Arnette was helped to the sideline midway through the second quarter, he returned after a short respite. That was the only scare. And all the starters had a chance to check their iPhones while sitting out the second half, which was called with 2:40 left when lightning was spotted in the area.
The RedHawks had an effective early scheme. They threw to the edges, getting some one-on-one match-ups, and they also gained ground with misdirection runs.
I wouldn't say it's a blueprint for how to beat the Buckeyes, but it's certainly a wiser path than running between the tackles. Ask Indiana.
After downing a punt at the 2-yard line, Miami forced a safety by stripping Fields in the end zone as he was trying to pass. He never saw the defender coming. Miami 2, Ohio State 0.
The RedHawks then rambled to the 3-yard line but had to settle for a short field goal. A 9-0 deficit may have caused some squirming in Ohio Stadium, but a 5-0 margin was manageable.
The Buckeyes scored three TDs in the next 6:12 — a 26-yard run by J.K. Dobbins, a 53-yard catch K.J. Hill and (after a Jeff Okudah interception) a seven-yard run by Fields.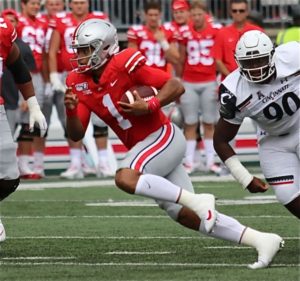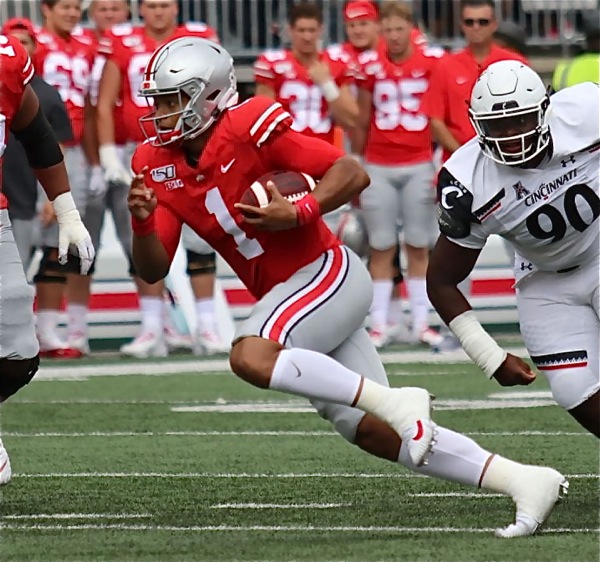 The barrage never waned — the 42 second-quarter points were the most in a period for Ohio State since at least 1960 (probably ever) — but one play in particular stood out.
The Buckeyes were facing fourth-and-2 at the Miami 10. They had Dobbins behind Fields, and I was thinking they shouldn't try to prove their manhood by running Dobbins against a stacked front.
But Fields has gone under center frequently this year, instead of always lining up in the shotgun. And he ran a sneak that picked up four yards, drawing an inordinate roar from the 103,190 patrons. They noticed.
Why they didn't have that in their arsenal before Day took over is a mystery. Dwayne Haskins could fall forward for three yards. Good God, even Tom Brady runs sneaks.
But coach Urban Meyer was opposed to it, staying in the shotgun at all costs. That was OK when a yard or two was needed with exquisite hole-finder J.T. Barrett at QB, but the offense was shackled when everyone in the stands knew Haskins was either handing off or needed to complete a bang-bang throw.
That was especially true at the goal line. The Purdue loss last year kept the Buckeyes out of the playoffs, and it might have been averted by putting Haskins under center a few times.
One place where I didn't agree with Day was when he went for it on fourth-and-3 at the Miami 26, leading 42-5. I'd have trotted out kicker Blake Haubeil for a 43-yard field-goal — especially since he missed a 32-yarder on the first series at Indiana last week.
Fields, though, eluded a rush and threw to Rashod Berry for a first down and then connected with Chris Olave on the next play for a TD.
I guess Day figures you need not settle for three when you can get seven. Hard to argue with that.
TV RULES: If I were the Buckeyes, I wouldn't be happy with the Big Ten schedule this year — not the level of opponents they drew from the West, but kickoff times.
I've never understood why they've had to play two and sometimes three road night games each season. That's the most inhospitable environment college football can produce. Players and fans have all day to work themselves into a frenzy, and the noise level is like standing next to the speakers at a Metallica concert. But because they're such a big TV draw, they get saddled with more than their share.
I bring that up because two of their next three games are under the lights at Nebraska and Northwestern, which were expected to contend for the division crown. That's one more nocturnal affair than they have at home, and it happens every year.
With the help of some Cleveland.com research, I looked up the tally for road night games in the league from 2015-18:
Ohio State 11
Michigan State 10 (for some odd reason).
Michigan 6
Penn State 5
Wisconsin 4
Shouldn't the Big Ten look out for its lone perennial national title contender, at least to some degree?
But the conference signed a mega-TV deal with Fox, ABC and ESPN that pays $2.6 billion over six years. That means, for the most part, it's at the mercy of what the networks want. Good luck with that.
If you're sticking out your paws for all those millions, you don't have any choice but to keep your trap shut.